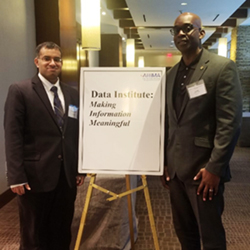 Adrian Andrews is the first fully-online UCF student pursuing a graduate degree in health management and informatics to work on a National Science Foundation-funded project.
Andrews is conducting interviews to identify the hazards of data incompleteness and data inconsistency in electronic patient records. He is working under the guidance of Varadraj Gurupur, who is an assistant professor of health management and informatics at UCF and principal investigator for this project.
---
The Department of Health Management and Informatics at the University of Central Florida offers innovative academic programs in health management that prepare students for the challenges of a highly turbulent and competitive health care industry.