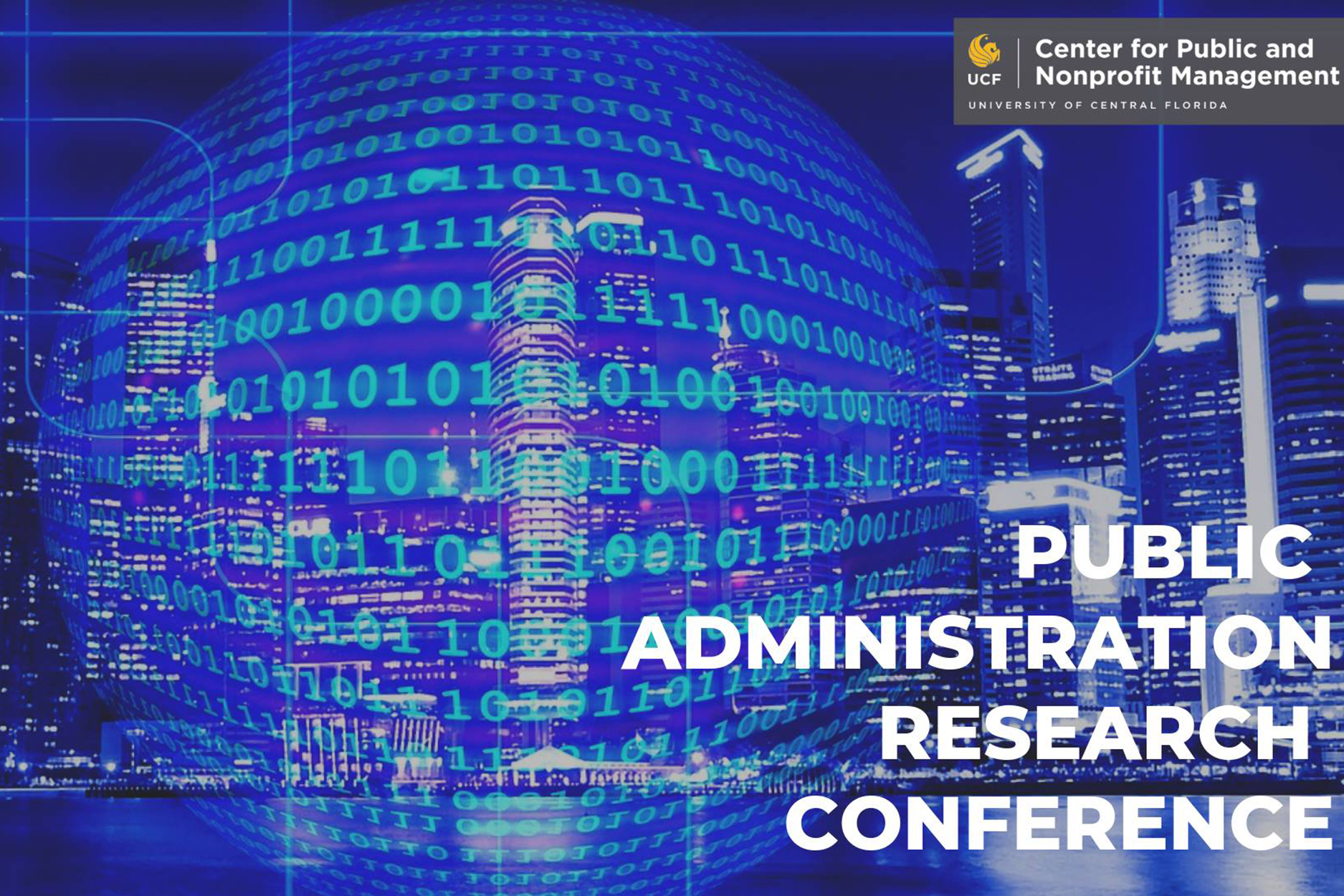 The Public Administration Research Conference attracted attendees from around the world, including Nigeria, Russia, the United Kingdom and several other countries. Nearly 100 students, faculty, and practitioners gathered at the UCF Fairwinds Alumni Center on March 1 to explore how to use the influence of evidence on policy development to better serve communities. The annual conference, now in its 13th year, is an opportunity to engage in intimate conversations that explore current challenges and opportunities for public service professionals. Discussions, centered around the theme of "Evidence-Based Policymaking: Using Big Data to Evaluate Public Sector Innovation and Improve Organizational Performance," expanded across multiple disciplines including emergency management, urban planning, public administration and nonprofit management.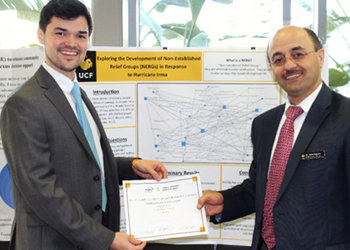 Parker Toro and Mitchel Harmon were awarded "Best Student Poster." Toro celebrates the award with Naim Kapucu, professor and director of the UCF School of Public Administration.

Dr. Gary VanLandingham, professor and the Reubin O'D. Askew Senior Practitioner in Residence at Florida State University presented the keynote address. VanLandingham led doctoral students in a workshop and was the lecturer at the Eminent Scholars Distinguished Lecture Series during the pre-conference activities.
The conference, hosted by the Center for Public and Nonprofit Management in the UCF School of Public Administration, provides opportunities for students to discuss their research interests with faculty and practitioners. The Central Florida Chapter of the American Society for Public Administration sponsored an award for "Best Student Poster." Graduate students in the master's in public administration program, Mitchel Harmon and Parker Toro, were recognized for their research efforts. Their topic focused on relief networks that formed after Hurricane Irma and the role nonprofits, religious and political organizations, and private enterprises played in relief without partnership with FEMA or local governments. "This was my first research conference, so it was really exciting to experience the environment! Network analysis is still a young field within public administration, so there was a lot of interest from practitioners. I look forward to attending more conferences in the future to discuss other topics I am researching," says Toro.
Other presenters included Steven Lerner and Alan Harris from the Seminole County Office of Emergency Management, Donna Walsh from the Florida Department of Health in Seminole County, and Cindy Jurie of the Early Learning Coalition of Orange County.
Several faculty members from the School of Public Administration also presented: professors - Thomas Bryer and Naim Kapucu, associate professors - Claire Knox, Abdul-Akeem Sadiq, Luis Santiago, lecturer - Daniel Stephens, assistant professor - Yue Ge, Sarah Larson, David Mitchell, Suzette Myser, Kelly Stevens, instructor - Roberta Fennessy, and visiting lecturer - Blair Thomas.
---
The School of Public Administration at the University of Central Florida is dedicated to providing a quality education to undergraduate and graduate students who are interested in pursuing careers in nonprofit management, urban and regional planning, research administration, emergency management and public administration. We strive to create a brighter future for our students so that they, in turn, can better serve the community.
---