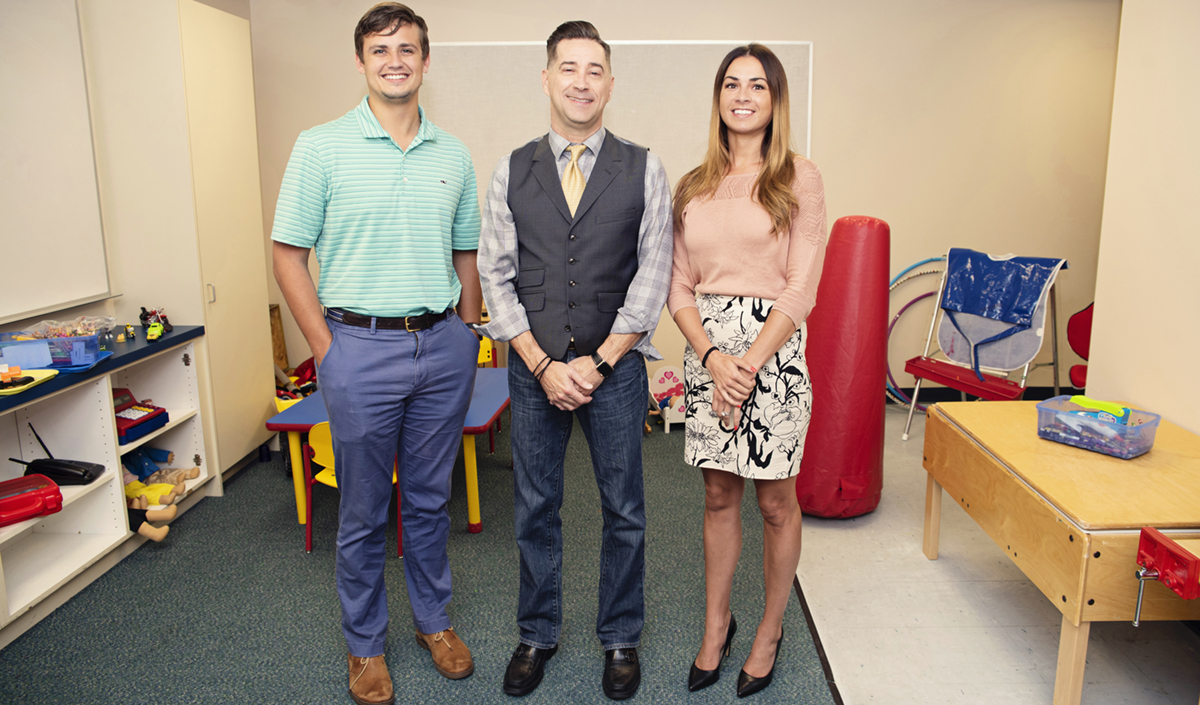 Counselor education master's
student Alexander Fields, clinic coordinator John Super '09MA '13PhD and doctoral alum Saundra Tabet '19PhD (left to right) in the Community Counseling and Research Center. (Photo by Amy Floyd)
You always have the support you need at the Community Counseling and Research Center, according to Alexander Fields, who is pursuing a master's degree in counselor education.
There are few counseling centers with its size and breadth. One of the nation's largest community-based counseling and research clinics operating as part of a counselor education program, the center provides students a unique range of mental health counseling experiences. When you look at its impact locally, it's one of the few places in Central Florida where members of the community receive free counseling services. In addition to individual counseling, the center provides couples counseling, family counseling and play therapy. On occasion, they also provide group therapy. Last year, the center saw over 700 clients and offered over 6,700 hours of counseling to the community.
Counseling Sessions Strengthen Student Practice in Real Time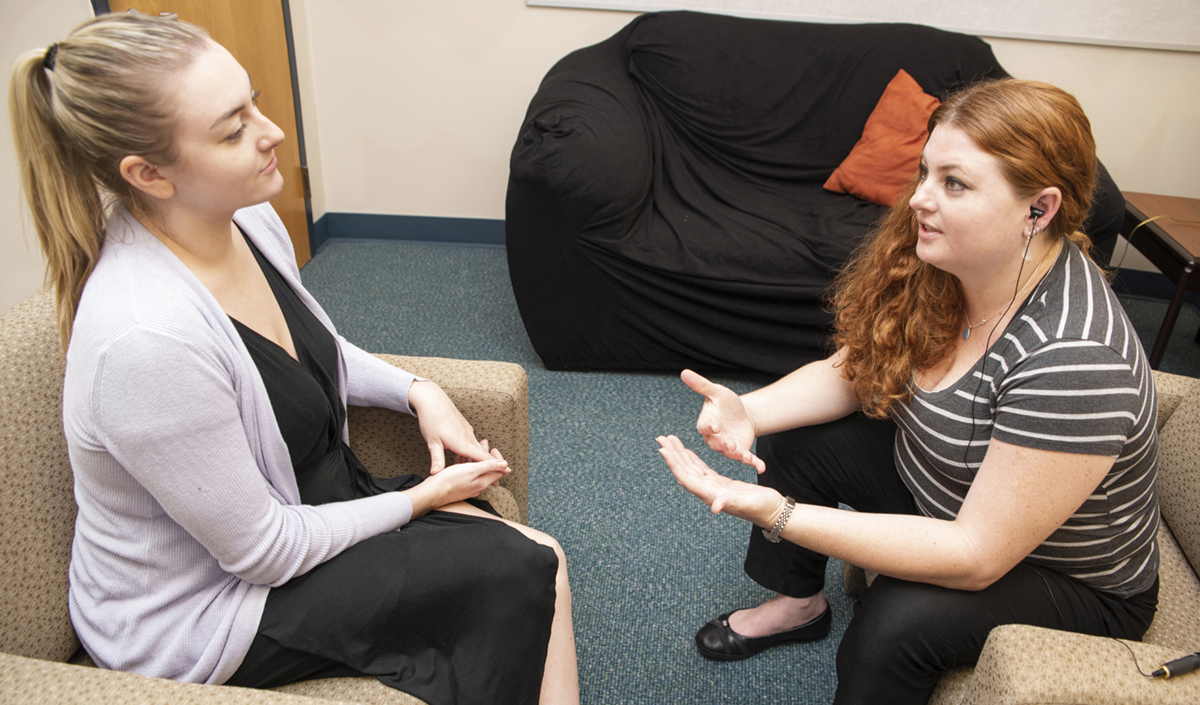 Counselors-in-training Kaitlyn Shelp (left) and Megan Ulrich (right) meet with clients in one-on-one and group counseling sessions with the support of faculty members and
doctoral students
an ear pod away. (Photo by Amy Floyd)
Like Fields, students tend to find one support particularly helpful. The bug-in-the-ear, an ear pod worn by counselors-in-training while working with clients, connects remotely to supervisors observing students on screens in the control room. Supervisors (who are faculty members and/or doctoral students learning clinical supervision skills) offer suggestions during counseling sessions through the bug-in-the-ear so students can learn and strengthen their practice in real time — all while providing clients with quality mental healthcare.
Saundra Tabet '19PhD, who recently received her doctoral degree in counselor education, says while they use the bug-in-the-ear sparingly, the support it provides counselors-in-training is paramount to their development.
"Maybe I tell a student to ask their client if they currently have thoughts of suicide," says Tabet. "While a new counselor-in-training may not know to ask, we are able to pick up on it because of our training and experience."
John Super '09MA '13PhD, the center's coordinator of clinic operations and lecturer in counselor education, says the center provides students opportunities to work with real people — with their lives and stories — in a controlled environment. They learn how to sit with clients for extended periods of time, understand complex issues related to thoughts and emotions, and conceptualize a treatment plan. Through this work, students develop self-efficacy in counseling.
He says, "Our partners in the community often say they have a strong preference for UCF counselors because they are so well trained."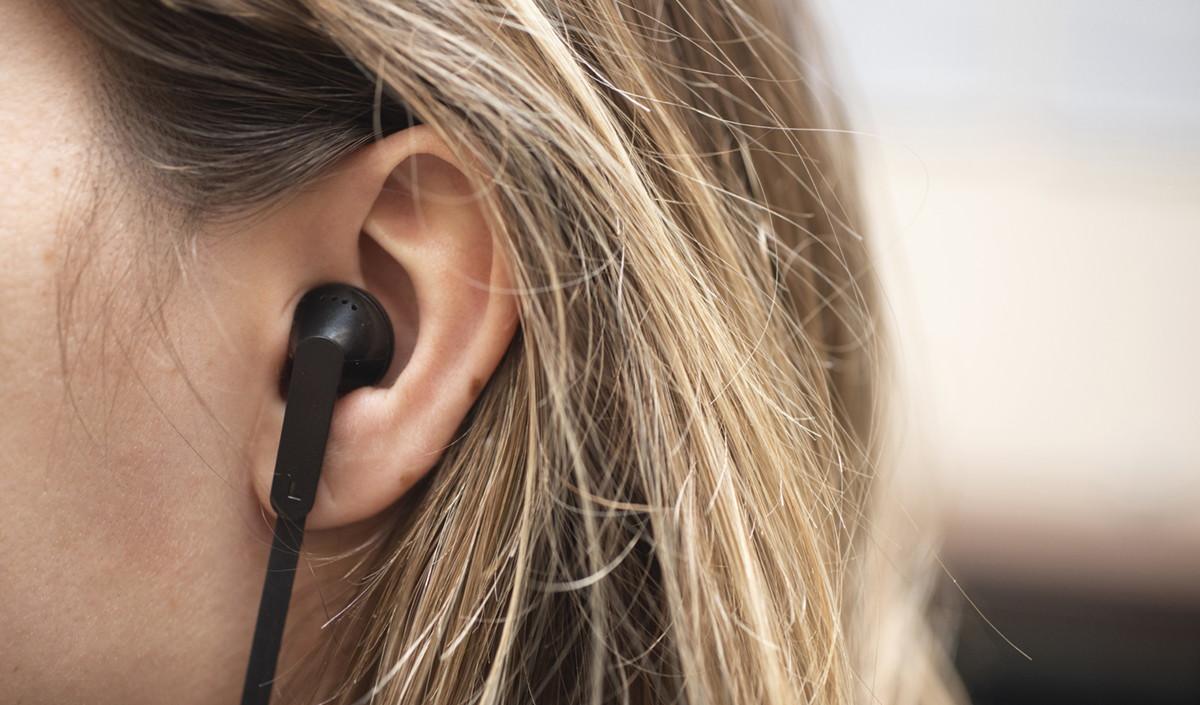 Supervisors provide counselors-in-training real-time feedback through an ear pod, known at the center as the bug-in-the-ear. (Photo by Amy Floyd)
Diverse Experience at Each Stage Prepares Future Leaders in Mental Health
Fields began his first week in the counselor education graduate program at the center, where he volunteered as an intake specialist. In this role, first-year students provide brief assessments regarding appropriate care for potential clients, with an opportunity in practicum to interact with clients, practice basic skills and apply lessons from the classroom — all prior to participating in counseling sessions.
According to Super, research shows that work in a clinical environment prior to counseling clients lowers a student's anxiety and increases self-efficacy on their first day in practice. After working as intake specialists in a clinical environment, students move onto the next stage where they spend one-to-two semesters in practicum working with clients.
A counselor-in-training's day at the center begins with group supervision, where a practicum supervisor consults students and introduces lessons. Fields says supervisors provide unique challenges each week. They might ask counselors-in-training to reflect on three feelings while with their clients or suggest students research a theory and later discuss how it potentially applies to cases. Along with supervision, Fields says students work together to develop the best care for their clients. Each week, a student presents on one of their clients and receives consultations from student peers.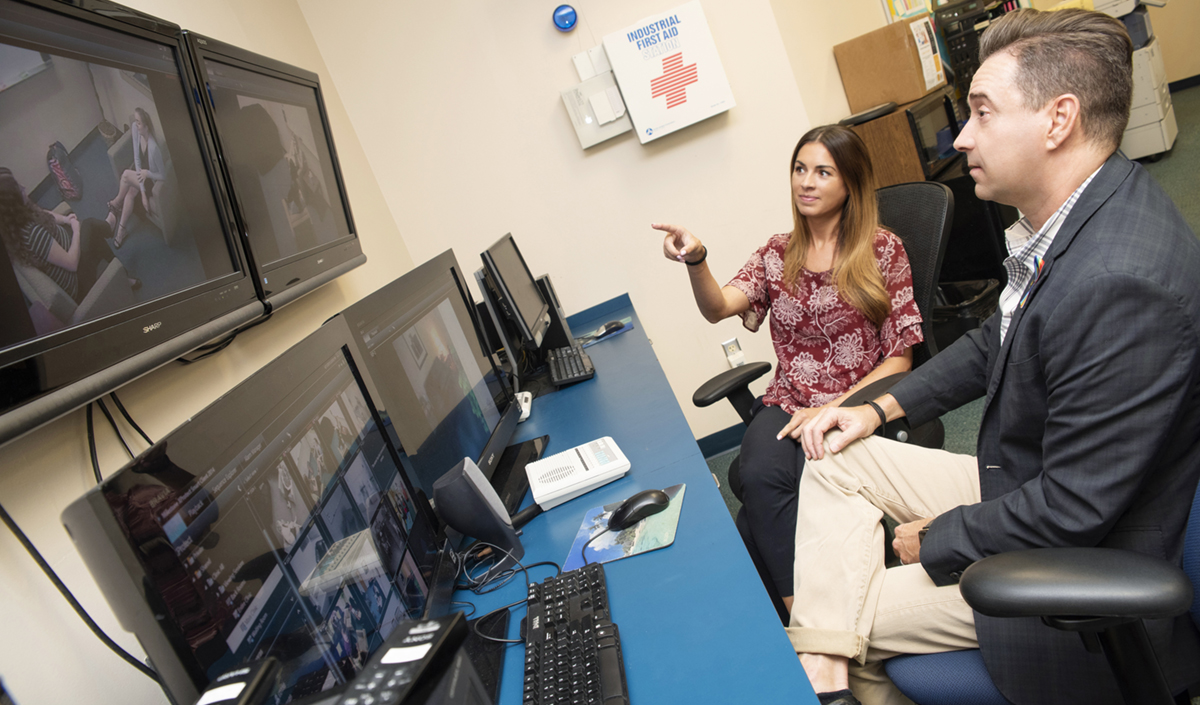 Tabet and Super observe students in counseling sessions and provide suggestions in real time — one of many ways the center helps students through each stage in their preparation. (Photo by Amy Floyd)
In a similar role, the center prepares doctoral students to supervise and teach counselors-in-training. At different phases of their program, doctoral students provide one-on-one supervision, assist a faculty member during practicums with live supervision or fill in for faculty members as they near the end of their doctoral studies.
Since students are observed in their practicum for one-to-three hours a week, Super says it offers an intensive supervision experience to doctoral students who, as a result, are more prepared to work as counselor educators and researchers.
Another unique aspect of the center is that students see a range of clients, including some with severe, persistent mental health challenges and others with relational issues. They also see clients ranging from adolescents to adults, and from couples to people struggling with career development.
According to Fields, "A few of my clients were recent immigrants to the United States. Another client sought to develop a more congruent identity with their sexuality to better understand themselves. With some clients, I'd have brief, three-week interventions and with others, sessions continued over 13 weeks. And throughout both practicums, I practiced a variety of skills, theories and techniques."
Fields is currently in his first internship with the Aspire Turning Point Day Treatment Program, where he counsels individuals and psycho-educational groups for those with severe, persistent mental illness. With his interest in integrating mental health counseling into a medical setting, Fields will stay with Aspire Health Partners for his second internship in the Behavioral Health Workforce Education and Training Program. The program provides clinical experience to interns in integrated healthcare, supported by a federally funded grant awarded to the counselor education program by the Health Resources and Services Administration.
Clients often share how much their time with counselors-in-training made a difference — not only in their lives but in the lives of their friends and family.
As a doctoral student, Tabet says the center provides valuable lessons in research, counseling, supervision, teaching and operating a clinic, and she will carry those lessons into her new position as an assistant professor of counseling at the University of San Diego.
"I learned how to research and disseminate research that has an impact on the field of counseling," she says. "But I want to emphasize the value of giving students the support they need. When I think about training master's students, most important is to provide valuable feedback, let them know they are developmentally appropriate and be there to help them through those stages."
Tabet says the clinic is a valuable resource to the community. She witnessed the impact a community clinic, especially a free community clinic can have on underserved populations. And by providing services at no cost, they removed a major barrier to mental healthcare access.
Reflecting on the last day clients come in for a session, Super says, "Clients often share how much their time with counselors-in-training made a difference — not only in their lives but in the lives of their friends and family. It's a good day because, on that day, I see students affirm that they chose the right profession."
---
The Community Counseling and Research Center prepares competent counseling professionals, provides high-quality community outreach and service, and produces research and scholarship with an impact. Three counselor education faculty members lead the center: John Super, clinic operations coordinator; Dalena Dillman-Taylor, research coordinator; and Richelle Joe, community engagement coordinator.