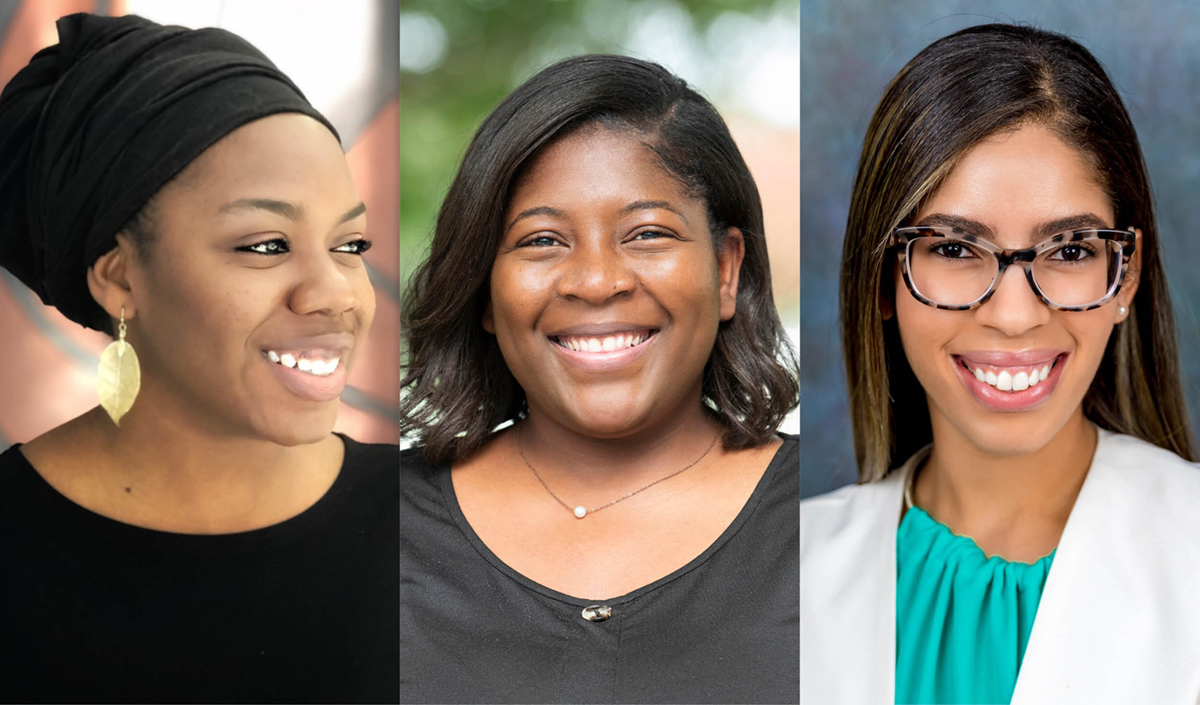 Counselor education doctoral student Amber Norman '14MA and master's students Stephanie Richard and Ismar Alburquerque '16 (left to right) were chosen for the NBCC Minority Fellowship Program.
July is National Minority Mental Health Awareness Month, when we turn our attention to the mental health needs of racial and ethnic minorities who face disparities in treatment and unique challenges related to behavioral health. Three students from our counselor education program focus their efforts on this need, and because of their commitment, were chosen for the NBCC Minority Fellowship Program.
"Everything I do in this field is to help make the invisible visible, to influence critical thought and center the voices of the forgotten," says Amber Norman '14MA, who is a licensed mental health counselor pursuing her doctoral degree in counselor education and was awarded $20,000 for the fellowship. The award for doctoral fellows aims to provide leadership to the profession through education, research and practice benefiting vulnerable, underserved communities.
Norman specializes in the mental health needs of ethnic and sexual minorities and says, "A lot of my work is informed from my own experience as a queer woman of color. Not only are marginalized groups socially excluded, we are often rendered as deviant, insignificant or peripheral. I have spent most of my life contending with dominant frameworks of normality, and never quite fitting in."
Central to Norman's work as a therapist is her ability to tend to the wounds caused by prejudicial systemic trauma and social rejection. In her research, she assesses how these systems, ideologies and behaviors contribute to minority stress and violence.
Stephanie Richard, who is pursuing a master's degree in marriage, couple and family therapy, was awarded the master's-level fellowship. She says most counseling theories and techniques are based on Euro-American culture. Attempts to diversify these theories and techniques often consider only broad racial groups, with little to no consideration of country or culture of origin.
"As a Haitian-American counselor-in-training, I know that Haitian-Americans and other individuals from the Caribbean are typically grouped with the African-American population. However, these different ethnic groups have very distinct histories, cultures, beliefs and values. Applying an African-American cultural lens to these clients lacks accurate insight into effective treatment."
Her academic and personal experience offers Richard a unique understanding of the complex interplay between the community's social and cultural beliefs and the mental healthcare disparities that contribute to the community's reluctance to seek counseling.
After graduation, Richard hopes to continue her research and work in communities where mental health issues are often overshadowed.
Richard along with Ismar Alburquerque '16, who is pursuing her master's degree in marriage, couple and family therapy with dual licensure as a mental health counselor, each received $10,000 for the fellowship because of their commitment to address disparities and enhance cultural competency in mental healthcare serving minority communities.
Alburquerque was drawn to a focus on the mental health needs of underserved minority populations, particularly in the Latinx community.
"I identify as Latina myself, born and raised in Puerto Rico with Dominican parents, and I have experienced the stereotypes associated with the stigma that surrounds mental health in the Latinx community, which only served as a push to immerse myself in the counseling field."
One of the disparities facing the community is a lack of Spanish-speaking resources and providers available, which ends up hindering the wellness of those who seek help, according to Alburquerque. "Spanish is my first language and I hope to provide better access to care for the Latinx population with my bilingual counseling skills."
Alburquerque plans on pursuing her doctoral degree in counselor education to assist with the supervision and mentorship of bilingual — Spanish and English-speaking — students, and serve as a representative of the Latinx community within leadership positions in organizations and universities.
Through the fellowship, Alburquerque says she furthered her understanding of multicultural awareness and cultural competency, found mentorship, networked and extended the reach of her work, "to make a difference and be a voice for my clients and community."
---
The UCF Counselor Education program is designed to educate and prepare competent professional counselors and counselor educators from diverse backgrounds to advance the profession through practice, scholarship, research, leadership, advocacy and service. The program uses a reflective-practitioner model that integrates the use of intensive clinical experiences, research, intellectual and creative resources, and current technology to work within a global society. The program further emphasizes a holistic approach to counseling whereby individuals, couples, and families are encouraged to believe optimal personal, educational and relational development.