Freshman education majors find community as they transition to the classroom.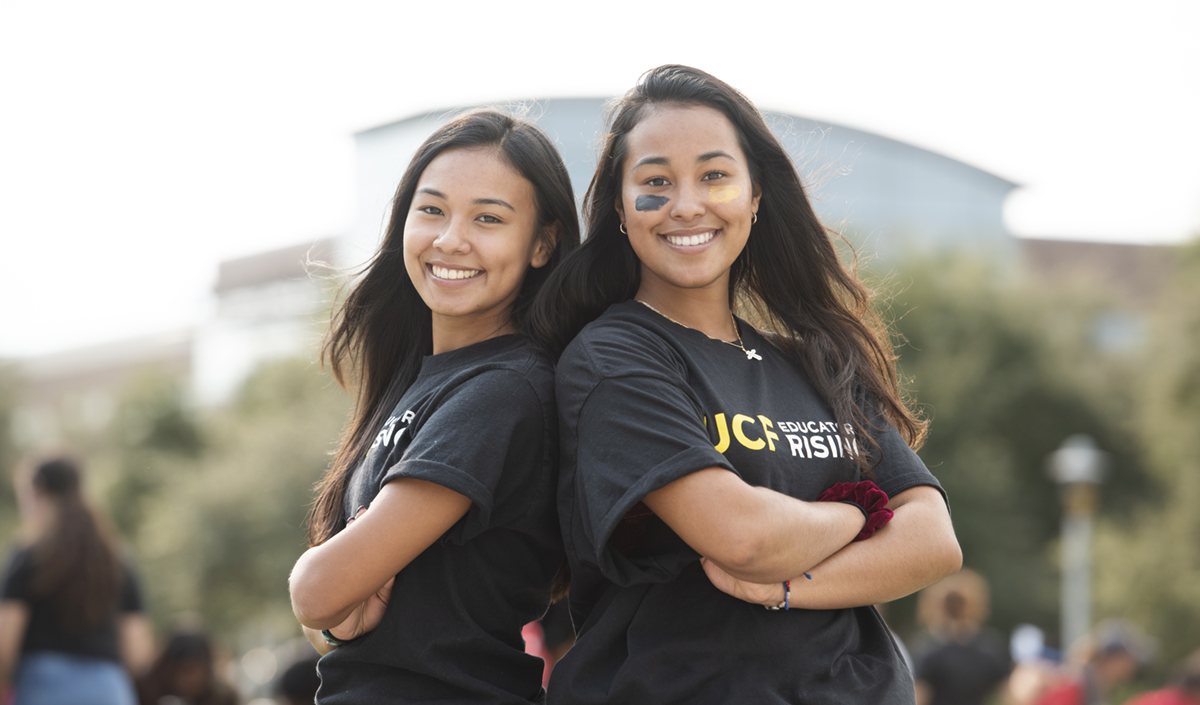 Sisters Alliyah and Trinity Torres, along with other members of the STEP program, led fourth-grade students on tours of UCF. (Photo by Amy Floyd)
Freshman Alliyah Torres already has an idea of what it means to be a teacher. She comes from a family of educators.
Her parents, brother and oldest sister are already classroom teachers. Alliyah and her sister, sophomore Trinity Torres, are both pursuing bachelor's degrees in elementary education. The sisters have something else in common. They entered UCF as participants in the STEP program.
STEP (Supporting Teacher Education Pre-Professionals) is a unique opportunity for incoming freshmen who plan to major in education and become teachers. It provides support transitioning to university life, guidance from a designated coordinator, ongoing advisement and scheduling assistance, a connection to campus resources, support from within their STEP cohort, assistance with homework and test preparation, peer mentors and organizational tools.
Alliyah says that STEP has been a valuable opportunity and helped each sister on their path to becoming educators. Last summer, Alliyah and her STEP cohort took part in a variety of 'experiential learning activities' while providing support to the community through organizations like the Coalition for the Homeless, Ronald McDonald House and Habitat for Humanity.
It was helpful to hear different student perspectives and learn about their experiences in other classrooms.

Trinity Torres, Student in Elementary Education
Constance Goodman, STEP coordinator and associate lecturer of elementary education, says the 'learning to serve' model offers students important experience prior to the service learning in the semesters that follow.
Goodman says, "When students volunteer in settings impacted by poverty, they start to learn how to better serve students and families. By the time they begin service learning, they are less surprised when student backgrounds differ from their own. Students are more prepared and ready to serve in classrooms with their own unique needs."
Trinity says one benefit of STEP was taking common courses with a cohort, which made her feel more comfortable engaging in classroom discussions. She says there was a sense of belonging and camaraderie because they spent a lot of time together.
"I had a couple of friends who weren't part of the program, and I noticed how hard it was for them to meet new people or go to someone for help in their studies. The amount of time we spent together built a special bond. It was helpful to hear different student perspectives and learn about their experiences in other classrooms."
Alliyah says it felt as if they were already teachers when she talked with other students in STEP. "We'd say things like, I had this kid and did this or that. And that helps us figure out how we can work with these kids and in different scenarios."
Participants of STEP also join the professional teacher organization Educators Rising, and the local chapter FEA@UCF. Trinity found these professional connections essential to her growth and development, most recently through her experience at the Florida Educators of America National Conference.
Alliyah and Trinity credit their initial passion for teaching to their parents, whose former students often returned years later to thank them for having a significant impact on their lives. The sisters hope to do the same in their classrooms and the STEP program gave them their start, offering support in their first steps at UCF towards becoming teachers.