Students pursuing advanced degrees in exceptional student education may apply for tuition support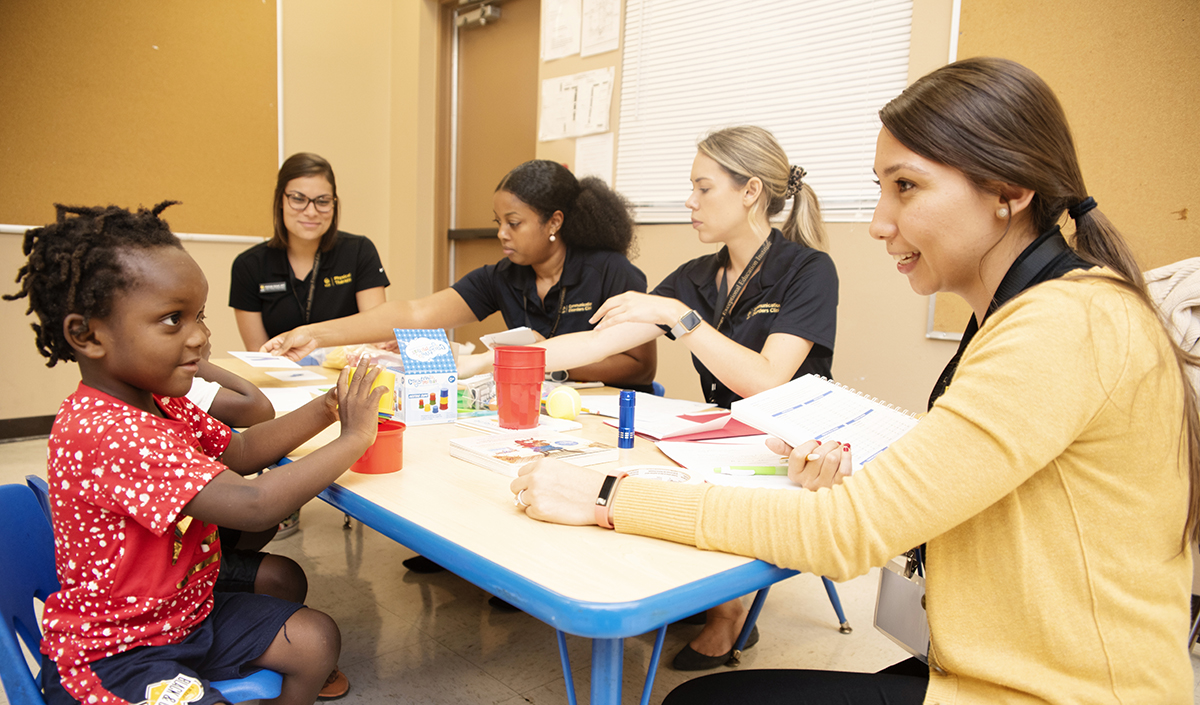 K-12 students of all abilities need highly qualified teachers. (Photo by Amy Floyd)
When Tameka Harrison isn't working on her master's degree in exceptional student education, she's a reading intervention specialist for kindergarten through fifth grade students. Even though it's only her second semester as a Project Bridges scholar, she already sees the professional impact of her experience. "Data from standardized assessments showed that students were having a hard time meeting benchmark expectations. With the knowledge I've had from my professors and through Project Bridges, I was able to come to them with policies and research," she says. The discussion might have been tough, but it was needed, and the results will benefit the students, which is her main concern.
K-12 students of all abilities need highly qualified teachers, and for those students with learning and behavioral challenges, the day-to-day school experience may present situations where accommodation, specialized instructional and behavioral support are needed.
"There is a critical shortage of special educators in the workforce," says Eleazar "Trey" Vasquez, associate professor of exceptional education and the director of the Toni Jennings Exceptional Education Institute at UCF. To help increase the number of qualified special educators, The School of Teacher Education is currently accepting applications for three interdisciplinary projects that provide tuition assistance to graduate students seeking specialized preparation in the area of exceptional student education as well as school psychology and speech-language pathology. These projects are funded through the U.S. Department of Education's Office of Special Education Programs and help current and aspiring special education teachers advance their knowledge and skills and improve the learning outcomes of their students.
Harrison says that being a Project Bridges scholar made her a better advocate for her students, especially those who are underrepresented, such as minority students or students with disabilities. The knowledge that Harrison has learned from her professors gave her the confidence she needed to consult with her school about some much-needed changes.
I feel better prepared, not only to connect with future intervention teams, but also to offer different types of supports to students, parents and school systems.

Krystal Woods, Graduate Student in School Psychology
Project Bridges 2.0 is one of three grants that offer tuition assistance to students seeking exceptional student education graduate degrees. Bridges 2.0 covers graduate students in exceptional student education as well as school psychology once a candidate is accepted after a selective application process.
"Project Bridges helped me plan innovative interventions for struggling learners, network with experts in the field, improve student growth using research-based practices, and create differentiated instruction for the students I serve," says Sarah Clem '19. "Project Bridges gave me the ability to turn my passion for teaching into knowledge for myself and my students."
Both graduate programs require four electives, and Project Bridges scholars' electives are chosen for them. Without extra courses, students graduate with an advanced degree and a Collaborative Intervention Specialist graduate certificate.
"When I realized I had the opportunity to have a larger impact on students by earning certification as an intervention specialist in addition to my school psychology degree, I was immediately interested in Project Bridges," says current scholar Krystal Woods. "I feel better prepared, not only to connect with future intervention teams, but also to offer different types of supports to students, parents and school systems."
Project ASD is no different: online courses, a competitive program and highly specialized training for graduate students. The biggest difference for scholars of Project ASD is all they can accomplish during their time at UCF. Students earn their master's degree in either Exceptional Student Education or Communication Sciences and Disorders, a graduate certificate in Autism Spectrum Disorders (offered by only a few universities in Florida) and a state endorsement in autism.
"I am proud to be a recent Project ASD graduate, earning my master's degree in education and state endorsement in autism," says Lisa Roberts '19. "Project ASD enhanced my experience as a classroom teacher and provided knowledge of current research as well as researched-based practices within the field of autism. Participating in Project ASD strongly influenced my dedication to working with individuals of all ages on the autism spectrum, and I am proud to continue my work as an Autism Disorders Specialist with the UCF Center for Autism and Related Disabilities. I admire and appreciate the faculty and peer mentors, who I was so fortunate to collaborate with throughout my program."
Project Speech, the newest project, pairs graduate students from both exceptional student education and speech-language pathology for a graduate certificate in Interdisciplinary Language and Literacy Intervention.
Given UCF's expansive online options, these projects are mostly virtual with face-to-face components mixed in. For Project Bridges and Project Speech, the four graduate certificate courses have face-to-face components, while the remainder of the Master of Exceptional Student Education classes are available fully online.
Along with benefits like online options and career opportunities, Woods says Project Bridges 2.0 brought financial relief. "After graduation, rather than my focus turning to school debt, I can concentrate more on my career and the work I do with students and families."
All three projects are currently accepting applications for the exceptional student education program. Applications are due by April 1.