Lynn Unruh and Andriy Koval make up part of the Health System Response Monitor team for the US.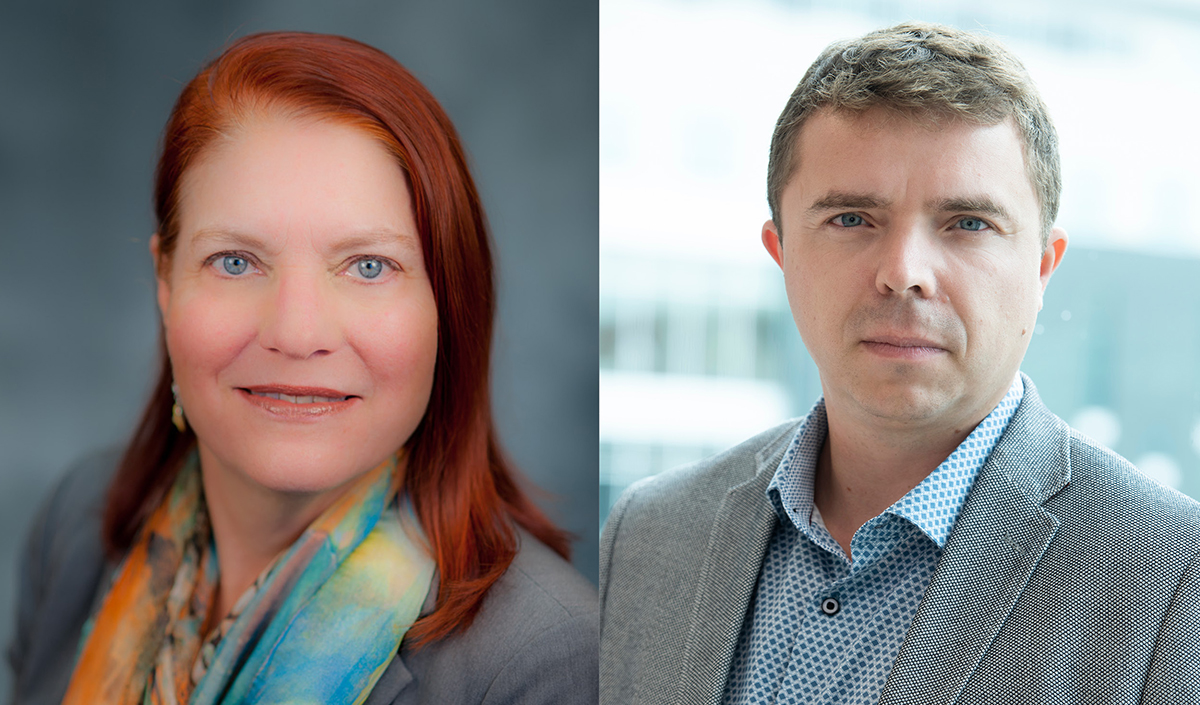 Unruh and Koval will be collecting data about COVID-19 until after a vaccine is created.
In late March, Lynn Unruh and Andriy Koval — two health management and informatics faculty members — and a medical student at Virginia Commonwealth University formed the Health System Response Monitor team for the United States.
Reporting for the World Health Organization (WHO), the group analyzes official reports from the White House; press releases and official documents from state governors and governmental agencies, such as the Center for Disease Control (CDC); and highly reputable journals to track America's policy measures and responses to the coronavirus pandemic.
The initial call to action was spurred from European governments pleading with the World Health Organization for information on what other countries were doing to handle the coronavirus and slow the spread of infection.
The U.S. report can be used by policymakers, healthcare leadership and all levels of government to inform decisions regarding COVID-19 and help these groups evaluate their current and future plans. "It's also a historical record," says Unruh, a professor, registered nurse and health economist. "It's going to be helpful in quantifying things in the future, but it has multiple purposes."
The U.S. group published their first report in May, but continue to publish monthly updates, with the most recent one in June.
At this point, we're just gathering information and describing what's happening.

Lynn Unruh
Unruh was the connection to the World Health Organization, as she was part of a team who wrote a book on the U.S. healthcare system for the online series Health Systems in Transition, funded by WHO. She's been involved with the organization ever since and received an email from them in March, calling on researchers from Europe, Canada and the U.S. to help gather data that explores how their country is handling the coronavirus.
The UCF-led team collects data regarding: preventing transmission of the coronavirus, ensuring sufficient physical infrastructure and workforce capacity, providing health services effectively, paying for services and governance. There's also a catch-all section in their report that encompasses topics such as mobility, border controls and the economy, explains Unruh. "At this point, we're just gathering information and describing what's happening."
Although the team is focused on national data, they reference states and even particular counties to provide more precise examples of things that are going well or where there's room for improvement. For example, when some states started reopening earlier than others, many of them were not entirely prepared to follow the national guidelines, says Unruh. Those states are mentioned in the team's report along with descriptions of their level of preparedness.
While the team is tackling the gathering and analysis of qualitative data (the press releases, CDC guidelines, journal articles and official reports), the second step in the process will be the conversion of words and descriptions to numbers, figures and charts.
"The true analysis will happen later, when the wave of researchers come and systematize the information so that we can create a more direct quantitative comparison across countries," says Koval, an assistant professor and data scientist. "In order to start seeing the patterns, you have to somehow quantify the data so we can ask data scientists, statisticians and more quantitatively oriented researchers to detect larger patterns."
Unruh, Koval and their Virginia Commonwealth University student, Mathew Alexander, will be working on collecting data until after a vaccine is created. They'll need to capture exit policies, responses and reactions, and how countries de-escalate from the pandemic, says Koval.
"I think our work will be essential in making sense of what happened and what we could have done differently," says Koval. "I don't think that this is the last viral disease that hits the globe. The global travel infrastructure is such that it predisposes our mobile community towards transmission. I think future efforts to prevent another pandemic will be based on the analysis of the facts that we're collecting."