The grant also offers interns a collaborative experience with health and medical professionals.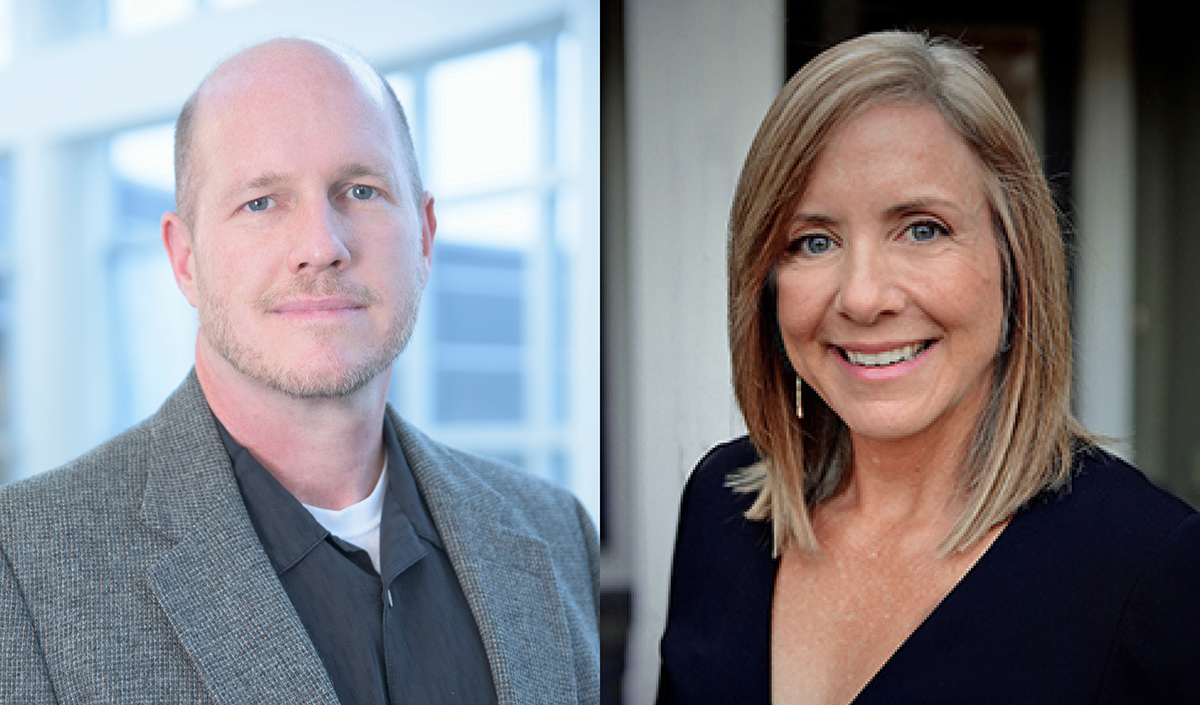 Bryce Hagedorn and Dayle Jones, counselor education faculty, have received roughly $4.5 million in grants for their graduate students over the past six years.
Since Dayle Jones and Bryce Hagedorn teamed up and began going after federal grants for their counselor education students in 2016, the pair have been awarded almost $4.5 million from the Health Resources and Services Administration. One of their most recent grants focuses on preparing graduate students from both the clinical mental health counseling and marriage, couples and family therapy programs to better serve clients struggling with opioid and substance-use addiction.
The overarching goal of the UCF-Aspire Behavioral Health Internship Programs has been to better equip students to work as mental health professionals alongside medical professionals, explains Jones, an associate professor in counselor education. The programs provide financial support to interns as they gain experiential training in the behavioral health and substance-use treatment field. "The programs help ensure a culturally competent workforce committed to serving high need and high demand areas," says Jones.
"It's a difficult field," says Hagedorn, a professor in counselor education as well as the program's academic coordinator. "One of the problems with the field of community mental health, which often serves the un- or underinsured, is it's common to have the people who are most in crisis being served by those with the least experience, which is generally interns. What sometimes happens is once people get licensed, they move out of this field and into private practice. These grants are designed to help equip, train and incentivize clinicans to stay in the community mental health field so that they are prepared to address the multiple concerns of a high-needs population."
This newest grant — focused on assisting those who struggle with opioid and substance abuse disorders — is a three-year grant, awarded in 2019 for almost $500,000. The grant's first cohort will begin this fall. The graduate students will receive $5,000 per semester for two semesters and have free onboarding trainings in areas such as motivational interviewing, medication-assisted treatment for opioid use disorder and trauma-focused cognitive behavioral therapy.
As a part of their internship experience, grant awardees will intern at one of Aspire Health Partners locations in Central Florida. This partnership provides students with a variety of settings to work in, such as inpatient, outpatient and residential addiction-based centers, explains Jones. The students who are part of the Opioid Workforce Expansion Program will also be working with the Seminole County corrections facility to help clients in prison who struggle with opioid and other substance-use disorders.
We're hoping that we're addressing the opioid crisis from within the system.

Bryce Hagedorn
The other critical aspect of these workforce expansion grants is their integrated approach with other disciplines. Students work alongside other graduate students from the College of Medicine, the School of Nursing, the School of Social Work, the School of Kinesiology and Physical Therapy, and the University of Florida's College of Pharmacy.
This collaboration allows the counselor education students to not only understand how to work with these other professions, but it also equips them with the ability to better advocate for the mental health needs of the patients in medical settings, says Jones.
"They also get to advocate for themselves for a place at the decision-making table," says Hagedorn. "It's actually moving the profession forward as these medical professionals and students get to see the value of behavioral health. We're hoping that we're addressing the opioid crisis from within the system."
Another opportunity for grant awardees is that they get to participate in the Knights Clinic at Grace Medical Home, which services the uninsured in Central Florida. The clinic, designed by UCF's College of Medicine, occurs once every other week. Patients are treated to a team approach with all these disciplines collaborating to best serve the needs of the patient. The same thing happens at the Apopka Farmworkers Clinic twice a semester: People who normally wouldn't receive care can come for their (free) yearly appointments and be treated with a "wrap-around approach," explains Hagedorn.
Niko Wilson, a doctoral student, says she's witnessed multiple examples of the integrated health approach benefiting patients during her time as one of three graduate assistants for the internship program. In one particular example, a patient came in with high blood pressure. The medical students were ready to prescribe medication, but the counseling student asked the patient when the high blood pressure started. The patient noted that she had experienced several traumatic events and major losses to her family recently, and it was at that point that the high blood pressure began. As a result of the counseling student's input, the consulting physician encouraged the patient to pursue mental health counseling first alongside further medical testing.
"People are more than just one aspect of themselves," says Wilson. "We can see their mental and physical aspects definitely interact and influence one another. Sometimes we need to attend to both the mind and the body to help a person reach healthiness."