The global rankings are a measure of the researchers' career-long scientific impact in their respective fields.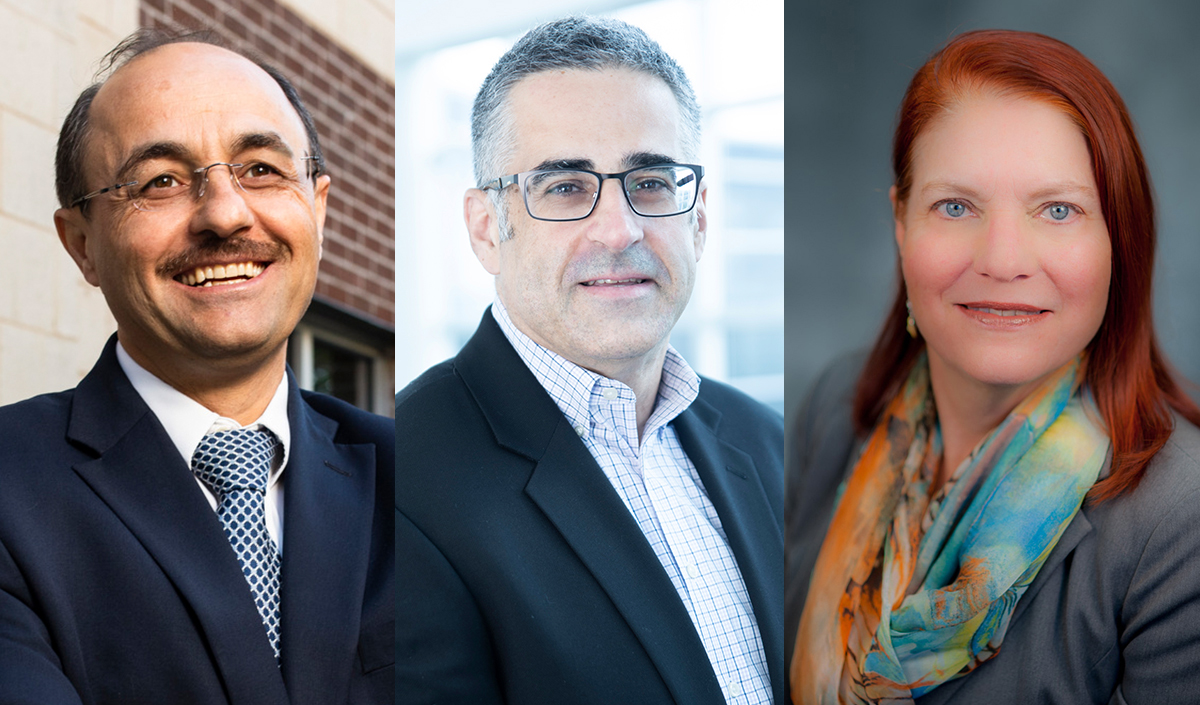 Faculty members Naim Kapucu, Roger Azevedo and Lynn Unruh are top researchers in their field. (Photo by Amy Floyd)
The University of Central Florida prides itself on its faculty members and their research, and according to a new study that appeared in the PLOS Biology journal, it has every reason to. UCF researchers are among the top 2% of their fields.
The study, titled "Updated science-wide author databases of standardized citation indicators," analyzed six factors related to research citations, gauging career-long scientific impact of the researchers in their respective disciplines and subdisciplines. The study found that 100 UCF researchers are in the top of their fields — out of a global consideration.
"Recognition like this makes us feel proud, and it makes us feel important because we at UCF, and specifically within CCIE, have these faculty. Many other institutions will do anything to have these faculty in their colleges and departments, but they chose us. They're here with us, and they're growing with us, and we are growing with them," says Florencio "Eloy" Hernandez, associate dean for research and innovation.
Researchers from the College of Community Innovation and Education include Roger Azevedo, Thomas Wan, Naim Kapucu and Lynn Unruh.
Azevedo is a professor of learning sciences and education research and the co-cluster lead and lead scientist of the UCF Learning Sciences Cluster. He ranked No. 12 out of the UCF faculty and No. 103 within the field of education, which totals roughly 58,300 researchers. Azevedo's research primarily focuses on the interaction between humans and machines. He explains that he seeks to understand how humans, of any age or occupation, learn, problem-solve and reason.
"I'm very honored to be recognized," says Azevedo. "It brings honor to the interdisciplinary research trajectory that we've been engaging in for at least two decades. It validates the research that we do, and it's valued not only by the stakeholders and the people we impact, but also by the scientific community. And I think it brings great honor to the university — that pride of being a faculty member at UCF."
Thomas Wan
Wan is a Professor Emeritus of health management and informatics. During his almost four decades in higher education, Wan conducted research in a variety of fields during his tenure — and continues to do so. Some topics include implementing artificial intelligence in healthcare as well as inherent bias in artificial intelligence-based decisions. Wan ranks No. 22 among UCF researchers and No. 166 among the 13,000 members in his field of medical informatics.
Kapucu is a Pegasus Professor of public administration. His main areas of interest include emergency and crisis management, network leadership and governance, collaborative public management, and decision-making in complex environments. Kapucu ranks No. 33 among UCF researchers and No. 224 within his fields of political science and public administration, which contains over 16,000 researchers.
"This [ranking] is a good recognition, especially with the younger generation of scholars, that academics in the field are actually finding our research useful and utilizing it in their research and teaching," says Kapucu.
Unruh is a professor of health management and informatics. Before entering the world of higher education, Unruh was a nurse for 27 years. She ranks No. 61 among the UCF scholars and No. 699 out of almost 36,000 in the nursing discipline. Unruh's research primarily focuses on the nursing workforce in healthcare organizations and the healthcare system, she explains, such as assessing the relationship between nurse staffing and the quality of care in a facility. Unruh also conducts cost-benefit analyses of nursing issues.
"I'm surprised about the ranking," says Unruh. "I had no idea I had such an impact." In addition to publishing in interdisciplinary journals, as many of UCF researchers do, Unruh got a late start in academia due to her career in nursing first. "This gives me motivation to keep researching," she says.
A complete list of the UCF researchers can be found here.
Azevedo received his doctorate in educational psychology from McGill University and completed his postdoctoral training in cognitive psychology at Carnegie Mellon University. He joined UCF in 2018.
Kapucu received his doctorate in public and international affairs from the University of Pittsburg and joined UCF in 2003.
Unruh received her doctorate in economics from the University of Notre Dame and joined UCF in 2000.
Wan received his doctorate in sociology from the University of Georgia and joined UCF in 2003. He retired in 2020.