Working with the state attorney's office, students developed an educational video for a new underage drinking diversion program while gaining real-world experience in the legal profession.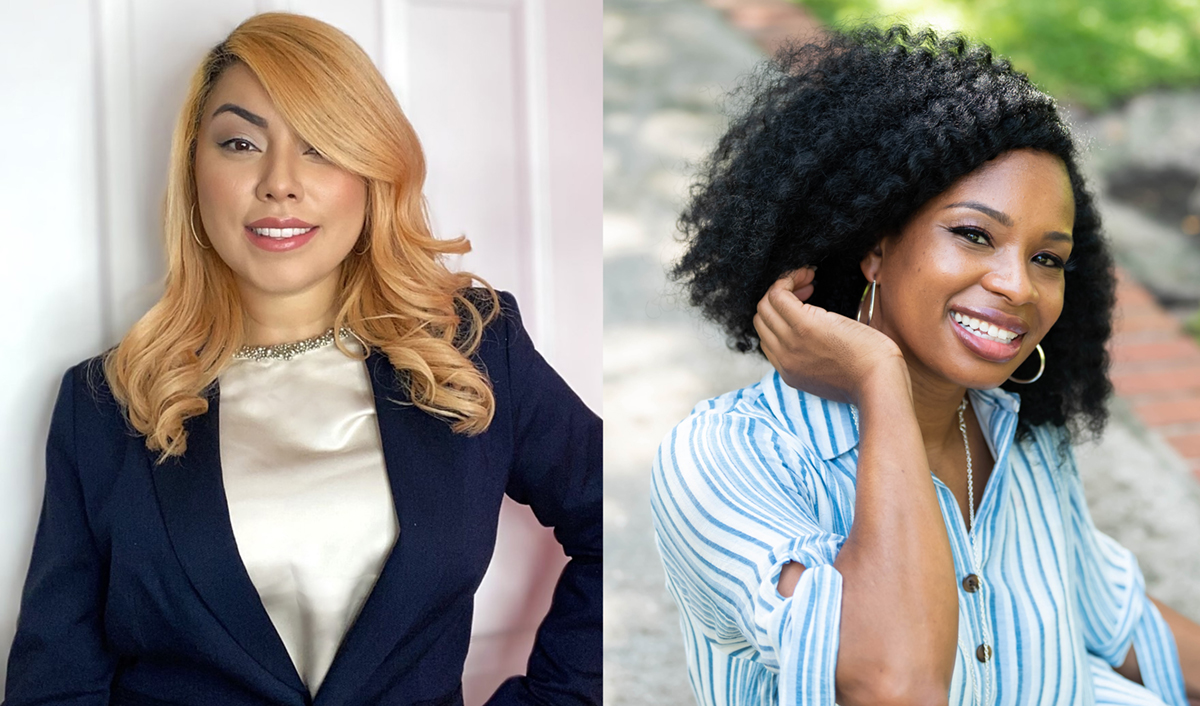 Legal studies students Danielle Padilla (l) and Shannon Waiters (r) were selected to work on a video for a diversion program with the former state attorney's office.
The Orange-Osceola State Attorney's Office selected two UCF legal studies students to help develop an educational video for a new underage drinking diversion course, which launched in December 2020.
Last semester, Marc Consalo, associate lecturer of legal studies, offered students extra credit in his Professionalism & Civility in the Law course if they pitched ideas for the video. Students Shannon Waiters and Danielle Padilla were one of the top five groups in the course given an opportunity to pitch to Aramis Ayala, the previous Orange-Osceola state attorney, and her office.
Marc Consalo, Associate Lecturer of Legal Studies
Waiters says all the student presentations were impressive, "so we were thrilled to learn in less than 24 hours that our idea was selected, and we would be working directly with the state attorney's office on the video."
Consalo says the opportunity allowed students to practice skills learned in his course, like how to build professional connections, speak to the public and interview for jobs. "We're teaching students how to present themselves in a more professional fashion when they interact with the greater community, so we talk about things like communication skills, business attire and other soft skills needed to make a good first impression."
Padilla says the course prepared her for her future as a lawyer and this opportunity with the state attorney. "Thanks to Dr. Consalo and our classmates, we were prepared to present with confidence, credibility and in a way that inspires people to listen."
The Underage Drinking Diversion Education Course was part of the state attorney's goals to reduce recidivism (tendency to reoffend) and help youth who commit non-violent, low-level offenses avoid criminal records.
Padilla says the video illustrates in simple but engaging ways how a criminal record can make securing employment, housing and admission to college more difficult. Through animation, the video also shows the short- and long-term health issues related to underage drinking, and how impaired judgement, especially among underage drinkers, leads to dangerous or more serious criminal activity. Not only does the diversion program offer education and no record of the offense, but it also benefits the entire community by redirecting prosecutorial resources towards more serious crimes.
According to Padilla, the state attorney said their pitch stood out because of an emphasis on sharing statistics and stories through engaging animations and testimonials from parents, youth, and others familiar with issues related to underage drinking.
Prior to pursuing her degree in legal studies, Padilla worked in law enforcement as a middle school resource officer and recalled the impact of this approach on students. "Whenever I noticed kids getting caught up in the wrong thing, I brought them to my office to talk about the sorts of consequences they could face, and shared animated videos or testimonials like these. You could see kids respond more to the videos than if it were just a lecture from me. It was more tangible for them and I feel confident our approach will reach youth, holding their attention and helping them grow from the experience."
Padilla says she was surprised at how many components are involved in creating such a project at the state attorney's office. "Even virtually, we received real-world experience working with a lot of people behind the scenes, in addition to the incredible guidance from the state attorney herself. We worked with other personnel, too, like the media team, and additional outside lawyers to review the legal requirements for using the educational video clips we found."
They also had an opportunity to speak to the public at the virtual press conference where Ayala announced the new diversion course.
"While the state attorney did not have to include us in the press conference, it was important to her that we share our stories," Padilla says. "It was a valuable opportunity to speak to the public. As future lawyers, if a big case takes a turn for better or worse, Shannon and I will already have this experience to look to."
Waiters shared some advice for students looking into real-world experience prior to graduation. "Take full advantage of these opportunities working with legal professionals like the state attorney's office. The networking alone is invaluable to ask questions of those steering the policies that govern our criminal justice system locally."