The UCF team will work with Aspire Health Partners to launch an internship project for undergraduate students to provide services to individuals with opioid use and other substance use disorders.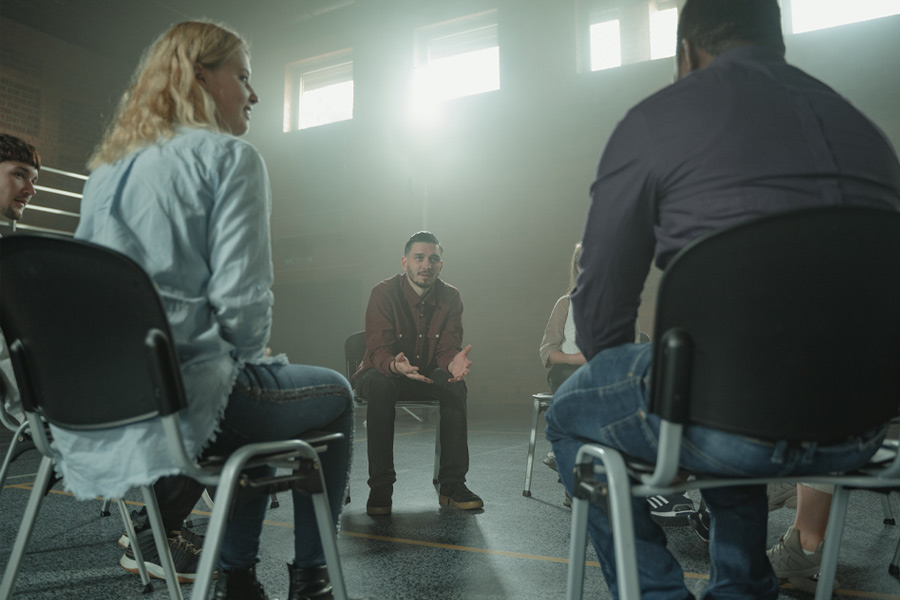 The internship will provide undergraduate students with hands-on experience working with clients. (Photo by Tima Mi Roshnichenko)
According to the Health Resources and Services Administration, there is a critical shortage of behavioral health paraprofessionals, also known as recovery support specialists. "Recovery support specialists provide an essential service at substance use treatment facilities by assisting clinical staff, such as mental health counselors, social workers, physicians and nurses with the clients," says Dayle Jones, associate professor of counselor education.
The UCF-Aspire Recovery Support Specialist Training and Internship Program aims to increase the number of highly trained recovery support specialists, while providing a career ladder for students interested in working in the behavioral health field. The program is funded for four years for almost $2 million from the Health Resources and Services Administration.
As recovery support specialist interns, students will work 10 hours a week at a residential substance use treatment facility. "It's a unique opportunity to have hands-on experience in this field," says Amanda DiLorenzo-Garcia, a counselor education post-doctoral scholar and project support specialist. "Oftentimes, students entering master-level programs do not have experience working directly with patients or clients. This opportunity affords undergraduates that experience."
Responsibilities of the interns will include monitoring client progress, helping to implement treatment plans and daily activities, and advocating for clients by linking them to existing resources, explains Jones, who's also the principal investigator of the project.
Students interested in participating in the training and internship program will complete the human services minor offered at the College of Community Innovation and Education. The minor will provide students with the opportunity to learn helping skills, work with clients from diverse backgrounds, practice career planning and understand the dynamics of couple, family and intimate relationships.
As part of the minor, students will complete two consecutive semesters of an internship with Aspire Health Partners. Interns will receive a $2,500 stipend per semester of internship (totaling $5,000) as well as funding towards tuition reimbursement once the internship is completed.
"One of the amazing parts about this program is that students will have layers of support with on-site supervisors at Aspire as well as faculty help through their internship course. The hope is that when the interns encounter situations that they haven't been in before or they're not sure how to handle something, we get to talk that through and help them develop the skills they need," says DiLorenzo-Garcia.
Given the prevalence of addictions in the country, specifically with regards to the opioid epidemic in Florida, this specialized internship opportunity can benefit students who wish to pursue a career in behavioral health. "Addictions are prevalent in the mental health and behavioral health fields today," says Jones. "Having this experience with addictions will be very helpful for the interns' career preparation."
Students who are interested in the internship program have until April 9 to apply for a fall start. "We're looking for student candidates who have strong communication skills and who want to help others," says Gulnora Hundley, associate lecturer of counselor education and project coordinator.
It's important that interns can navigate through crisis, communicate clearly with team members and demonstrate a passion for helping those who struggle with addictions, says Hundley.