Irene Pons, legal studies faculty member and lawyer, provides students with experiential learning by involving them in her cases and work.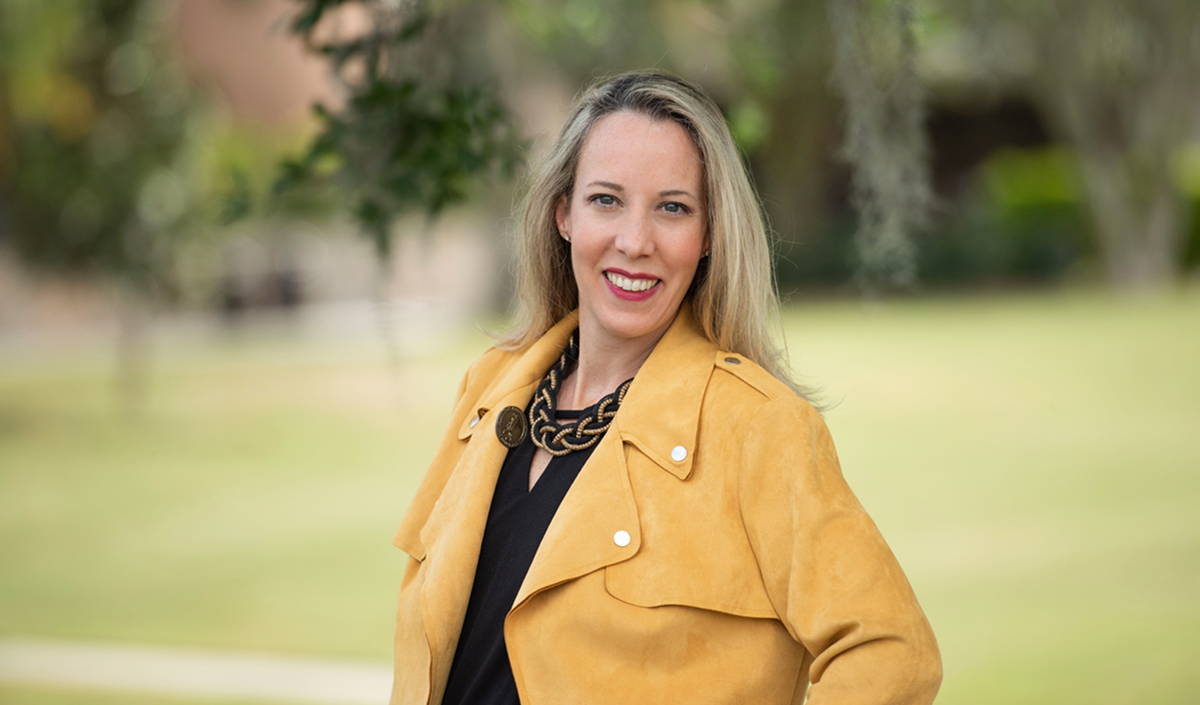 Irene Pons spends her days juggling her legal studies classes and cases, while always searching for ways to involve her students. (Photo by Amy Floyd)
At the age of five, Irene Pons '00 told her mother that she was going to become a lawyer when she grew up because they helped people, and she wanted to do that, too.
Although she was born in Puerto Rico, Pons spent part of her childhood in Houston, Texas, standing in line for food stamps each month with her mother and siblings. She knew that lawyers were paid well, and if she became one, she could provide for her mother one day.
"I grew up in poverty," says Pons. "It was a really tough life, seeing the sacrifices she made. I always knew I wanted to be able to help her and provide for her financially."
Pons did fulfill that childhood dream. She graduated from Nova Southeastern University with her juris doctorate in 2004 and passed the Florida bar exam in 2007. "Being a lawyer is my passion," says Pons. "I am rich in knowledge. I am rich in empathy and compassion and the things that I'm able to do for others — that fulfills my needs, that fulfills my heart."
Pons practiced for a few years and began substitute teaching for fellow employees who were teaching at UCF. Although Pons comes from a family of teachers, it was her personal experience in the classroom that propelled her to turn her attention to teaching full-time. "I have a passion for my students. I really enjoy seeing them evolve from the infancy of the first class to understanding and grasping the material," says Pons.
She's now an associate lecturer within the Department of Legal Studies and a part-time practicing attorney.
I do the pro bono work and community outreach because I look at being a lawyer as being an advocate for human rights. Having this legal knowledge and education are a gift.

Irene Pons
Letter of the Law
Immigration law has become a focal point in Pons' career and practice. Although Pons isn't an immigrant herself, coming from a Spanish-speaking island has allowed her to understand the struggle of the immigration process. "Not only are you in a new environment in a new country, but you're also having to start over from scratch," explains Pons.
Through her pro bono work with the Consulate of Mexico in Orlando, a contract that lasted for six years, Pons provided legal counseling to countless immigrants. She helped them draft petitions for asylum or submit forms to establish custody of their children.
"When you can speak to someone in their language, it makes such a huge difference," says Pons. "They're my people. I can personally relate to with the struggles that they've faced, not necessarily in the same context, but the discrimination, the fighting for your rights, fighting for the ability to just be able to have a voice."
Pons is currently working with the Association of Migrant Farmworkers in Apopka, Florida, doing similar work through a legal clinic.
When she works with Spanish-speakers, Pons witnesses the stress, tension and anxiety leave their shoulders and body when they realize she can speak their language. "I do the pro bono work and community outreach because I look at being a lawyer as being an advocate for human rights. Having this legal knowledge and education are a gift," says Pons.
In the Classroom
Pons teaches 14 different areas of law at UCF, though her most popular classes are immigration law, adoption law and intercultural legal competence. She also teaches entertainment law. Pons created the intercultural legal competence course to teach students about the interpersonal relationship between a lawyer and clients from different cultures.
By remaining a practicing attorney, Pons is able to stay up-to-date on relevant laws and bring the experience of being in court back to the classroom. "Because I practice, I can bring more depth, practical knowledge and understanding of the law to my students."
Last year, a handful of students from her intercultural competence course participated in a major case that requested a gender change petition for Juleigh Mayfield. Pons accepted the case not only because Mayfield is a friend from Pons' Disney days (she was Mary Poppins), but also because Mayfield was willing to let students participate. Pons was able to make the experience a learning opportunity.
Students from her immigration law course accompanied Pons on a spring break trip last year, and their experience became a docuseries, Break for Impact, which became an award-winning movie thanks in part to UCF's Center for Distributed Learning. Pons' original idea was to film and document the trip as a way for her and a few students to bring back their experiences at the U.S.-Mexican border for the rest of the students who couldn't come. With over 100 hours of footage, it quickly transitioned into an opportunity to highlight the issues at the border and what families were facing in their effort to cross. The docuseries was nominated for three Suncoast Regional Emmys and won the award related to public, current and community affairs. The documentary also received the Social Awareness Award from the Orlando Film Festival.
Pons is also the faculty lead of the new Immigration Justice Center at UCF. Tanya Fernanda, a legal studies student, formed the center after being inspired by the docuseries as well as her own immigration process into the U.S. from Mexico. Students in the organization will help Pons fill out I-589 forms for immigrants to petition for asylum in the states. "It's a direct impact of the work that I do in the field and the community, bringing it back to the students to give them a real-life opportunity to work on cases. You don't normally see these types of clinical opportunities in undergraduate programs," says Pons. "But our students are fully capable of doing this."
Take Two
The final project that Pons currently has on her plate, in addition to being a mother to two young boys, is a sequel to the docuseries: Break for Impact: The Crisis Continues.
Pons explains that the second docuseries will be about child influx centers and Humane Borders, "a nonprofit organization dedicated to saving lives by providing water along highly used migrant trails in the Arizona desert." Humane Borders is one of multiple organizations who have drinking stations in the desert to help migrants cross the rough terrain safely; they provide drinkable water and items like blankets and shoes.
Looking Forward
Despite all her current roles and responsibilities, Pons still finds time to brainstorm plans for the future: She wants to expand the community outreach of her students by creating a nonprofit organization.
"I'm reaching students, but how can they then take their experiences and multiply what we're doing?" says Pons. "The experiential learning is what I want to continue doing, but let's make it on a bigger scale. Let's provide legal clinics and legal advice in our community. Let's make an impact. I think the motto for 2021 is, 'We did a break for impact. Now we want to be the impact."