UCF professor explores ranger perspectives on their work environment and its impact on wildlife conservation.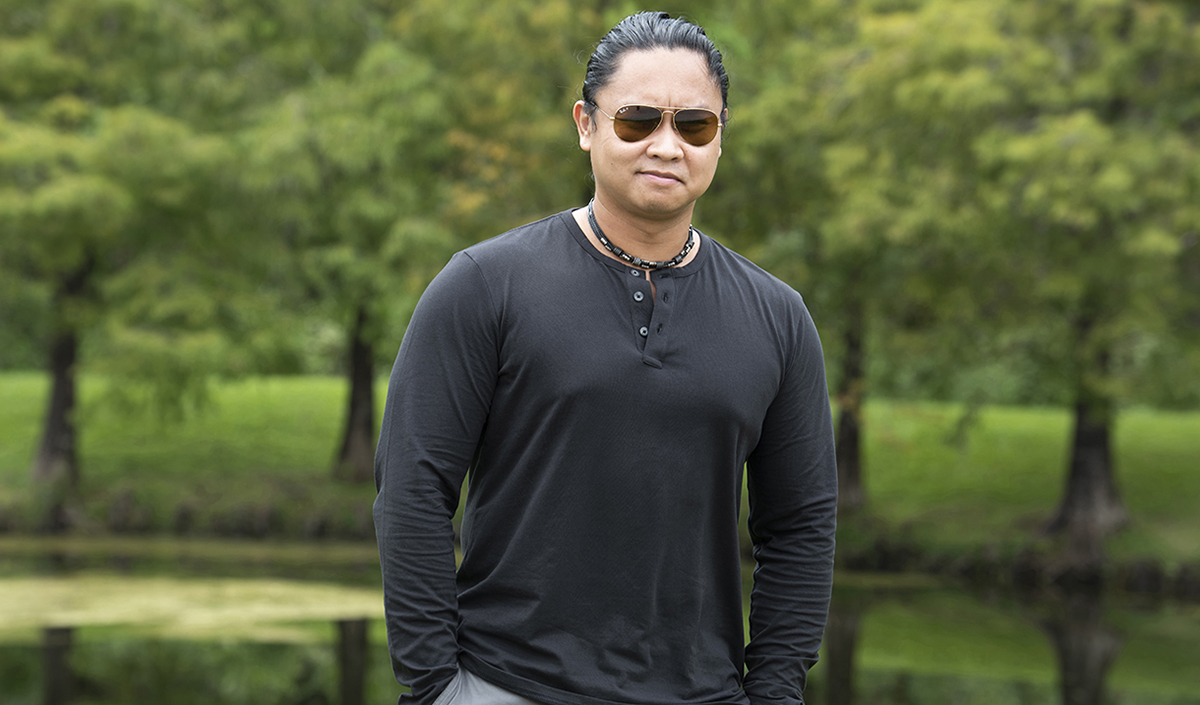 William Moreto, associate professor of criminal justice, has focused his research on better understanding rangers and their role in conservation. (Photo by Amy Floyd)
When William Moreto, associate professor of criminal justice at UCF, earned his bachelor's degree in criminology, he never imagined his career would lead to fieldwork studying rangers in protected areas of Kenya, Nepal, Uganda and the Philippines. Moreto's interest in criminology (the study of criminal behavior) led him to Rutgers University, where he hoped to study under Professor Ron Clarke, a world-renowned researcher in the field. However, Moreto learned that Clarke was refocusing his research at the time on wildlife crime and prevention. While Moreto understood crimes like illegal hunting were an issue, this was the first he learned that his interest in criminology could be combined with conservation as an area of study — and he was into it.
Moreto went on to complete his doctoral degree under the guidance of Clarke. While going through GPS ranger patrol data for his dissertation, a thought came to him. "I didn't really know what the dots on the GPS patrol data screen meant. I mean, I knew they were rangers, but I didn't know why they went to that particular location or who they were as a person."
Since then, he has focused his research on better understanding rangers and their role in conservation — especially given roles can be vastly different around the world depending on location, culture, environment and other factors. However, he says rangers are typically the frontline professionals involved in protecting and managing national parks, natural areas, wildlife and cultural sites. In these roles, they might patrol protected areas, monitor wildlife, prevent poaching, engage local communities in conservation, help communities resolve human-wildlife conflicts, respond to wildfires and assist with tourism.
Moreto says the voices of rangers were often missing from the field of conservation science (the study of the protection of biodiversity). Recognizing this, Moreto, along with the World Wide Fund for Nature, conducted the most extensive study on rangers. The study involved collecting more than 6,000 surveys from over 25 countries throughout Africa, Asia and Latin America over three years.
The surveys asked rangers about their work environments, job stress and satisfaction, community and supervisor relations, corruption and misconduct, and how the work impacts their personal lives, among other topics. The research team found that rangers face excessive safety and health risks that could be significantly reduced with appropriate interventions.
On average, rangers surveyed worked over 72 hours a week and were paid slightly less than $300 USD per month. Still, Moreto says rangers frequently must purchase their own boots or settle for inadequate footwear, like rain boots — this for a job that requires patrols over long distances. Communications equipment was also limited, and an inability to communicate in real time makes an already dangerous job riskier. In addition, rangers lack of access to clean drinking water, mosquito nets and shelter. Because of this, the team found that infectious diseases are a serious threat, with a staggering 31% of the rangers surveyed contracting malaria over a 12-month period.
Rangers are the people on the ground, the frontline guardians of protected wildlife and their habitat.

William Moreto
With multiple risks facing rangers, the lack of insurance coverage for serious injury or on-the-job death leaves the rangers and their families ill-equipped to manage the aftermath of these dangers. In addition, rangers can be isolated from their families for long periods, and with limited communication, families often find themselves concerned since they cannot call their loved ones.
Supervisor-ranger relations and organizational structures can also present challenges in some areas. Six in 10 of the surveyed rangers fear for their safety when exposing corruption in wildlife protection. Additionally, Moreto says even when a ranger apprehends an individual, low prosecution and conviction rates for wildlife crimes can demoralize them. "After putting themselves at such high risk, it is difficult for rangers to see the same person walking around free later that day."
The ranger-community relationship is also essential in this work, according to Moreto. He says protected areas under ranger care are vast and stopping a wildlife crime in progress is difficult without community support. "Fostering co-wildlife guardianship between rangers and the community helps in stopping many wildlife crimes before they happen."

William Moreto has conducted fieldwork in protected areas of Kenya, Nepal, Uganda and the Philippines. (Photos courtesy of William Moreto)
It is important for rangers to journey outside protected areas to build relationships with surrounding communities, says Moreto, and outreach can inspire the next generation of rangers through education. From building trust with community members so they may alert rangers about criminal activity to understanding their needs and traditions, developing community relations is vital to decreasing illegal activity. "In some communities, if a large animal like a tiger kills livestock, the community might carry out a retaliatory killing. However, if rangers are aware of the loss having built a relationship with the community, they can look for alternate solutions like replenishing their livestock and preventing retaliatory responses."
Moreto says the research team will combine ranger perception data with protected-area organizational data from around the world. With this, they will explore how ranger perceptions impact effectiveness and efficiency. He hopes to reflect their voices in conservation science. "Rangers are the people on the ground, the frontline guardians of protected wildlife and their habitat."
To Moreto, the dot on the map and other data he collects means more than just a bunch of numbers. "I've been fortunate to hear from rangers around the world, and it is not something I take for granted. The quotes and interviews are not just data points to me — they come from actual people and are essential to consider when looking at conservation science."