The annual Criminal Justice and Public Service Conference was recognized for its commitment to the benefit of both criminal justice students and organizations that attend.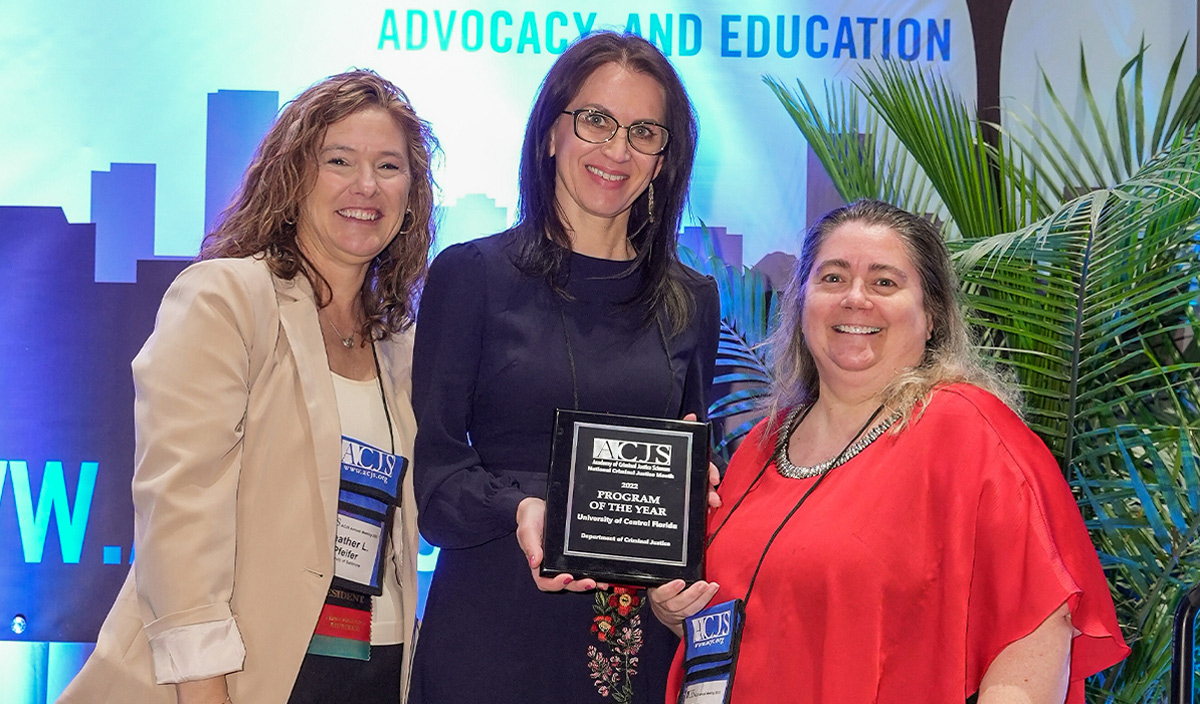 Iryna Malendevych and Debra Ross accepted the National Criminal Justice Month Program of the Year award during the recent Academy of Criminal Justice Sciences Annual Meeting. (Photo by Gagik Arutyunyan)
UCF's annual Criminal Justice and Public Service Conference is celebrating its sixth year with a new accolade, having recently been recognized as the National Criminal Justice Month Program of the Year.
National Criminal Justice Month takes place each March with the goal of promoting awareness of the causes and consequences of crime, as well as strategies for preventing and responding to it. Each year, the Academy of Criminal Justice Sciences' National Criminal Justice Month Committee honors academic departments, schools, colleges and universities for events and programs that focus on education and community engagement.
Hosted by pre-professional criminal justice fraternity Lambda Alpha Epsilon, the Criminal Justice and Public Service Conference provides a space for students to seek employment, internships and volunteer opportunities with various local, state and federal agencies in attendance.
This is the program's first time receiving the Program of the Year award. Iryna Malendevych, senior instructor in the Department of Criminal Justice, says it came as a welcome surprise for both herself and Debra Ross, the faculty co-advisors for Lambda Alpha Epsilon.
"The NCJM Committee believes that your conference is a wonderful example of showcasing the importance of academic and practitioner collaboration, to the benefit of criminal justice students and the field," according to the committee.
Although the conference was Malendevych's brainchild and she has been an advisor since its inception in 2017, she and Ross both credit their students for handling most of the operational logistics and mentoring the upcoming leadership team to plan ahead. They also learn other valuable skills such as marketing and advertising, connecting with and inviting agencies to participate, assembling panelists and event management.
"It's something that they've put volunteer work into – especially those who were in leadership positions and spent numerous hours creating and running the program. It was their achievement as well rather than just ours," Malendevych says.
The daylong conference is open to all UCF students, as most agencies and organizations that attend are looking for a variety of skillsets and specialties. Attendees are given a chance to improve their leadership skills, strengthen their knowledge about the field, interact with professionals, gain inspiration from the experts and network with others.
It's grown each year since its inception, now attracting more than 100 students and 50 agencies each year. Many agencies choose to come to UCF's conference over others due to its efficient nature, Malendevych says, and it also comes full circle as alumni who once attended the conference as students themselves return as agency representatives to recruit.
"A lot of people don't realize that criminal justice includes many other career opportunities, too," Ross says. "For example, a police agency is just like any other organization, and they have a lot of other jobs not necessarily centered on criminal justice. That's why we try to get other students to come, as well. We have some agencies that contact us asking when the next conference is coming, especially if they're hiring. If they're not hiring, we also ask whether they have an internship opportunity available so it's helpful for the students."
Receiving recognition for the program is nice, but the conference didn't begin out of a desire to win awards. For Malendevych and Ross, the real reward lies in the benefits and opportunities both students and participating agencies receive. Malendevych adds that she would love to see other disciplines adopt similar programs or encourage students in other fields to attend theirs.
"I tell our students to do as many internships as they can, because this field can be very difficult to be in," Ross says. "One thing that I love about this conference is that we bring in so many different agencies from across the spectrum of not just criminal justice but also public service, social service and nonprofits so the students understand where the system fits within a larger system. They can find their niche and have more opportunities."