UCF juniors and seniors who interned through the Teacher Quality Partnerships project signed their letters of intent to accept teaching positions with the district.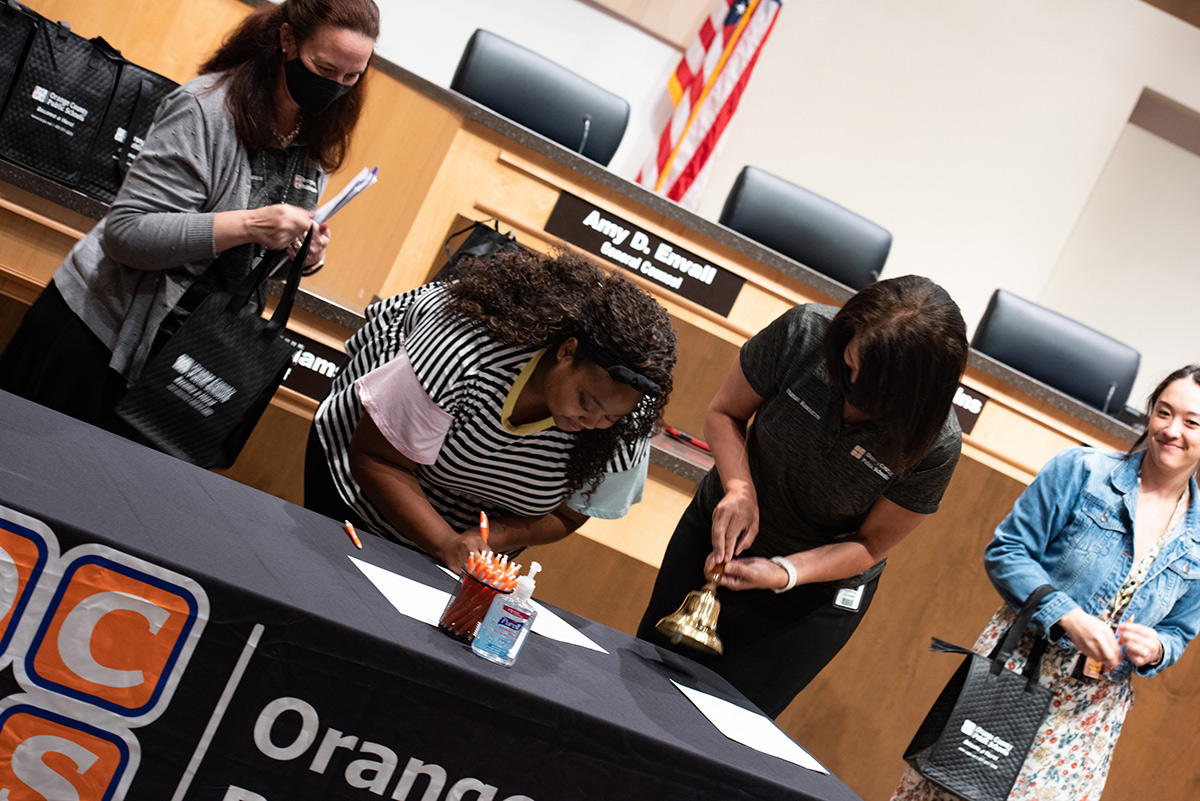 UCF students involved in the Teacher Quality Partnerships program signed letters of intent accepting teaching positions with Orange County Public Schools. (Photo by Melissa Spence)
Students involved in UCF's Teacher Quality Partnerships project celebrated taking the next step in their journey toward becoming educators as they signed letters of intent with Orange County Public Schools during the district's Signing Day April 13.
Much like National Signing Day, when student-athletes commit to continuing their athletic careers in college, UCF's teacher candidates signed their own letters of intent to teach at one of the district's partner schools after graduation. Seniors were even surprised with $2,000 each to purchase supplies for their classrooms next year.
The Teacher Quality Partnerships project is funded by a five-year, multimillion-dollar grant within the Effective Educator Development Programs in the U.S. Department of Education.
The goal is to recruit, prepare and sustain highly effective teachers. Special emphasis is placed on mathematics, disciplinary literacy and supporting students with diverse learning needs.
"This project is a life dream of mine to make sure we are supporting the learning process for teachers as they work with students who are in the most vulnerable, high-need schools," says Mary Little, professor in the School of Teacher Education and the principal investigator on the Teacher Quality Partnerships project. "I truly believe education is the great equalizer, so the more that we can support our teachers working with our children, that's a great thing."
Additionally, the partnership between UCF and OCPS aligns resources and support for teacher candidates while also improving the academic experience for students in high-need schools.
As the fourth-largest school district in Florida and ninth largest in the nation, OCPS is among numerous school districts working to fulfill teacher vacancies. The signing-day event represents the culmination of teacher education and recruitment through the Teacher Quality Partnerships project.
"It really helps to build a community of educators who love teaching," Little says. "I think it highlights the partnership and the continuous learning and passion that we all share to make a difference for students and their families within all communities."
Dr. Bridget Williams, chief of staff at OCPS, said the partnership began in 2018 at Catalina Elementary with three UCF interns. Since then, nearly 150 UCF students have interned through the program, and 97% are now teaching at OCPS schools – 81% of them in Title I schools.
Juniors and seniors involved with the project have the choice to intern at one of nine partner schools: Catalina Elementary, Eccleston Elementary, Ivey Lane Elementary, Jones High, Memorial Middle, OCPS Academic Center for Excellence, Orange Center Elementary, Rock Lake Elementary and Union Park Elementary.
Abigail Dohmlo, who will graduate this Spring with a bachelor's degree in elementary education, signed her letter to accept a position as a third-grade teacher at Union Park Elementary. Dohmlo spent the Spring semester interning in a fifth-grade classroom at Union Park.
"The atmosphere at Union Park is amazing, and there's a ton of support there," Dohmlo says. "It's been a great experience, and I've learned a lot. I do it for the kids – they are what get me up in the morning and get me to school."
Cameron Smark also will graduate this semester with a bachelor's degree in secondary education on the social sciences education track. Having spent both of his internships at Jones High, Smark accepted a position at the school as a tutor focusing on senior support.
"It's a very supportive, positive experience to be part of the project and to be surrounded by people who support it," Smark says. "I really can't thank my clinical coordinators and supervising teacher enough. They have been rockstars in helping me out, building me up and encouraging me."
OCPS District 1 School Board Member Angie Gallo applauded signees for their dedication to the profession they'll soon be entering.
"Teachers are the cornerstone to what we do, and we can't do what we do as a School Board without high-quality teachers in the field and in the classroom," Gallo said. "You're the bones of everything that we do."
"You're ahead of the game because you made the decision to do this," District 5 School Board Member Vicki-Elaine Felder added. "There's something innate in you that tells you that you can make a difference – and you can."