More than 80 representatives from the college's potential and established partnerships joined college leadership for a partnership breakfast at UCF Downtown.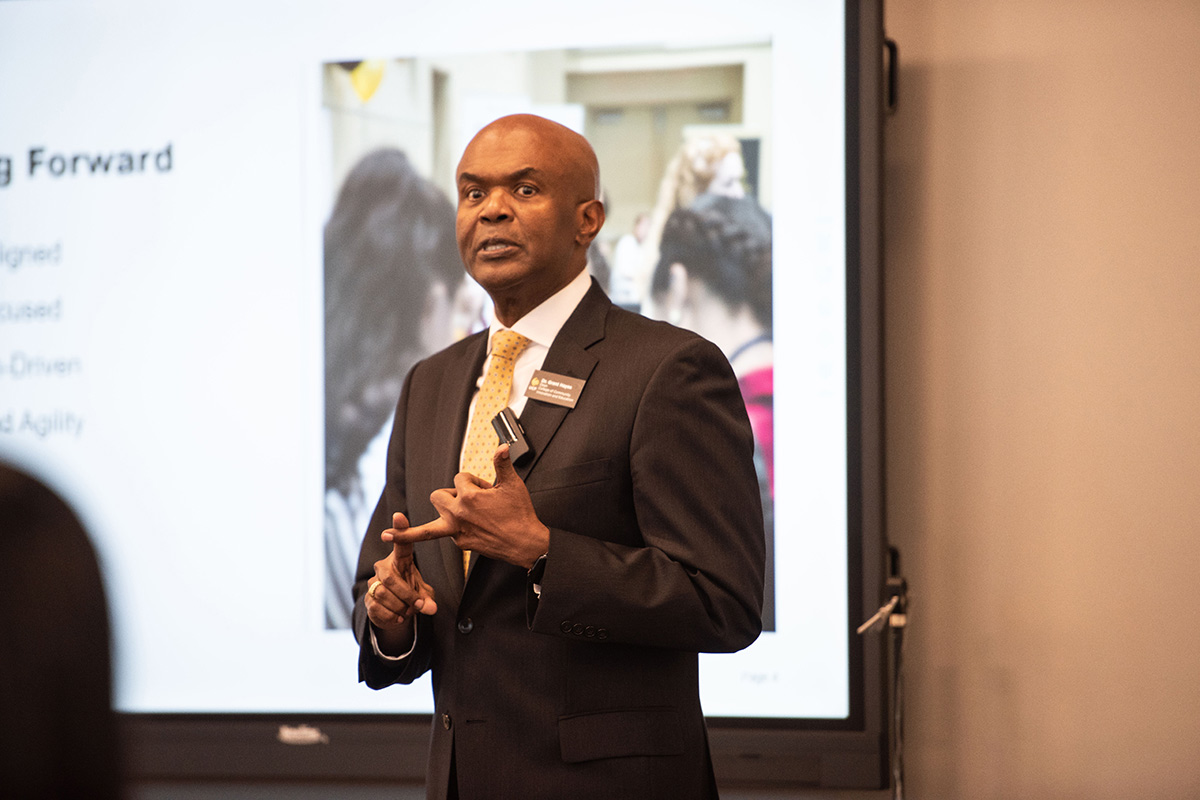 CCIE Dean Grant Hayes presents at the CCIE Partners Breakfast.
With dedication to service at its core, the College of Community Innovation and Education (CCIE) strives to unite people and programs focused on a common goal – building stronger communities through innovative solutions to complex social problems.
It's a mission the college can't accomplish without the help of its partners. On Friday, Feb. 10, college leaders and representatives welcomed over 80 of them to UCF Downtown for the inaugural CCIE Partners Breakfast to reinvigorate existing partnerships and share the college's vision with others.
Grant Hayes, dean of CCIE, emphasized the college's unique position at the intersection of uniting programs linked by a common thread of envisioning and actively working to positively impact the people and communities served.
"Our college has diverse talents, expertise and a vision of everyone working together to solve problems that exist far beyond us," Hayes says. "We drive meaningful impact by embracing and cultivating community engagement, research and innovation. As a college focused on the future, CCIE is committed to long-term excellence for UCF and for our communities through dedication to cutting-edge academia, student success and building sustainable partnerships. I am proud to help lead a college that is mission-aligned, future-focused, innovation-driven, and motivated by interdisciplinary teamwork."
Throughout the event, college leaders shared more information on the impact CCIE students, faculty, staff and stakeholders have on the community through academic programs, research and collaboration. Innovative instruction, transformative scholarship and strong partnerships all play crucial roles in educating and empowering future leaders.
Jeff Goltz '06PhD, executive dean of the School of Public Safety at Valencia College and chair of the CCIE Criminal Justice Advisory Board, says that partnerships not only provide a chance for institutions to build relationships but also to work together and create an educated student base that will become tomorrow's leaders.
A graduate of the public affairs doctoral program himself, Goltz continues to place emphasis on the value of continuing to foster the partnership between UCF and Valencia College in his current role.
"These connections and advisory boards have really helped us grow as a school," Goltz says. "We've had a lot of good ideas come our way. I'm also part of the CCIE Strategic Planning Committee right now, and like I said in one of the initial meetings, all roads lead to CCIE because it does such important work in the community. I don't think there's a more powerful relationship between a college and a university in a region right now than there is between Valencia and UCF."