The 13-member council, which includes representatives from various community organizations and stakeholders, are supporting the college in developing its strategic vision.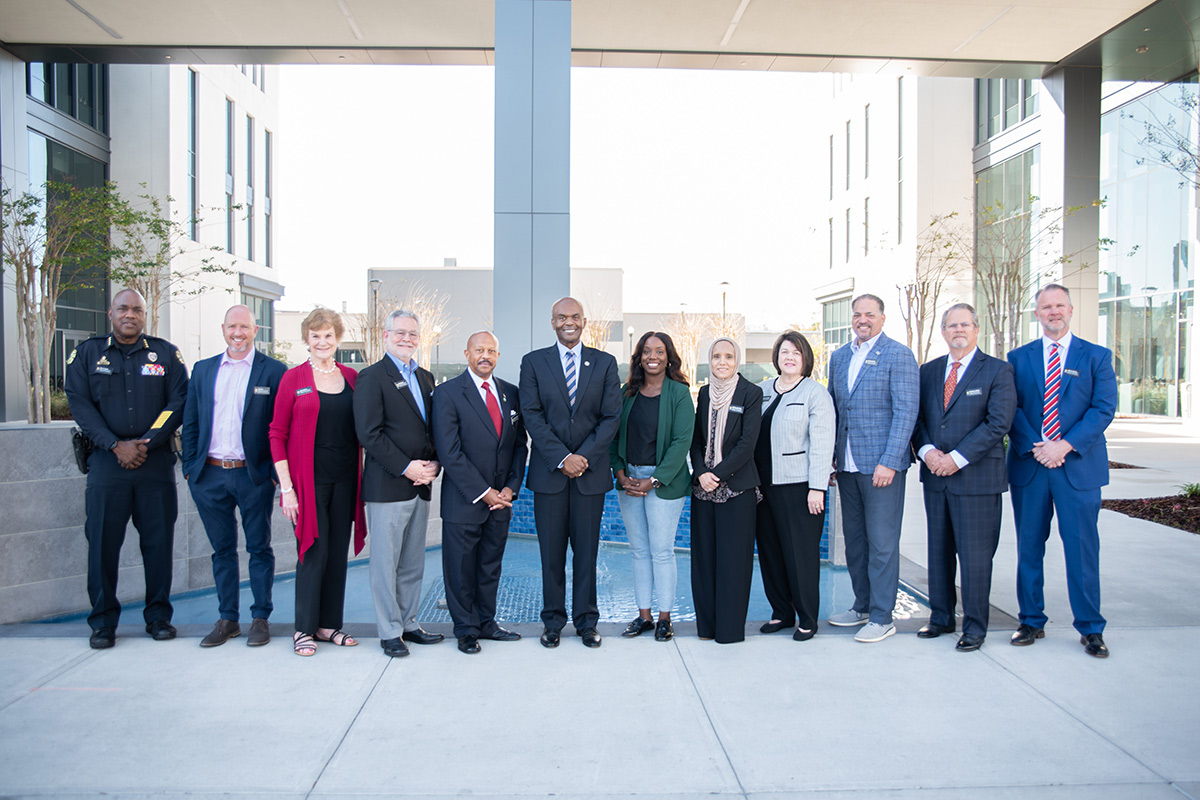 The CCIE Dean's Advisory Council will help chart the college's path over the next few years.
As the College of Community Innovation and Education works toward a new strategic plan and five-year vision, college leadership has established the newly reinvigorated Deans Advisory Council to assist in reimagining the college's future.
The council comprises 13 members who represent various community stakeholder groups from around the Central Florida region. They also will meet again in the summer and fall to discuss progress, updates and new insights.
Council members held their inaugural meeting Feb. 22 at UCF Downtown, during which they spent time networking and learning about the needs of the college and how their expertise will help inform its vision. The goal of the Dean's Advisory Council is to bring together a diverse group of community stakeholders who can offer guidance and input regarding fine-tuning CCIE's strategy, course experiences, community engagement and innovative thinking.
"We are continuing to focus on developing a strong understanding of both our work and the critical organizational needs, and we need our council members' expertise to accomplish our goals," says Grant Hayes, dean of CCIE. "Given their professional experience and community presence, their contributions and insights will be valuable as we move toward shaping the future direction of CCIE and stewarding the college's organizational financial health."
Advisory council members participate in appropriate fundraising activities and thoughtfully leverage personal and professional connections to further the organization's fundraising goals.
Mark Brewer, president and CEO of the Central Florida Foundation, will serve as the Dean's Advisory Council chair for the next two years. As an existing community partner, Brewer says he is excited to get things underway and serve in this capacity because of the impact CCIE has on the surrounding communities.
"This is an exciting time for the college and for the dean, who is putting together a vision and a mission," Brewer says. "This council will help him execute that by guiding the process that it takes to get those things done. We are a group of advisors who are always available to help, but it is also a place where the dean can bring ideas to the council and vice versa. It's a wonderful way for the community to be involved with the college. Over the next few months, we're going get a clearer vision of what this college can accomplish. When the strategic plan gets finished, it will have had input from all around the community."
Advisory council members include:
Norton N. Bonaparte, Jr. – City Manager, City of Sanford
Mark Brewer – President and CEO, Central Florida Foundation
Brian M. Butler – President and Owner, JCB Construction, Inc.
Ronald S. Gilbert – Partner at Colling, Gilbert, Wright – The Florida Firm
Marcia Hope Goodwin – Chief Service Officer and Director, Office of Community Affairs, Office of the Mayor, City of Orlando
Jim Hair – Partner and Orlando Office President, Little Diversified Architectural Consulting
Belinda O. Kirkegard – Executive Director, The National Entrepreneur Center
Mary Palmer – Owner, Mary Palmer & Associates, LLC; President, Orlando Philharmonic Board of Directors
Fatima Ait Rami – Outreach Director, Islamic Center of Orlando
Lashea C. Reaves – Senior Vice President, Director of DEI Business Administration and Risk, Truist
Eric D. Smith – Chief of Police, Orlando Police Department
John N. Spivey – Chief Assistant Public Defender, Florida's 5th Circuit, Lake County District Attorney
Maria F. Vazquez – Superintendent, Orange County Public Schools