A pediatric cancer survivor himself, Carlos Aleman '23 has gone from PedsAcademy intern to child life gaming and technology specialist at Nemours Children's Hospital.
BY DANIELLE HENDRIX '15 |  JUNE 13, 2023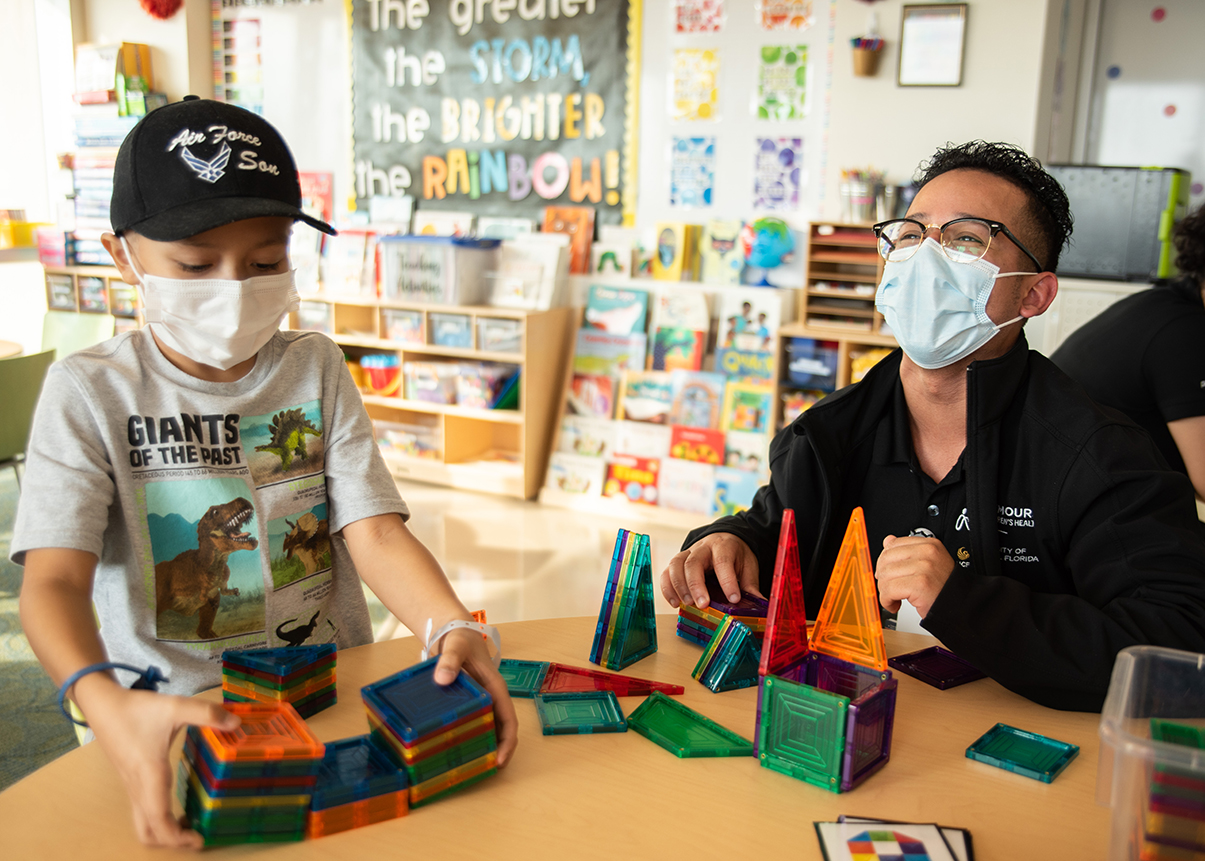 Carlos Aleman '23 thoroughly enjoyed his time interning at PedsAcademy at Nemours Children's Hospital this past spring.
Throughout his internship at UCF PedsAcademy at Nemours Children's Hospital, Carlos Aleman '23 was notorious for forming a strong bond with each patient who entered the classroom.
It's the kind of connection and feeling of solidarity that can only come from having once been in their shoes. It's also one that he gets to continue through his newly minted position as a child life gaming and technology specialist at Nemours.
Aleman, who graduated this spring with a degree in early childhood education and development, is a cancer survivor himself. Diagnosed with acute lymphoblastic leukemia at age 4, he too was once a pediatric patient fighting chronic illness. When he relapsed at age 7, he was transferred to UF Health Shands Hospital, where he remained for almost a year after receiving a bone marrow transplant from his brother. It was a success.
"Ever since then, it went from weekly and monthly check-ins to annual ones," he says. "Through all of it — and because of my faith — I realized my story wasn't just the fact that it happened. I thought it was meant for a purpose, as well."
Aleman didn't know it then, but his victory over cancer would indeed help lay the foundation for his future. When he got to high school, he began mulling over career options and praying for direction. It was then that he realized he wanted to be involved in the medical field.
Aleman's undergraduate career began at a private college up north, where he majored in nursing. He later ended up returning home to Florida and transferring into UCF's nursing program. But as the COVID-19 pandemic took hold, Aleman realized he had some soul searching to do. After deciding to take a gap year, he discovered the idea of a child life specialist through his former musical theater director.
"His son was a child life specialist, and my sister was always asking me if I'd heard of that," he says. "She thought I would really like it. I had a phone call with him and asked what child life programs are and what he did. He told me they deal with a lot of psychosocial care in the hospital, helping children to understand and normalize their environment by providing play-based therapy."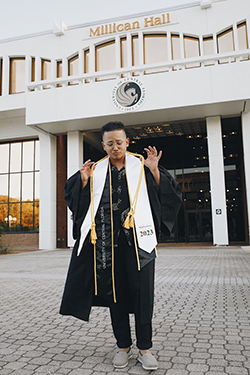 Courtesy of Carlos Aleman
Realizing it sounded like something right up his alley, Aleman decided to change course and switched majors from nursing to early childhood development and education. Through the program's early childhood development track, he would be able to take courses that would count toward requirements for becoming a certified child life specialist.
Aleman's time in the program culminated this past spring with his internship at PedsAcademy. He knew that he'd be working with children in the hospital, developing individualized lesson plans and providing educational enrichment opportunities. But what surprised him is how much he saw himself grow throughout the experience.
"I didn't really know that I was going to be working with other multidisciplinary professionals as well — like occupational therapists, physical therapists, physicians, speech language pathologists, and music and art therapists, to name a few," he says. "Through that, I was able to build rapport with many people in that same department. I found myself really falling in love with this field, but in that same sense, I also started seeing how much I am capable of."
Having been involved full time over the course of a few months, Aleman found himself getting to know not only the patients and their stories, but also their families. Spending that time with them allowed Aleman to tap into each child's individual needs and walk with them through the challenges they faced.
"I saw their character developing through the different opportunities and lessons that we offered," he says. "You have to be intentional, especially with children who are going through a lot. They really do see and appreciate all the small things you do for them."
Luckily, Aleman won't have to say goodbye to PedsAcademy entirely; in fact, he'll still be in the same building. Now a proud first-generation college graduate, he will continue working with pediatric patients in his new role as a child life gaming and technology specialist. He will be using video games, virtual reality, tablets and other technologies as tools to encourage therapeutic patient and family engagement.
"I'm just thankful for all these opportunities that have presented themselves along the way," he says. "It's always my hope that by sharing my story, it could inspire others who are overcoming adversity, or that it could spark a child's imagination to think about what it is they want to do in their lives, as well."