Hospital-Based Internship Program For UCF Teacher Candidates
PedsAcademy at Nemours Children's Hospital is a unique, hospital-based internship program for UCF Teacher Candidates in Early Childhood Development, Elementary Education, Exceptional Student Education, and Secondary Education. PedsAcademy Teacher Interns are trained and supervised by a certified teacher in the hospital setting. We provide tailored instruction and educational enrichment opportunities to help patients develop and maintain academic skills during prolonged hospitalization. Small-group and/or 1:1 instruction takes place either at bedside or in the hospital classroom.
Through specialized training, professional development, and hands-on experience, the PedsAcademy Internship Program provides future teachers with deep understanding into the educational and social-emotional needs of children with chronic and complex medical conditions.
What Do We Do?
At PedsAcademy we are dedicated to serving all children at Nemours Children's Hospital beginning on day one of their hospital stay. We facilitate meaningful and engaging activities across all school subject areas and include innovative technology in our learning sessions, such as robotics and augmented/virtual reality. Each year, we host a variety of hospital-wide educational events, including World Read Aloud Day, Read Across America, STEM Day and more!
Why Participate?
This unique internship opportunity enables pre-service teachers to implement evidence-based practices and skills they're learning in their coursework. Interns will also participate in professional development focused on understanding the specialized learning needs of hospitalized children and how to make appropriate accommodations and modifications to instruction. Our team of supervising faculty is on-site to provide interns with continuous support and mentorship.
Beyond opportunities for practice and professional growth, this program positively impacts children and families at Nemours Children's Hospital. We are able to fill the gap of missed school days and promote patients' educational growth and development through individualized, research-based instruction.
Who is Eligible to Apply?
Students in the following academic programs are eligible to apply for the PedsAcademy internship:
Early Childhood Development and Education (Track 2 only)
Elementary Education (K-6 certification)*
Lifelong Learning Track
Exceptional Student Education*
Secondary Education*

English Language Arts Education
Mathematics Education
Science Education
Social Studies Education
*Students must be eligible for Internship I to participate in the PedsAcademy Internship Program.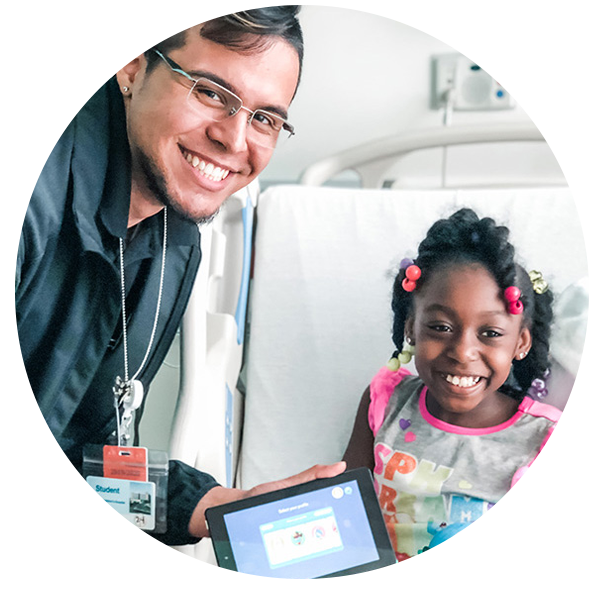 Are you interested in participating in the PedsAcademy Internship Program? Before you begin the application process, pay special attention to your degree program internship requirements. For students in the elementary education (BS) program (K-6 certification track), the exceptional student education (BS) program or the secondary education (BS) program, admission to the PedsAcademy Internship Program will only be considered for students who have already submitted an online application for Internship 1 to the Office of Clinical and Field Experiences. For students in the lifelong learning track or early childhood development and education program, please refer to your undergraduate catalog for any special departmental or program requirements.
In additional to your program-specific internship requirements, you will also need to complete the PedsAcademy Internship Application.
Important Internship Dates
| Internship Semester | Application Deadline | Interview Period | Internship Orientation |
| --- | --- | --- | --- |
| Fall | March 1 | March - April | August |
| Spring | October 1 | October - November | January |