Thirty-six Orange County nonprofit professionals benefited from the Center for Public and Nonprofit Management's latest capacity-building workshop series.
BY JOSH HOLDER '19 |  JULY 13, 2023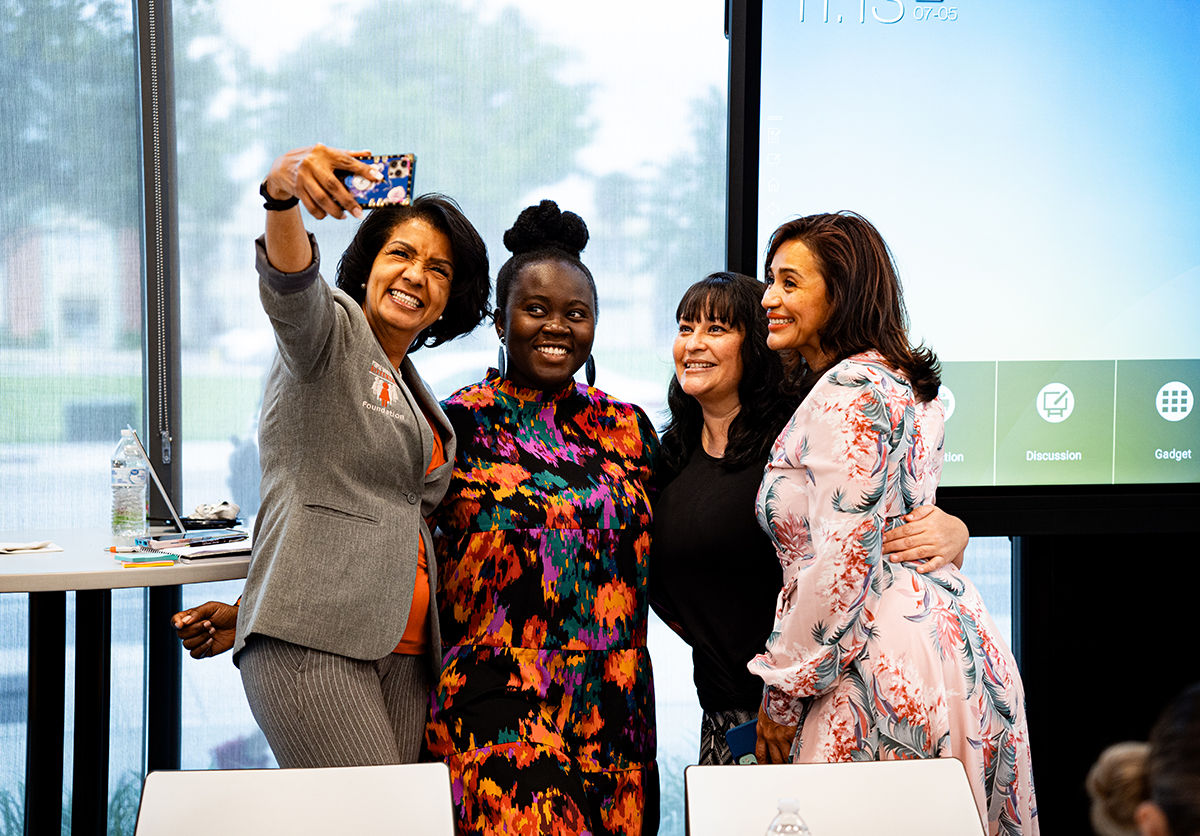 Thirty-six professionals representing 19 local nonprofits recently graduated as the series' latest cohort. (Photo by Blake Osting)
Managing a nonprofit organization is a unique and complex undertaking that often doesn't come with a manual. That's where the UCF Center for Public and Nonprofit Management steps in.
Funding from the Orange County Government Citizens' Commission for Children allows the Center for Public and Nonprofit Management — an extension of the UCF School of Public Administration — to provide capacity-building workshop series for local nonprofit professionals, many of whom represent early-stage or growing organizations. Seven sessions are provided in a hybrid model, with three taking place online and four in-person at UCF Downtown to provide additional networking opportunities for participants.
On July 7, 36 professionals representing 19 nonprofit organizations graduated as part of the center's latest cohort — one of more than a dozen over the past decade.
"I can't even measure how much I've learned here," says Lee Booker, who represents OurLessonsLearned.Inc, a local nonprofit that connects the families of those recently arrested with essential community resources. "I feel like I came in as an empty vessel, and I am leaving so full. They covered every aspect of running an organization and connected us with so many resources that will help us in the future."
The capacity-building series is an accelerated course in the essentials of nonprofit management and includes seminars in board governance, grant writing and more over the span of eight weeks. The goal is to provide professionals with the skills and knowledge they need to take their organization to the next level. Participants also receive personalized support from graduate students in UCF's nonprofit management programs. It is open to representatives of nonprofit organizations in Orange County each summer.
Bill DeMott and Caryn Bronson represent the Keri Anne DeMott Foundation, which provides education and intervention aimed at preventing drunk and impaired driving. They originally signed up to learn more about grant-writing support, but DeMott says the series exceeded their expectations.
"At the end of this, we've learned more now about running and sustaining our foundation and its mission in perpetuity than we could have ever asked for," DeMott says. "I feel like the education we've received will drive how we govern, how we manage our board and how we work moving forward. In fact, my oldest daughter — who works for our foundation — is considering a master's in nonprofit management because of how much we've gained from this experience."
Mary Davis, a senior monitoring and evaluation coordinator with the Orange County Citizens' Commission for Children, says that the series' value to nonprofits ultimately lies in their ability to interface with the larger nonprofit community and corresponding opportunities.
"Through this series, small, local nonprofits are able to make themselves competitive for funding — both from us and from others — and have the tools that they need to effectively manage those funds and programs," Davis says. "We've seen evidence of this program's success for nearly a decade, as so many organizations whose members have completed this series continue to compete for and receive funding to this day."
The opportunity is also mutually beneficial. UCF faculty and staff have the ability to imbue their knowledge onto working professionals who can apply it to driving impact, but they also get to learn about the challenges professionals are facing and the skills needed to overcome them.
"My goal for the center is to continue building strong community partnerships," says Maritza Concha, School of Public Administration lecturer and director of the Center for Public and Nonprofit Management. "We want to empower nonprofit organizations and promote students' application of knowledge in real-life scenarios. This series allows us to give the community the tools that they need while our students get to work with them on real-world projects that have serious positive implications."