The UCF Center for Public and Nonprofit Management supports the research needs and interests of faculty, students and the community. The center's sponsored research focuses on policy and management, in addition to rich and varied faculty expertise. The center also leads public service projects and offers unique, holistic training and technical assistance projects to build nonprofit organizational capacity. Through research and community engagement, the center improves policy and governance in partnership with communities from Central Florida and worldwide.
Learn about our research efforts, collaborations, and innovations within the community and across the public sector by exploring our annual reports.
Initiatives
Nonprofit Capacity Building
Our capacity building seminars provide training and technical assistance in areas such as financial management, strategic planning, nonprofit governance and grant writing to over 100 nonprofit organizations in Orange County. Participants receive training through sessions facilitated by faculty and graduate students from the School of Public Administration. The series provides technical training as well as opportunities for local nonprofit organizations to connect with one another.
Nonprofit Professional Certificate
In partnership with UCF Continuing Education and the Nonprofit Leadership Alliance, we provide the Nonprofit Professional Certificate, an online, asynchronous development program for nonprofit professionals. It can be used for self-initiated development or for the development of talent by an organization. This certificate is a pathway to earn the Nonprofit Professional Credential, the only nationally recognized credential in nonprofit management.
Eminent Scholar Lecture Series
Every year, we partner with the School of Public Administration to host a variety of academic and professional speakers from across the public administration discipline as part of the center's Eminent Scholar Lecture Series.
NEW! We are expanding capacity building seminars in Osceola County and offering a financial management training in Orange County.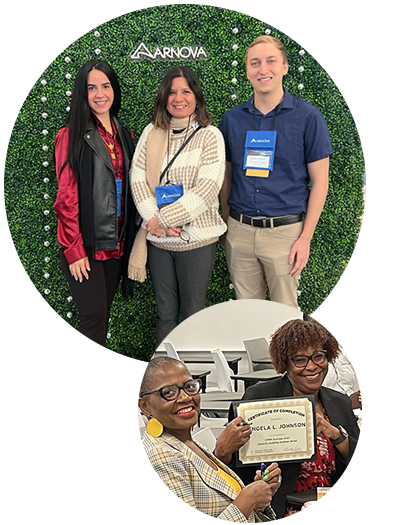 Conferences
Nonprofit Partners Conference
The annual Nonprofit Partners Conference brings together nonprofit professionals and public administration scholars to engage in capacity building workshops and networking. The conference is held every fall at UCF Downtown and is organized by the Nonprofit Advisory Board.
Public Administration Research Conference
The Public Administration Research Conference, hosted in partnership with the School of Public Administration, is an annual showcase of the groundbreaking research happening across the public administration field by students, faculty and scholars from across the nation.
Participatory Action Research and Evaluation Conference
The Participatory Action Research and Evaluation Conference aims to share contemporary scholarship and best practices to create sustainable development goals through participatory research that empowers Latin American and Caribbean communities.
Projects
Community Participatory Action Research
Prostate Cancer Disparities Project
The goal of the Prostate Cancer Disparities Project is to create a reliable, user-friendly online resource for African American males who have been diagnosed with early-stage prostate cancer to access critical information to help their decision-making process. The study will collect insights from African American men who are prostate cancer survivors and advocates to develop an AI database.
The City of Orlando Community Investment Program
This initiative aims to use two culturally and linguistic appropriate interventions to increase awareness about domestic violence and sexual assault's warning signs and myths. This content will be used for the development of a social media campaign targeting marginalized communities from Orange County.
HUDRD CDBG Disaster Recovery Outcomes of Renter Households
We are using community participatory action research to engage renters and landlords as community members in prioritizing goals and developing interventional strategies for disaster recovery linked to lived experiences.