Assistant professor Amanda Wilkerson took home the organization's Research Award, while recent alum Ashley Samson won the Graduate Student of the Year Award.
BY NATALIE FEDOR |  JULY 20, 2023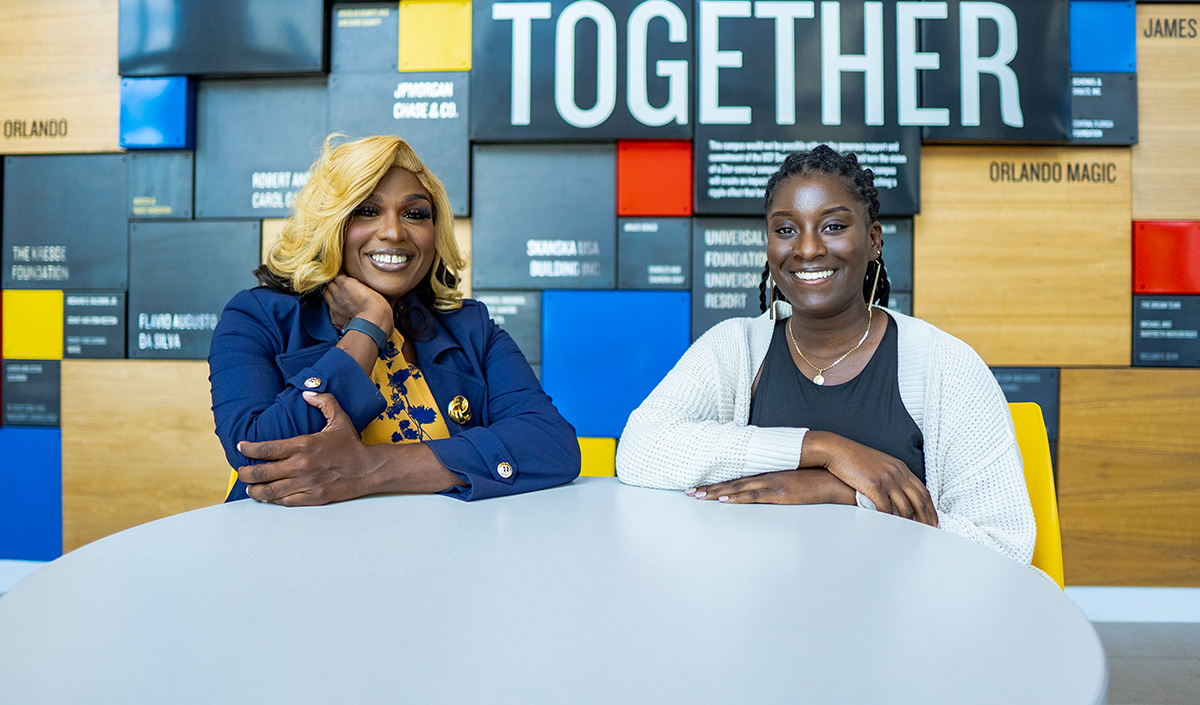 Assistant Professor Amanda Wilkerson, left, and educational leadership alumna Ashley Samson were recently recognized with awards from the National Association of Student Personnel Administrators Florida. (Photo by Blake Osting)
The Department of Educational Leadership and Higher Education took the spotlight at the annual National Association of Student Personnel Administrators Florida (NASPA-FL) conference, with a professor and alum taking home two of the top awards.
Ashley Samson '20 '23MA was recognized by the organization as the Graduate Student of the Year, and assistant professor Amanda Wilkerson received the Research Award during the organization's annual drive-in conference.
A professional organization in the field of student affairs, NASPA aims to cultivate student success in collaboration with the missions of its members.
"The NASPA-FL Awards are an opportunity to recognize the outstanding contributions of individuals as well as outstanding programs throughout higher education in the state," according to the organization.
Ashley Samson – Outstanding Graduate Student of the Year
Samson graduated this past spring with a master's degree in educational leadership on the student personnel track. It was her active engagement in the classroom and beyond that contributed to her winning the Graduate Student of the Year award.
Her involvement on campus included two assistantships. The first was with UCF's Office of Student Involvement, where she worked with volunteers and community engagement initiatives. The other was at Rollins College, where she worked in the Rollins Student Center for Inclusion and Belonging.
At UCF's Office of Student Involvement, Samson also aided in launching a program called Community Connectors. The program helps students develop a sustainable service experience, establishing a pathway for them to work with the same partner over the course of a semester or a year.
Although she's since graduated, Samson is continuing her work with student engagement in the UCF community, having accepted a position as the UCF Downtown student engagement coordinator.
"Dr. Wilkerson was the one who encouraged me to go ahead and put my name in the hat for this award," Samson says. "She was my mentor and my professor throughout that program. It was very validating to get this award for the things that I did despite some of the challenges I was facing while just making sure I was still being a good student and human being. I was super happy and proud of the things that I did to get here. I'm also super grateful for the folks that put in the letters of recommendations and helped me to be able to pursue the opportunities that I got to put on my application."
Wilkerson expressed her admiration for her former student, praising the commitment to student-oriented involvement that led Samson to winning the award.
"She doesn't like to toot her own horn but as a graduate student, she had a full plate," Wilkerson says. "She had a position in the Office of Student Involvement and was working at Rollins at the same time to diversify her learning. She was getting a lot of practical experience at both a small, reputable liberal arts institution and at a large institution like UCF. I'm glad that I've been able to mentor her, but it was her engagement in the field that spoke more than anything."
Amanda Wilkerson – Research Award
Wilkerson was also recognized during the conference for outstanding, ongoing scholarly and research contributions to the field of higher education and student affairs.
Some of her areas of research include student involvement, how higher-education institutions support their students, diversifying the student-faculty pipeline, and political socialization and how students develop their political identities.
"My major focus in higher education is to dislodge what we think we know about students to make sure that we're serving the modern-day student and not just looking at the historical attributes of who students are," she says.
Wilkerson conducted research on how students develop their values and beliefs. She received a grant from the National Science Foundation in 2021 to study culturally relevant messaging and political socialization of historically Black college and university students, and how those factors influence political interest and participation.
She also studies how higher education administrators and support services can aid in student success and retention.
"People who work in student affairs are like the hidden figures of campus," she says. "When you think about universities and colleges, people think about the faculty, the president and the students. They don't necessarily think about the other people who are doing the work behind the scenes."
Her work aims to help prepare these administrators to support students as they transition into a new environment and begin to navigate their developing emotional, social and political identities.
"Higher-education experts really believe that the role of administration and student services is a very important field, and very select institutions in the state of Florida actually have this degree program," she says. "The beauty of it is that the University of Central Florida has it, and we're doing a very good job of preparing those professionals."
Wilkerson expressed her gratitude for this recognition of her research, saying that it is a reminder of what she strives to accomplish as a faculty member.
"I come in on the shoulders of people like my parents who are public school administrators and teachers who are retired now, but they sacrificed a lot so that I would be able to take what they did in education and go further," she says. "I feel a sense of accomplishment in getting people to rethink what we know about students."