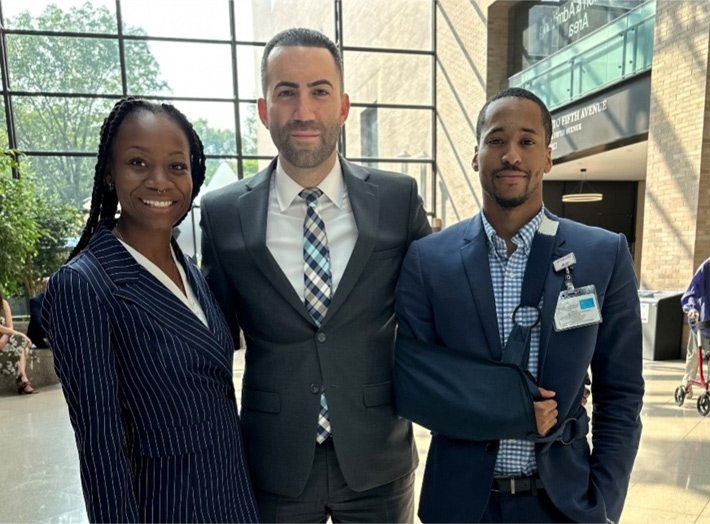 Ashley Pierre with her fellowship preceptor and co-fellow at Mount Sinai hospital.
Two of last year's administrative fellows recently shared their positive experiences from the professional setting so far, particularly on the responsibilities and support they have received from their hospitals.
For Kishan Shah, an administrative fellow at Duke Health Integrated Practice, his experience in the administrative fellowship program has been helping him learn firsthand how to navigate the ambulatory care space. Shah's rotations have had him working with a number of different departments thus far, ranging from performance excellence and health access services to communications/marketing and human resources.
"Starting with meet and greets with all the leaders of Duke Health Integrated Practice, I received a warm welcome and have felt endless support from everyone," Shah says. "They are truly invested in the fellows' success and value us as members of the team. I have learned about process improvement, central scheduling and provider templates, website and brand management, and recruitment and retention. This is just the tip of the iceberg, and I look forward to more rotations and project work that allows me to gain a comprehensive understanding of healthcare."
Mount Sinai Hospital fellow Ashley Pierre had similar sentiments about her experiences so far, especially in being able to learn from her colleagues' different professional journeys and the scope of their responsibilities.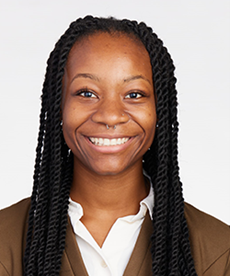 Ashley Pierre
"My first couple of weeks, I received great exposure throughout varying departments within support services as well as human resources," Pierre says. "Now, I am working on a project managing access and the implementation of new scheduling procedures within our clinics."
Pierre says she has also been given the opportunity to attend events and award ceremonies where she has the opportunity to meet and network with many people both in the Mount Sinai systems and external ones.
"Outside of my profession, life in the city amazes me each day as the city is always bustling with activity and allows for great sightseeing with the level of astounding architecture and beautiful dance and musical performances," she says. "As a new New Yorker and Mount Sinaian, I look forward to making more memories and lasting impressions."
Read where our other administrative fellows were placed.