Hillarie Burgess' internship experience progressed more quickly than most when she was thrust into a full emergency activation during her third week.
BY JOSHUA HOLDER '19 |  OCTOBER 20, 2023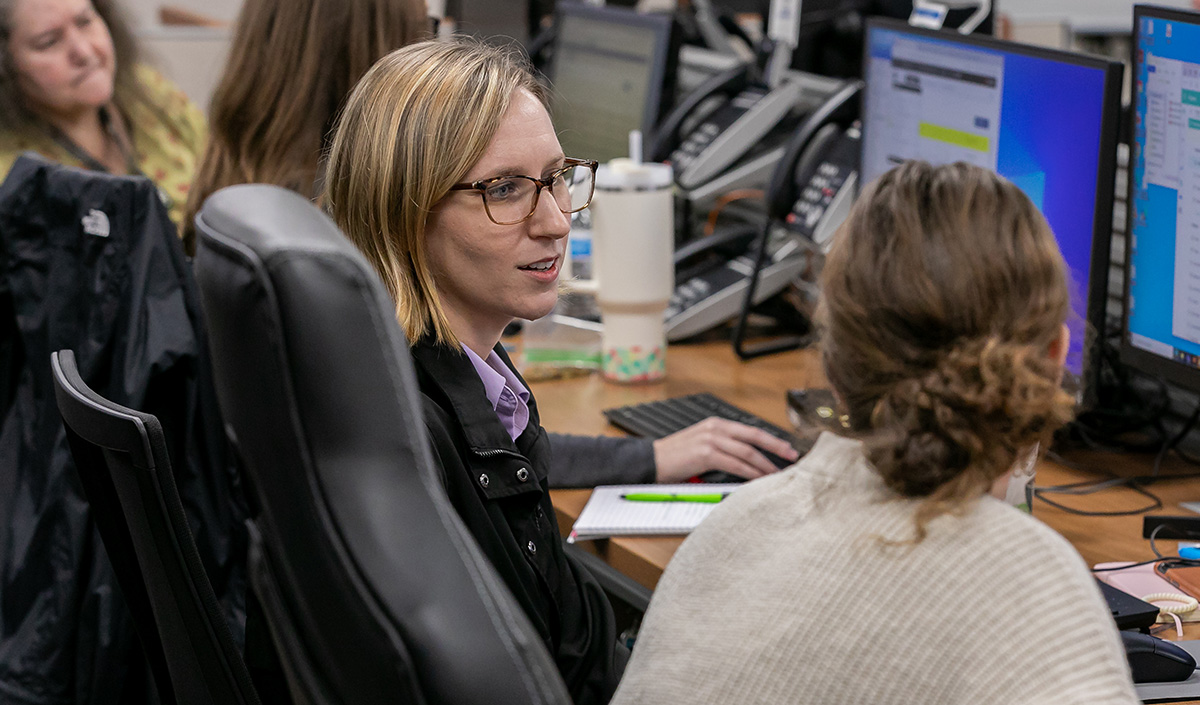 Hillarie Burgess works in the Lake County Emergency Operations Center's planning section during a full activation for Hurricane Idalia. (Photo courtesy of Lake County Government)
From a young age, training for emergencies was all part of life for Hillarie Burgess.
The daughter of local business owners specializing in emergency response training, Burgess fondly remembers playing a role in her parents' emergency preparedness exercises as a child.
"I always played the victim in the training classes," she says.
Although she first explored other academic disciplines, Burgess' desire to gain a deeper understanding of her family's work led her to pursue a degree in emergency management — and, along with it, an internship with the Lake County Office of Emergency Management.
"My professor recommended Lake County as a great place to intern, so I reached out and got an interview," she says.
Her internship started as you might expect — reviewing plans, learning about the community and getting up to speed on the current state of the office. That included familiarizing herself with two different types of work — "blue skies" and "gray skies." Emergency managers refer to things taking place outside of an emergency, when the metaphorical (or literal) weather is good, as "blue skies;" conversely, "gray skies" work encompasses anything that happens during an emergency, typically in and around an activation of the emergency operations center (EOC).
"I'd say about 95% of the work we do is 'blue skies,'" says Nick Gerth '21, deputy director of the Lake County Office of Emergency Management. "That's really what most people can expect when they intern or work in emergency management. The other 5% is the 'gray skies,' and we have to be prepared for both because you never know when it will show up."
For Burgess, the gray skies showed up on her third week.
Hurricane Idalia made landfall near Perry, Florida as a powerful Category 3 storm at the end of August. While Lake County avoided a direct hit, the community was certain to feel some effects from the storm, warranting an activation of the local EOC and thrusting Burgess into emergency management's most harrowing work.
"I really got thrown into it, and I learned a lot from that experience," she says. "I was really nervous because I didn't know what to expect, but for me it ended up being pretty easy to get into it."
Assigned to the EOC's planning section, Burgess says the ironclad operational standards helped her work at the accelerated pace of an activation, typically referred to as a "battle rhythm."
"I didn't really know much going in because it was so early in my internship, but the team explained the section's battle rhythm very clearly, and from there it was easy to keep up with the pace," she says.
Whether she was working on situation reports, briefing slides or answering emails from other EOC sections, Burgess says she found a solid foundation in her UCF coursework.
"My coursework exposed me to the basic concepts and ideas that helped me succeed here, where I was really able to learn how all the pieces fit together in the real world," she says. "I had a lot of information, but my internship showed me how it all works."
Burgess added that her program's presence at UCF Downtown also played a role in her pursuing a degree as a Knight.
"I was looking at UCF, but before [UCF Downtown] opened, there really wasn't a way for me to make it work with where I was living," she says. "When I saw that they were opening the campus and bringing emergency management in as one of the programs there, it was perfect."
Having since completed her internship and now eyeing graduation in December, Burgess says the biggest takeaways from her experience boil down to three things: relationships, communication and service.
"When you're serving the public, you have to make the right choices for them and not for yourself," she says.