Help your community prepare for, mitigate and recover from natural and man-made disasters. With an education in emergency management, you'll be ready to effectively respond to local crises. At the UCF School of Public Administration, we offer both undergraduate and graduate programs in emergency management. Graduates of these programs now serve their communities as directors of emergency operations centers and coordinators of emergency management for a variety of public and private organizations.
MECM New Student Handbook
MECM Virtual Orientation
MECM Plan of Study
Knight to New Hire
The emergency management advisory board has developed this guide to help Knights prepare to enter the workforce. Everything from managing your online brand, developing your resume, and successfully completing an interview is included in this short guide.
Public Services Career.org
Tired of looking on monstrous job sites with thousands of generic jobs? This new nationwide public and nonprofit sector job site has just been launched for you!
FEMA Emergency Management Institute Online
Offers students access to completely free FEMA Independent Study courses. These courses can be used to further a student's knowledge in a wide range of topics and greatly enhance a student's resume.
FEMA Professional Development Series
Part of the Emergency Management Institute, this allows students to take advanced online Independent Study courses and awards a professional certification upon completion. This is recommended for all students interested in pursuing a career in Emergency Management. These courses are also completely free.
Sert Trac
Sert Trac is run by the Florida Division of Emergency Management and offers two supportive features. First, it allows students to create a profile and then upload and track all of their trainings, Independent Study classes, and certifications. Second, it allows students to apply for free advanced trainings that are offered throughout the state. Disclaimer: Trainings require prerequisite online courses, and may require some in class prerequisite trainings.
IAEM Website
The International Association of Emergency Managers (IAEM) website offers multiple resources for students. It outlines events and conferences that are taking place all over the world along with keeping students up to date with current topics in Emergency Management. The website also allows students to access a jobs board which has job and internship postings for organizations all over the world.
Governor's Hurricane Conference
The Governor's Hurricane Conference (GHC) is held yearly and focuses on all aspects of Emergency Management in relation to hurricanes. It offers hundreds of hours of trainings and workshops open to students who attend. The GHC website includes scholarship information that any student may apply for and contains further registration information. The 2014 Governor's Hurricane Conference will be held in Orlando on May 11 through May 16!
Florida Emergency Preparedness Association
The Florida Emergency Preparedness Association (FEPA) is an organization that brings together individuals in the Emergency Management field from all over Florida. FEPA offers professional memberships, including a student membership at a discounted rate. FEPA is a great way to stay informed about current events and discussions within the field and will inform students of conferences as well as networking events.
ASPA's Section on Emergency and Crisis Management
The American Society for Public Administration is an excellent resource for all students interested in staying involved with various disciplines within the field. Joining this organization will give you access to current topics, job openings, and conferences. Joining also gives a student access to the various chapters and sections, including the Section on Emergency and Crisis Management. This section has up to date Emergency Management topics and issues, and publishes a newsletter.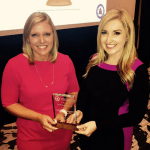 EMHS Alumna Wins FEPA Media Award
Undergraduate Student Receives Emergency Management Designation
Undergraduate student Floyd Diehl has been designated a senior military emergency management specialist by the Military Emergency Management Specialist Academy, which is part of the State Guard Association of the United States. Diehl, who is a lieutenant within the Royal Laos Airborne Association, is a public administration student minoring in emergency management.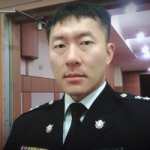 After a career of service with the South Korea Coast Guard, Hyun-do Hong, known as Chris Hong to his American friends, decided to continue his education at UCF.
Alumni Achievement Award Winners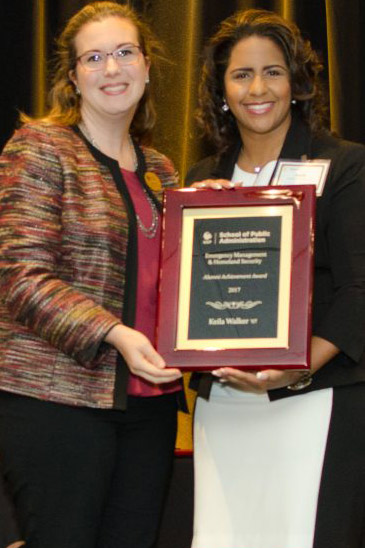 Keila Walker, '15, serves as the operations manager for the Greater Orlando Aviation Authority.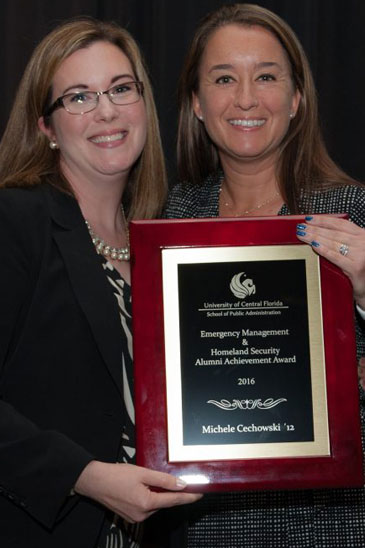 Michelle Cechowski, '12, is the emergency manager for the East Central Florida Regional Planning Council.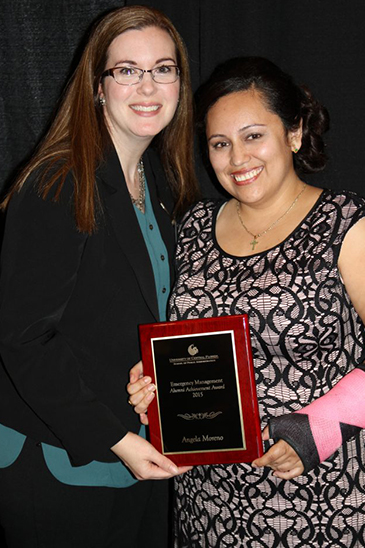 Angela Moreno, '12, is a business analyst for the Florida Division of Emergency Management.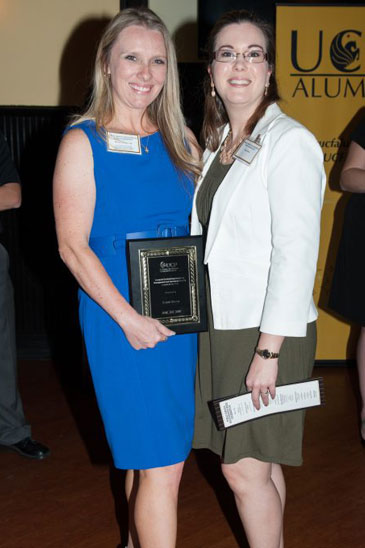 Kristie Toruno, '08, is a solutions consultant and social media analyst for Snaptrends in Central Florida.