The UCF team traveled to Atlanta to compete in the National Association of Health Services Executives 28th Annual Everett V. Fox Student Case Competition.
BY NATALIE FEDOR | OCTOBER 30, 2023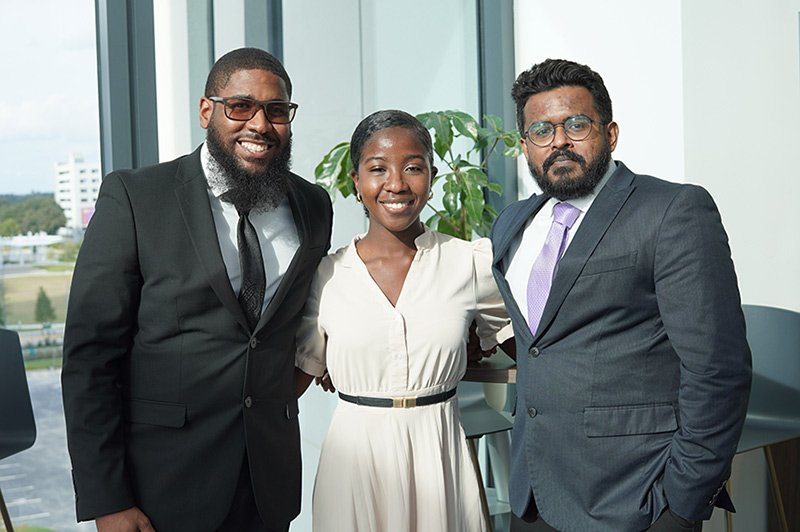 Developing innovative solutions to potential healthcare crises is something master's students in the Health Administration program learn in class, with some students putting their knowledge to the test at case competitions — and succeeding.
School of Global Health Management and Informatics students Samuel Ali, Melissa Jackson and Cristian Ruiz Veras traveled to Atlanta earlier this month to compete in the National Association of Health Services Executives (NAHSE) 28th Annual Everett V. Fox Student Case Competition. The team won fifth place out of 31 teams.
The competition tests the students on the challenges they might eventually face if they were part of a healthcare organization's administration.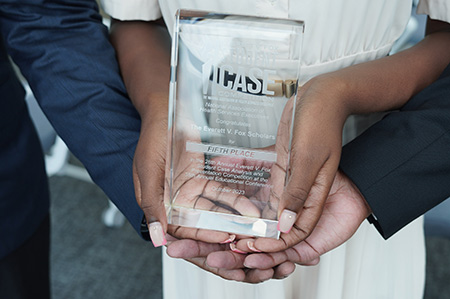 The team holds the fifth place trophy from the NAHSE competition. (Photo by Natalie Fedor)
"At the NAHSE case competition, they'll give you a real-world problem — something that a healthcare organization would really go through — and your task is to solve it," Ali says. "They want you to consider every aspect of the problem, not just the direct problem itself, but things like who it affects and how. They want you to get experience solving that problem because you'll probably be doing that in the future."
The team's case for this competition was to come up with solutions for a hypothetical security breach, Jackson says.
"Our job was to find a solution for that case and come up with different innovations, technologies and ways to contain the breach, especially while working with public relations or human relations, human resources and other departments," Jackson says. "It was a really fun competition."
The team gets to work on their case for about three weeks leading up to the competition, Ruiz Veras says.
"From Day One when we are given the case, we're already analyzing it, seeing what the root cause is, determining what they're asking us for, looking at the community and the demographics, that type of criteria," Ruiz Veras says.
There are preliminary, semi-final and final rounds during the competition, each of which gets increasingly selective. The UCF team made it to the final round. Jackson says they were hoping to make it to the semi-finals, so they were very excited to make it to the finals.
"We think we got better every time we presented, but it's the Q&A that hits you," Ali says. "These are industry professionals who have been in it for a long time. They're all CEOs, CFOs or technical officers. Every round, you will get increasingly hard questions during the 10 minutes of Q&A. There were some pretty intense questions in the final round, especially. But it's a good experience because, again, these are the questions you will be asked if you're at that level."
Healthcare organizations sponsored the competitions, which gives them the opportunity to consider the students' ideas and feedback for practical application. The students benefit, too: They meet and connect with healthcare professionals and other health administration students who could one day be their peers.
"I was around a lot of like-minded people who really enjoy their career," Jackson says. "Not only did we have a serious component where everyone around us was interested in the case, but everyone was also interested in expanding their career by making more connections with the people around them."
Ali, Jackson and Ruiz Veras all are part of the National Association of Health Services Executives at UCF. NAHSE is a nonprofit association of Black healthcare executives with the purpose of ensuring greater participation of minority groups in the health field and advancing the quality of healthcare services rendered to minority and underserved communities.
Jackson says joining an organization like NAHSE is a great idea for undergraduate and graduate students, especially if they want a career in health administration, because it gives them extra support and mentorship, helps to build connections early, and prepares them for competitions like this one.
"Organizations like NAHSE at UCF are why we got into these case competitions," Ali says. "If you start getting involved in your undergraduate career, you're already ahead in the industry."