Faculty from across the college's academic units have been selected based on their proposals for interdisciplinary research to address major policy or community challenges. 
BY JOSH HOLDER '19 | NOVEMBER 1, 2023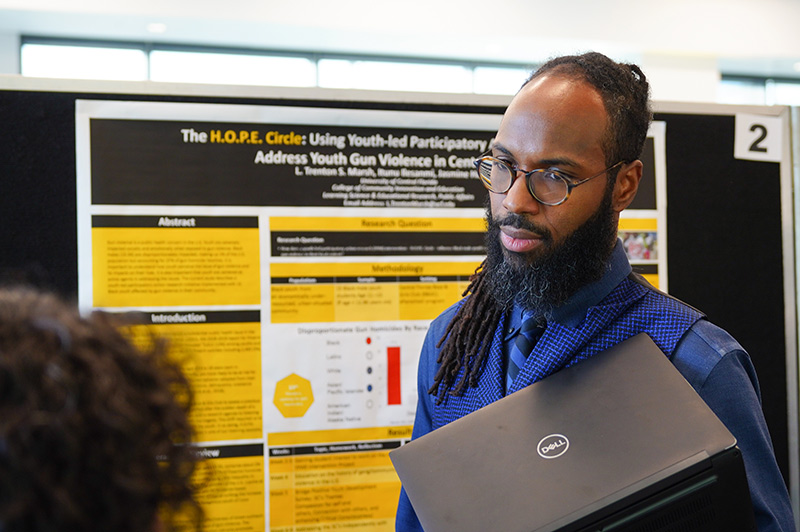 Eight faculty members have been selected by the College of Community Innovation and Education as its inaugural class of Faculty Research Fellows — a role in which they will be tasked with completing collaborative interdisciplinary research projects that address major policy or practical needs in the community. 
Each fellow was selected through a competitive application process with feedback from the college's Research Council, which gauged their community-based research framework, policy-relevant knowledge, interdisciplinary collaboration experience and, most importantly, the value they place on teamwork with their fellow faculty across the college. 
The goal, according to Pegasus Professor and Interim Associate Dean for Research and Innovation Naim Kapucu, is to create an engaged and collaborative faculty community within the college that transcends the boundaries of individual academic units or disciplines.  
"I was very pleased with the applicant pool and selected candidates," Kapucu says. "I look forward to working with the fellows during the academic year, addressing major research priorities for the college and supporting the college's research infrastructure." 
Each faculty research fellow will have the opportunity over the coming year to lend their experience and expertise toward curating this collaboration, with regular brainstorming meetings and events to be held throughout the year. Fellows will work to develop large-scale research grant proposals that support centers and institutes within the college, as well as provide advisory support to graduate research associates, postdoctoral scholars and research-centric lecture series held throughout the year. 
Three of the inaugural fellows also participated in the college's Summer Research Initiative Award, which provided funding for select junior faculty to participate in community-engaged research during the summer semester. 
Yara Asi, School of Global Health Management and Informatics 
Assistant Professor Yara Asi's research focuses on health policies, systems and outcomes among vulnerable populations globally. She often conducts her research in collaboration with experts in political science, epidemiology, criminal justice, epidemiology, gender studies and more, as well as with practitioners in the medical field. Asi brings expertise in international research, mixed-methods research and policy-oriented outputs to the Fellows program. 
Erica Fissel, Department of Criminal Justice 
Assistant Professor Erica Fissel conducts research that explores interpersonal victimization involving cyberspace, as well as broader research on post-victimization experiences and behaviors. She has garnered experience in community-engaged, interdisciplinary research through the UCF Violence Against Women Cluster, collaborating with colleagues in sociology, social work, public health, psychology and community leadership roles. 
Trenton S. Marsh, Department of Learning Sciences and Educational Research
Assistant Professor L. Trenton S. Marsh focuses his research within the context of urban-situated communities. He primarily examines the lived experiences of youth and their families who identify as Black, indigenous or people of color. In doing so, he aims to confront disproportionate achievement and discipline outcomes in K-12 urban-situated schools to reimagine equitable pedagogies, policies and processes. Marsh has extensive experience cultivating community partnerships with youth-serving organizations in research and service and brings to the table expertise in innovative, participatory qualitative methodologies in education-adjacent fields. 
Matt Nobles, Department of Criminal Justice 
Professor Matt Nobles' research interests span a variety of criminology topics, from violent and interpersonal crimes to spatial analysis, gun policy and criminological theory. Nobles' body of work includes numerous collaborative co-authorships through which he works with partners in psychology, sociology, public health and epidemiology among others. He brings a wealth of research experience to the Fellows program to enhance the quality, publishability and fundability of prospective research projects. 
Abdul-Akeem Sadiq, School of Public Administration 
Professor Abdul-Akeem Sadiq is an emergency management scholar whose research focuses on organizational disaster mitigation and preparedness, mass fatality management, and federal programs on disaster mitigation and preparedness. Sadiq has worked extensively with interdisciplinary teams across academic and practitioner communities in research on community flood risk management, publishing numerous articles in top peer-reviewed journals and securing substantial research funding. He also brings extensive experience in mentoring junior faculty to the Fellows program. 
Audra Skukauskaite, Department of Learning Sciences and Educational Research 
Professor Audra Skukauskaite brings a wealth of knowledge in qualitative and ethnographic research to the Research Fellows community. Working with scholars from STEM, literacy, counseling and healthcare disciplines, she has also conducted research with international partners in Lithuania and beyond. Skukauskaite hopes to share her experience in creatively adapting qualitative research through the program. 
Jungwon Yeo, School of Public Administration 
Associate Professor Jungwon Yeo's research revolves around the intersection of policy research and community engagement. She emphasizes fostering collective action and collaboration among diverse societies and communities to enhance their behavior, cognition and decision-making involved in critical policy contexts like crisis management, migration and human security. Her research experience is demonstrated through refereed publications, national and international conference presentations and multi-year interdisciplinary research grant awards. As a versatile methodologist, Yeo aims to bridge diverse research areas and needs, providing critical support for innovative and interdisciplinary research programs.  
Cynthia Williams, School of Global Health Management and Informatics 
Assistant Professor Cynthia Williams' research primarily centers on telehealth, health equity and aging with the goal of informing community-based practices in the digital era. In addition to working with academics and practitioners from a variety of backgrounds in research, Williams engages with community stakeholders to better examine, understand and articulate research to actionable strategies that affect positive change in population health. As a practitioner-turned-academic, Williams contributes a boots-on-the-ground perspective on informing research feasibility, scale and viability.