In Debra McGann's art classes, students learn how to teach K-12 art by engaging in some of the activities themselves.
BY NATALIE FEDOR | NOVEMBER 9, 2023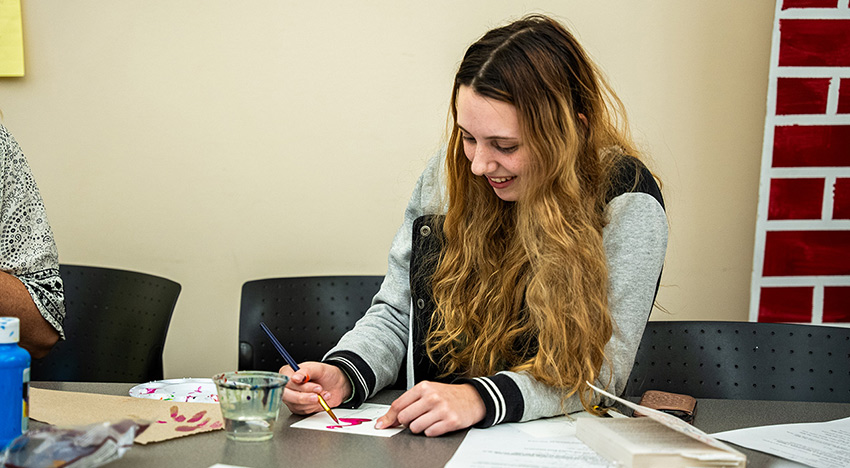 In the undergraduate Methods for Art Education class, some students get to take on the role of teacher early, learning how to lead K-12 art classes by creating and teaching art assignments to their classmates and gaining valuable hands-on experience and lesson ideas to bring into their future classrooms.
School of Teacher Education associate lecturer Debra McGann teaches the undergraduate Methods for Art Education course, a requirement for art education majors and minors. The class covers art education methods for kindergarten through fifth grade in the fall and sixth to 12th grades in the spring.
In her K-5 art class, for instance, students focus on the stages of development for young children, particularly how their artistic skills develop as they grow. They also discuss how to identify the differences between scribbling and more advanced drawing, as well as how to properly use a variety of art materials, mediums and studio art concepts.
By devising lesson plans and creating the related artwork themselves, students actively develop better methods of instruction while also getting to participate in some fun activities that set the class apart from a typical lecture. During one class, some students presented their own lesson plan about "imagery that tells a story," using the theme of painting an "imaginary friend." In doing so, the class learned how to use tinting and shading with acrylic paints.
"The hands-on learning is really important because that's what they're likely going to be doing in a face-to-face classroom," McGann says.
Students also get to practice their teaching skills by teaching to each other throughout the semester, preparing lessons and guiding the class through the actual artwork.
"It's a little bit nerve-wracking standing in front of your peers teaching, but they will be able to transfer this to when they are teaching students," McGann says.
Secondary art education student Natalie Shelton has spent some time in real art classes during her internship at a local elementary school and says classes like McGann's are helpful for preparing to work with K-5 students.
"It gives you more ideas for lesson plans and what's expected of kids in the classroom," Shelton says. "It's made me aware of things I should be mindful of in the classroom, too, like how kids respond to art differently. I also learned about things they need help with that I would have never thought of, like holding scissors."
Shelton says she's also learned a lot about the capabilities of young students from classes and her internship.
"I came in with some predetermined opinions, but I probably shouldn't have done that, because I've learned a lot from being in a classroom," she says. "I was nervous because I've never dealt with little kids before, but I learned the classes can be a lot more fun and interactive for them than I imagined."