Criminal Justice, Ph.D.
Degree: Doctor of Philosophy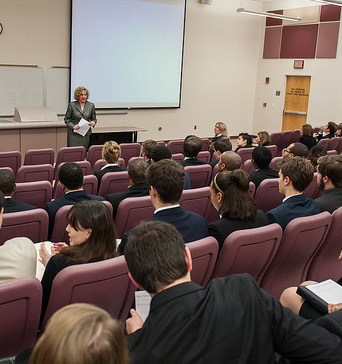 UCF's Doctoral Program in Criminal Justice is composed of a substantive core focused on criminal justice theory and institutions; a research methods core that prepares social scientists in the scientific method and social-science statistics; and a selection of substantive criminal justice specializations (policing, corrections or juvenile justice). The program focuses on criminal justice and takes advantage of the city of Orlando and surrounding cities and counties to examine criminal justice issues at multiple angles and levels.
The program is intended to serve many purposes. Chief among them are to:
prepare disciplinary stewards capable of advancing scholarship
in criminal justice
prepare a qualified workforce to assume criminal justice instructional
responsibilities in post-secondary institutions
prepare analysts competent to staff state and local criminal justice agencies
improve safety and justice in communities through research partnerships with neighborhood, city, county and state agencies and associations
Students completing the Doctoral Program in Criminal Justice at UCF will be exceptionally well prepared to pursue academic positions in universities, research positions in criminal justice agencies, and consultancies in program evaluation and needs assessment.
The program is a 57-credit, post-master's program of study and research. Substantive emphasis is placed on core course work in criminal justice theory and institutions, and on in-depth concentrations in policing, corrections or juvenile justice. Students will complete a minimum of 42 credits of post-master's course work and 15 credits of dissertation research. For additional information, including details about admission, visit the UCF Graduate Catalog.
Questions?
Prospective students with questions are encouraged to contact the department's Graduate Advising Office at 407-823-2603.
SUBSTANTIVE CORE (15 credits):
Seminar in the Nature of Crime (3 credits)

Seminar in Criminal Justice Theory (3 credits)
Seminar in Criminal Justice Systems (3 credits)
Teaching Criminal Justice (3 credits)
Criminal Justice Research in the Community (3 credits)
METHODOLOGICAL CORE (12 credits):

(Entering Ph.D. students are expected to have qualifying graduate course work in statistics and research methods equivalent to two semesters of graduate research methods course work and two semesters of graduate statistics.)

Advanced Research Methods in Criminal Justice (3 credits)

Advanced Quantitative Methods in Criminal Justice (3 credits)
Two additional methods/statistics courses with advisor approval (6 credits)
CONCENTRATION AREA (9 credits):

Students will select an area of concentration and complete the assigned coursework. Entering doctoral students must have completed a master's-level precursor in their chosen area (e.g., Master's-level survey course in policing if the area chosen is Policing Theory and Research). Areas of concentration are:
Policing Theory and Research (9 credits):
Policing Urban Communities (3 credits)
Seminar in Police Culture (3 credits)
Police Administration (3 credits)
-or-
Correctional Theory and Research (9 credits):
Seminar in Institutional Corrections (3 credits)
Seminar in Community Corrections (3 credits)
Seminar in Correctional Effectiveness (3 credits)
-or-
Juvenile Justice Theory and Research (9 credits):
Seminar in Policing and Prevention in the Juvenile Justice System (3 credits)
Seminar in Prosecuting Juvenile Offenders (3 credits)
Seminar in Juvenile Corrections (3 credits)
ELECTIVE COURSE WORK (6 credits)
Students will select two classes, of three credits each, from an approved list of electives in the department, college and university.
EXAMINATIONS (credits unspecified)
A series of cumulative examinations will ensure expertise in the substantive, methodological and concentration areas. Students may enroll in doctoral research credits during the period of study preceding the examinations.
DISSERTATIONS (15 credits)
Upon successful completion of all examinations, students will enter candidacy and complete a dissertation. The topic should be grounded in the student's selected concentration area.
The College of Graduate Studies requires all applicants to apply online.
In addition to completing the university's general admission requirements, applicants must provide the following:
One official transcript (in a sealed envelope) from each college/university attended.
An earned or in progress Master's degree in criminal justice or a closely related discipline from an accredited institution with at least a 3.5 GPA.
Official, competitive GRE score taken within the last five years.
Three letters of recommendation, with at least two being from university faculty members who can assess the student's ability to succeed in a doctoral program.
A personal narrative of 500 – 1,000 words describing research interests, educational expectations, career aspirations, level of computer skills, and any special qualifications that may enhance the overall learning environment of the CJ PhD program.
A curriculum vita.
A writing sample that is at least 2,000 words long, is academic in nature (e.g., paper written for a Master's class), and demonstrates the applicant's ability to complete graduate-level composition. Should not be published work and applicant must be the sole author.
Applicants may be requested to participate in an interview (by Skype) with the Department's Doctoral Program Committee and coordinator. Students will simultaneously be considered for both admission and funding.
Students should be aware that admission to any graduate program is granted on a competitive basis. There may be cases where students meeting minimum requirements are denied admission based on such factors as program capacity or academic discretion. Students are expected to be full time and are required to be in residence. Application materials are due by January 15th to be reviewed for fall admission.
Qualified students are awarded research or instructional assistantships. These assistantships include a tuition waiver, stipend, work experience, health insurance and qualifies the student for in state residency.
For more information, contact the Department of Criminal Justice Graduate Program Director.