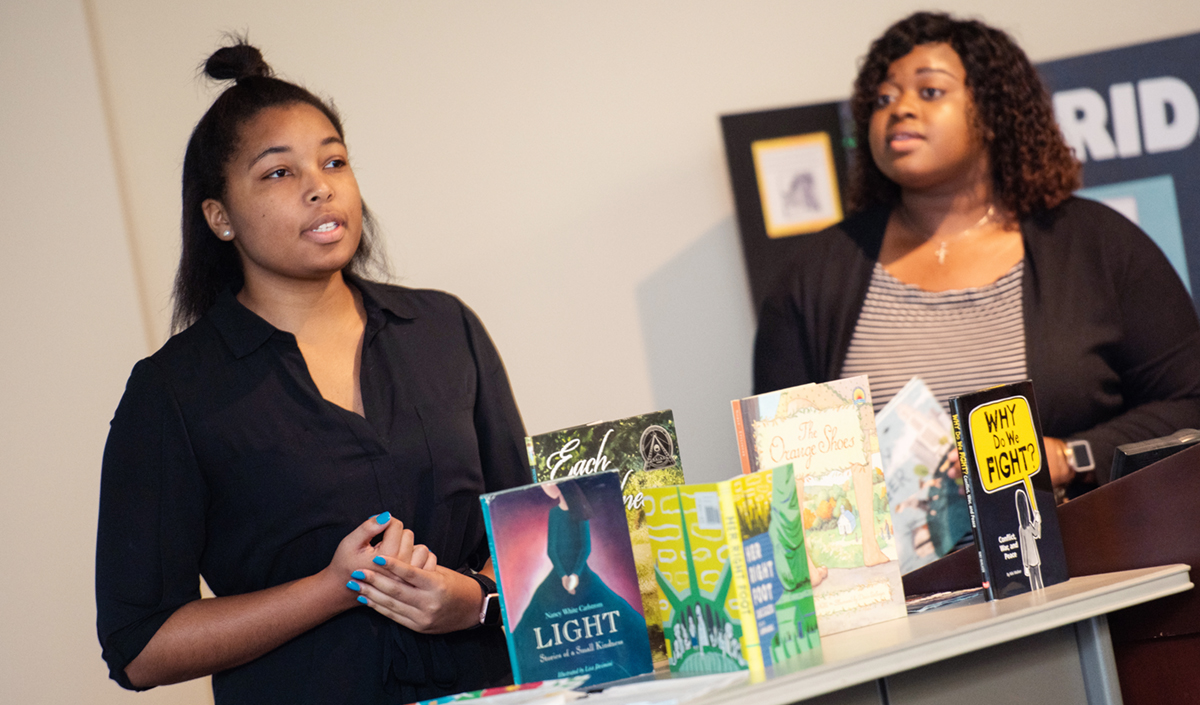 Elementary education majors Serena McKeithan (left) and Kristionna Adudu (right) share their research about quality children's literature paired with lessons on social issues at the Writing for Goodness Sake mini-conference.
Some commercial products and activities used in schools can teach artificial lessons in honesty, compassion and empathy, says Sherron Roberts, who is a professor of English language arts education. But in her research, Roberts found quality children's literature offers authentic, complex and effective ways for children to engage in vicarious conversations about ethical questions.
Roberts recently added the Writing for Goodness Sake mini-conference as part of her Language Arts Methods course. The conference offered her preservice teachers a chance to present their research on quality children's literature and activities meant to inspire student empathy and altruism.
This is just the kind of work the Robert N. Heintzelman Eminent Scholar Endowed Chair Fund supports. The fund, which selected Roberts as the Robert N. Heintzelman Literature Scholar, provides opportunities for research to understand and prevent greed, and foster altruism.
Studies show that reading quality fiction, which provides authentic contexts about the human condition, improves empathy in adults.
Roberts says, "You can imagine that children, who are much more impressionable, might similarly benefit."
During the conference, preservice teachers presented children's picture books and lessons on a range of social issues illustrated through their books' characters.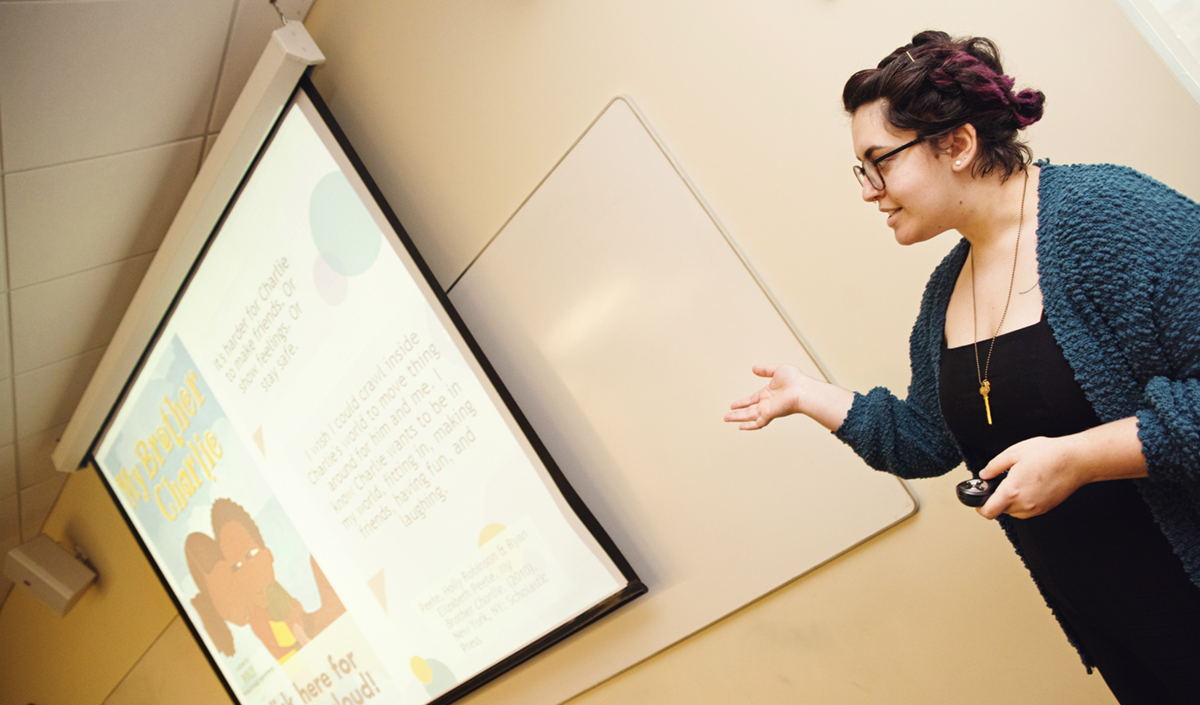 Charlie Wright, who is pursuing a bachelor's degree in exceptional student education, presents a book about a little boy with autism and his little sister who narrates as they navigate both their similarities and differences.
Charlie Wright and Rachel Hughes, who are both students in the Language Arts Methods course and pursuing bachelor's degrees in exceptional student education, presented on My Brother Charlie by Holly Robinson Peete and Ryan Elizabeth Peete. In the book, Charlie's twin sister Callie talks about her brother's many talents and shared characteristics. She also says, "There are days when it's hard to be Charlie's sister."
In the book, Charlie has autism and his sister learns he may never say I love you. While his sister acknowledges her sadness, she also finds the many ways her brother already says I love you — like running to his sister when she falls off her bike, or locking fingers in a "holding-hands game. That's Charlie's I love you, said in the silly ways we play together."
Wright and Hughes say an excellent activity for teachers to pair with the book is Lucas' Letters, a program started by a boy named Lucas with autism looking to develop pen pal connections with other children around the world.
Hughes says it's a wonderful way for students to gain a deeper understanding of what another student might be going through or how they are different.
Kathleen Santiago, pursuing a bachelor's degree in elementary education, presented on the book I Walk With Vanessa by Kerascoët. Santiago says the story is about a simple act of kindness — how one girl inspires a community to stand up to bullying by offering to walk a new classmate to school and introduce her to new friends.
The book speaks in pictures, says Santiago, which provides opportunities for social-emotional and language development accessible to all children, including English language learners. An example, says Santiago, could involve sentence-framing activities like Kindness is [fill in the blank].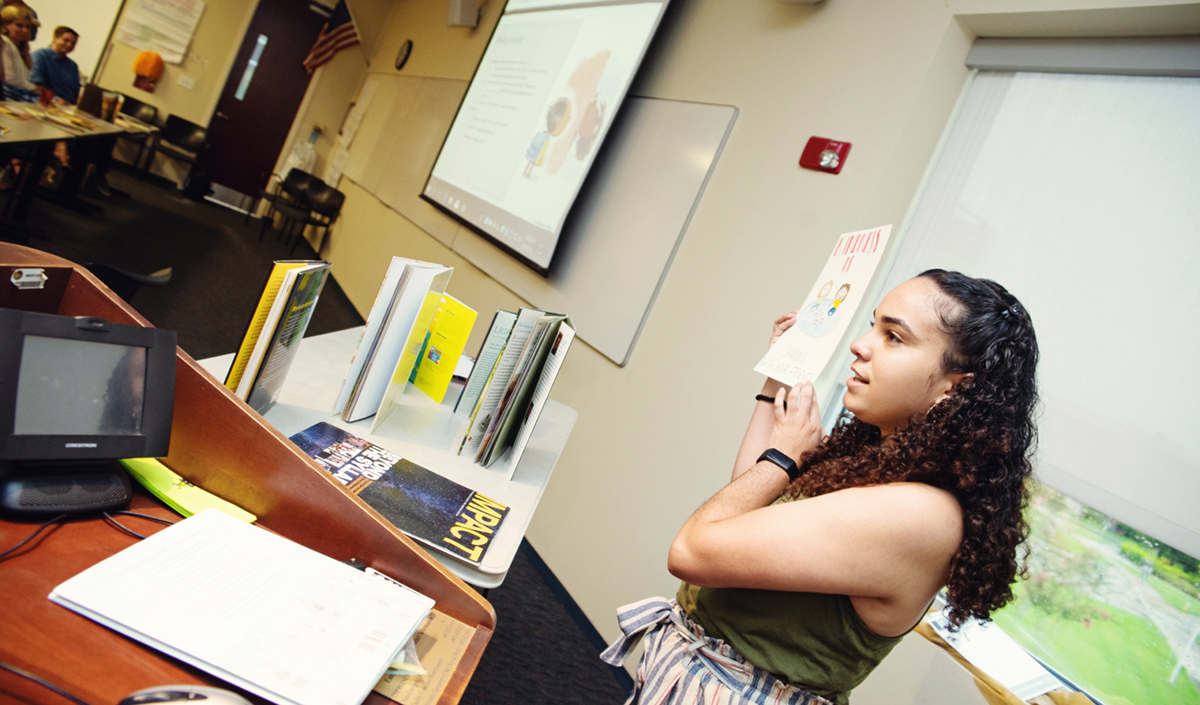 Kathleen Santiago, who is pursuing a bachelor's degree in elementary education, presents an activity that builds language skills while inspiring empathy and altruism.
Santiago says, "When I was in school, the focus was mostly on the material — math, science, reading — and not much on meaning. One of the reasons I wanted to become a teacher is to add that meaning, and this is a powerful approach."
Sarah Hall '13MEd, who is the 2020 Seminole County Teacher of the Year, spoke at the conference after teacher education students presented their research.
"Children's literature starts important conversations with students who struggle to talk about how they feel," says Hall, who received her master's degree in reading education. "And it's a two-way street. With the vocabulary and intention to listen for empathy and tolerance, they're able to recognize it when someone speaks to them. Listening to preservice teachers already immersed in this pedagogy is inspiring."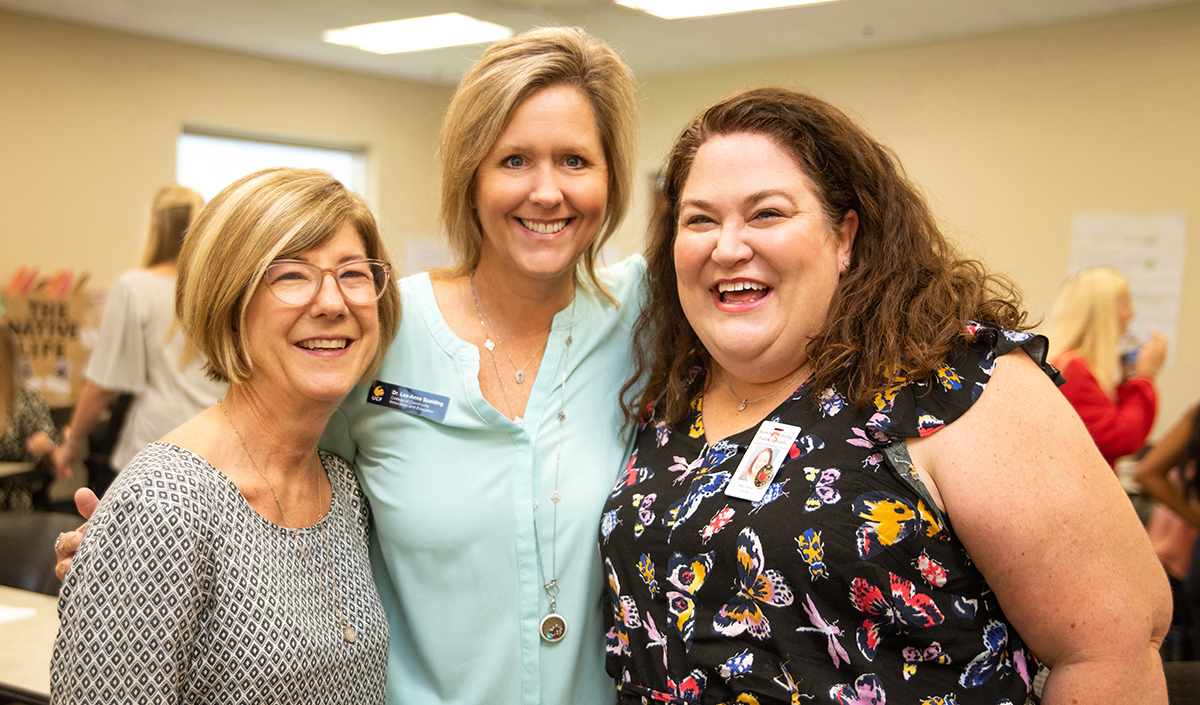 (Left to right) Sherron Roberts, professor of English language arts education and the Robert N. Heintzelman Literature Scholar; Lee Anne Spalding, associate lecturer of elementary education; and their former graduate student and 2019 Seminole County Teacher of the Year Sarah Hall
This isn't the first time Roberts inspired student research on the impact of children's literature for social good. During the 2020 International Society for the Social Studies Annual (ISSS) Conference, her students presented picture books they found could inspire empathy and action in their students.
Devin Dempsey-Inglis, who is pursuing a master's degree in reading education, presented at the ISSS conference on the book, Four Feet, Two Sandals by Karen Lynn Williams and Khadra Mohammed. In the book, two girls in a refugee camp find the other matching shoe in a pile of used clothing. They decide to share the pair of shoes throughout the book and build a friendship along the way.
Dempsey-Inglis says the book opens up more opportunity to inspire students to donate their own shoes to children in refugee camps. In fact, she organized shoe drives at the ISSS Conference and campus wide at UCF, as well as at the elementary school where she teaches, inspiring several rounds of donations.
"The book can spark a love of reading and helping others, and sheds light on life experiences of underrepresented communities, like refugees. It sparks students' interest in ways they can help the world and grow goodness in their community — and ways within their reach as a child."