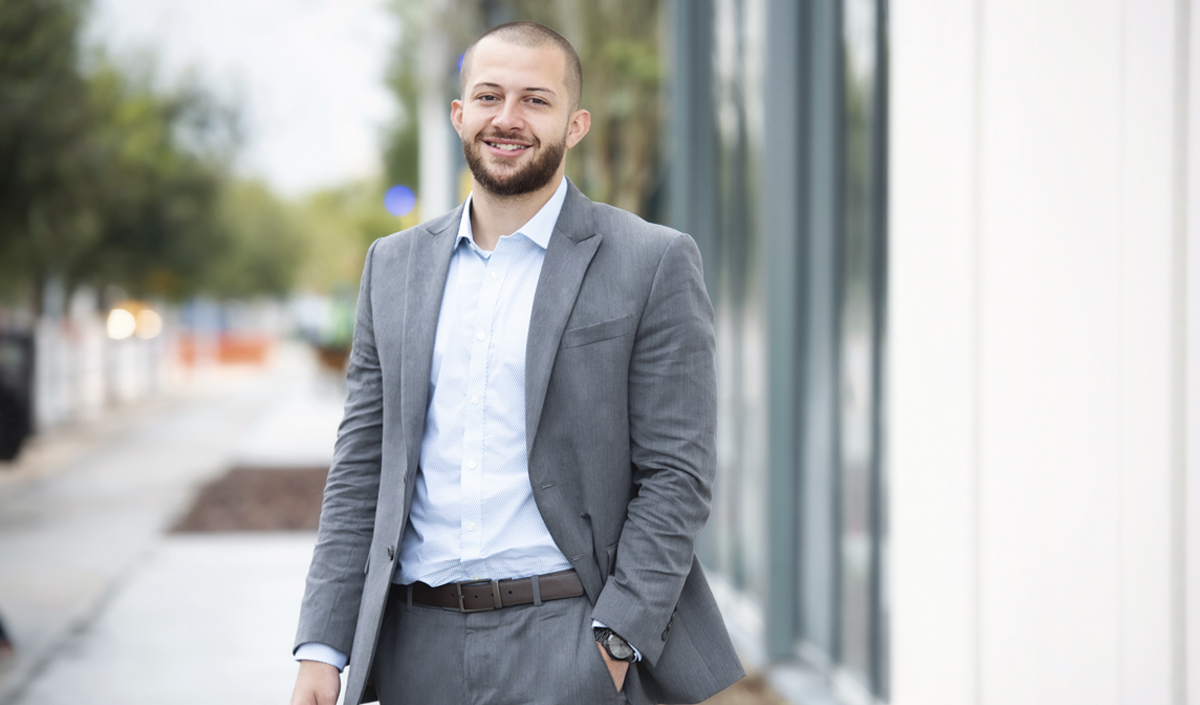 William Poole '18, who is a graduate student in the Master of Health Administration program, worked with the chief nursing officer at Orlando Health's Orlando Regional Medical Center for his graduate internship. (Photo by Amy Floyd)
"I love the reach of this work, especially when you get to the higher-level projects. Not only do you make a difference within your hospital, you make a difference in your community," says William Poole '18, who received his bachelor's degree in health services administration and is a graduate student in the Master of Health Administration program.
Originally, Poole was on a pre-med track for college. But after more research on various degrees in healthcare, he found health administration and fell in love with it.
"I am passionate about helping others but I was also drawn to various tracks in health management and informatics like operations, finance and strategy."
During Poole's first internship, he jumped right in. At 21 and just two months as an undergraduate intern, not only did he ensure each hospital floor scheduled the correct number of nurses, he also worked with directors regarding brand awareness as Florida Hospital changed its name to Advent Health and hired a new chief executive officer.
"Anytime new executives come in, each has their own way of operating an organization. With all that change, I was offered a solid foundation in change management and learned dedication and perseverance in the face of the unexpected."
As Poole's understanding of the field grew, he also noticed that when you reach a certain level, there is a limit to how many opportunities you have to drive an entire organization.
"My interests lie in leadership and this graduate program offered me the tools to get the most out of my education, like in my internships."
Poole planned to return to Advent Health for his graduate-level internship. However, Poole's professors and Holly Muller, who is chief nursing officer (CNO) at Orlando Health's Orlando Regional Medical Center, had an alternative in mind. Muller expressed interest in offering an internship to a student pursuing a career in executive leadership. She is an advocate for mentoring students with their career development and acknowledged that interns provide valuable project support to the leadership team. After reaching out to UCF, health management and informatics faculty immediately named Poole for the position.
Around healthcare executives most days of the week, Poole says he observes different leadership styles, which helps shape his own way of leading and motivating teams.
"They hadn't really taken UCF students at an executive level before, so that was a big first step. I'm grateful for the opportunity to report directly to the CNO."
The excitement in Poole's voice jumped. "I am just a few doors down from Holly and many others in executive leadership."
Around healthcare executives most days of the week, Poole says he observes different leadership styles, which helps shape his own way of leading and motivating teams.
"I sit down with Holly for at least 30 minutes to an hour every single day, which is unheard of. We talk about the projects we're working on but she'll also ask about my personal development, what I am learning or how the fellowship process is going. She'll ask about school and how she can help me improve."
Poole says in his first week, Muller asked what he knew about benchmarks. He didn't know much so she told him to do some research.
"The next morning, I opened an email from Holly asking that I let her know if I received the packet. I opened three attachments with over 2500 pages of data detailing benchmarks."
Poole got to work. He combined data from three benchmarks that relate to nursing hours, direct care, education-levels, budgets, financing, staffing and other factors. He compared Orlando Health's numbers to the national average and provided all this in one excel document to be used in evaluating the budget and staffing standards for the next fiscal year.
"Once you get to that level, everything you work on is high priority with hard deadlines. I gained valuable experience working under that pressure."
Poole recently sent out applications to 20 organizations across the country for what he calls "The Holy Grail" for graduates of health administration master's degree programs.
Originally, Poole was not interested in a fellowship after graduation. But Phil Wessel, who is an associate instructor of health management and informatics and taught Poole's first class in the graduate program, broke down the economics of it. Wessel explained that Orlando is a saturated market and graduates who receive these valuable mentorship experiences early on in their careers stand out. Poole was convinced a fellowship was the way to go post-graduation.
"It's similar to what I do in this internship with high-level priority projects and valuable mentorship."
Poole says the goal of a fellowship is oftentimes to develop your skills and eventually become the next healthcare executive.
If Orlando Health's Orlando Regional Medical Center offered him a fellowship, Poole says, "I would stay in a heartbeat. Everyone there has been influential in my growth. But I told them my goal after graduation is to attend a fellowship to learn as much as possible at an executive level. My goal in 10 years is to operate my own healthcare organization."