EdD alum DeShawn Chapman collaborates with communities to build educational access from early childhood to adulthood.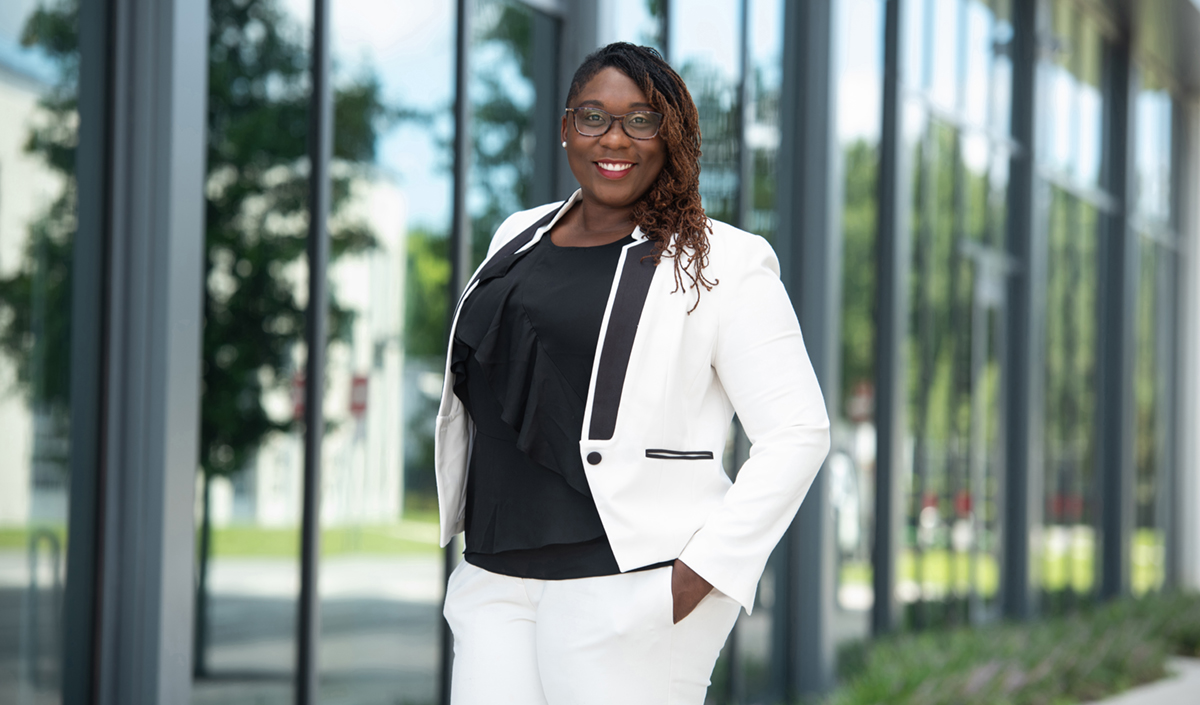 Deshawn Chapman '11MEd '16EdD has always been passionate about addressing disparities. In Tampa, she entered her freshman year as a business major, with plans for a career helping to grow small business ownership in historically marginalized communities. However, she kept feeling a draw towards teaching, and soon changed her major to social science education. What she found on the other side of this decision was a career that supports the same communities by connecting residents with educational resources from early childhood to adulthood. Today, Chapman is the education program manager for the UCF Parramore Education and Innovation District (PEID), a collective impact project that supports a healthy education ecosystem from pre-k to 20 in the Orlando Parramore community.
Classroom Experience, Research and Community Collaboration
Chapman began her career at Piedmont Lakes Middle School, where she taught for three years and afterwards became an exceptional student education facilitator there. At the time, she also pursued a master's degree in teacher leadership at UCF. During her studies, she looked at the impact of a program she developed called Project Phoenix on student learning. The program engaged Black students who were not at grade level for reading proficiency in activities to develop reading fluency. She found that out of five racial and ethnic subgroups, only the Black students made learning gains that year.
For one of the activities called Reader's Theater, students were given scripts to read aloud without studying the text in advance. Chapman says they had to bring the text alive through verbal and nonverbal communication skills. "This engaged students cognitively, increased comprehension, and strengthened reading ability in an authentic and purposeful context."
By the end of the 15 weeks, Chapman says students were so engaged that they asked to participate during other school periods, in addition to their scheduled session. "With Black student gains, I questioned how one teacher's performance could cultivate achievement, while another resulted in failure for the same students."
You do research with people, not on people.

DeShawn Chapman
This experience was a turning point for Chapman. She says sometimes in education we buy into a deficit perspective, like attributing blame for academic outcomes or behaviors in schools on students and their communities. Her studies provided an opportunity to investigate the questions she had, for example, about the education of Black students. "It was a big aha moment for me. It is not the kids; it is the system. Instead of asking what they can do differently, we want to ask what we can do differently and how we can strengthen equitable practices and policies to meet the needs of each student."
Chapman taught middle and high school for another three and a half years but says questions about equity in education kept resurfacing. She wanted to impact education on a larger scale, so she decided to pursue a doctorate in education at UCF. Chapman says the doctoral program helped her build a deeper understanding of how to break down problems and look at them from multiple angles, to understand why an issue was happening, and to bring research into practice. But she emphasizes what she considers her most valuable lesson from this time: "You do research with people, not on people."
Through the doctoral program, Chapman learned how teachers can conduct research in their classrooms while enriching the student learning experience. Not only that, she also gained experience engaging communities in collaborative, ongoing and informed research that reflects what communities say they need.
As a post-doctoral scholar, Chapman worked with youth in foster care as the director of First Star Central Florida Academy, a national college prep program for youth in foster care. "This was an invaluable experience because I engaged with the education system as an advocate, not an educator. It deepened my understanding of the social context of education and what it feels like to interact with a school system as an outsider."
She says she witnessed firsthand how life circumstances affect students' social and emotional functioning, and thus their academic and behavioral performance in a classroom. "Some educators interpret misbehavior and low academic performance as apathy, which in reality could be a response to toxic stress. This experience was fundamental in cultivating my ability to build bridges between community, school, and postsecondary institutions and directly informs the work I do at PEID."
A Bridge to Educational Access
At PEID, Chapman provides a bridge between the voices of those impacted by the research and the resources from universities and colleges, organizations and businesses within and outside the community. "What I hear from educational leaders in Parramore is that they want to establish mutually beneficial partnerships with the university. They want this to enhance the learning experiences they currently provide to students and families, and ultimately to improve student academic outcomes."
She says PEID's initiatives are based on collaborative partnerships with members of Parramore's education ecosystem at the center of decision-making. "We operate in response to our partners needs and wants, not based on our presumptions about what communities need and should do. In this work, we aim to translate the research findings from our efforts into evidence-based practices and strengthen connections between the community and university."
Chapman says PEID continues to receive helpful feedback from community partners, such as the need for programming that supports the whole child, as well as the family unit. Vital to the health of an education ecosystem is access to advanced career and educational opportunities for adults. PEID's response to residents was JumpStart to Success, which helps adults build skills, knowledge, and professional relationships by matching them with local postsecondary options. The program also provides participants support all the way through to degree completion, ultimately leading to higher paying careers.
Resources for early childhood education, too, provide invaluable opportunities for a healthy start for Parramore's youngest residents. Play Pop-Ups is an initiative out of PEID designed to engage young children and their parents in developmentally appropriate play experiences for the whole family. The initiative was a collaboration between two PEID committees — the School Readiness Committee led by Chapman and the Social Emotional Learning Committee led by Katie Philp, who also leads the Play Pop-Ups program.
Through community-based play experiences, the pop-ups encourage healthy social and emotional skill development and build positive and trusting relationships with parents and caregivers. Chapman says more than 35 parents showed up to receive a Play Pop-Up kit and participated in other online events. While the purpose of the initiative is to support parents as their child's first and primary playmate, she says over time multiple pop-up events will also build authentic relationships between the community and PEID and improve how residents learn about helpful resources.
According to Chapman, PEID is a bridge to educational access and collaboration to design an equitable future for Parramore with Parramore. "My greatest hope for education would be for large systems, like school districts and institutions, to be able to respond to the needs of specific groups of people, to truly figure out a way for systems to move past equality, and really be equitable in the ways they respond to the students they serve."
---
Along with her work at PEID this fall, Chapman serves as a professor-in-residence at Jones High School with the Teacher Quality Partnership, a UCF project funded by the U.S. Department of Education. The partnership is designed to recruit, prepare, and sustain highly effective teachers with a focus on mathematics. Chapman will engage student teachers in conversations on evidence-based instructional practices for mathematics, culturally responsive teaching, social-emotional learning, wellness and self-care.