Shane Wiggan, a doctoral candidate in the curriculum and instruction program, served as a panelist to share his experience as part of the Robert Noyce Master Teaching Fellowship program.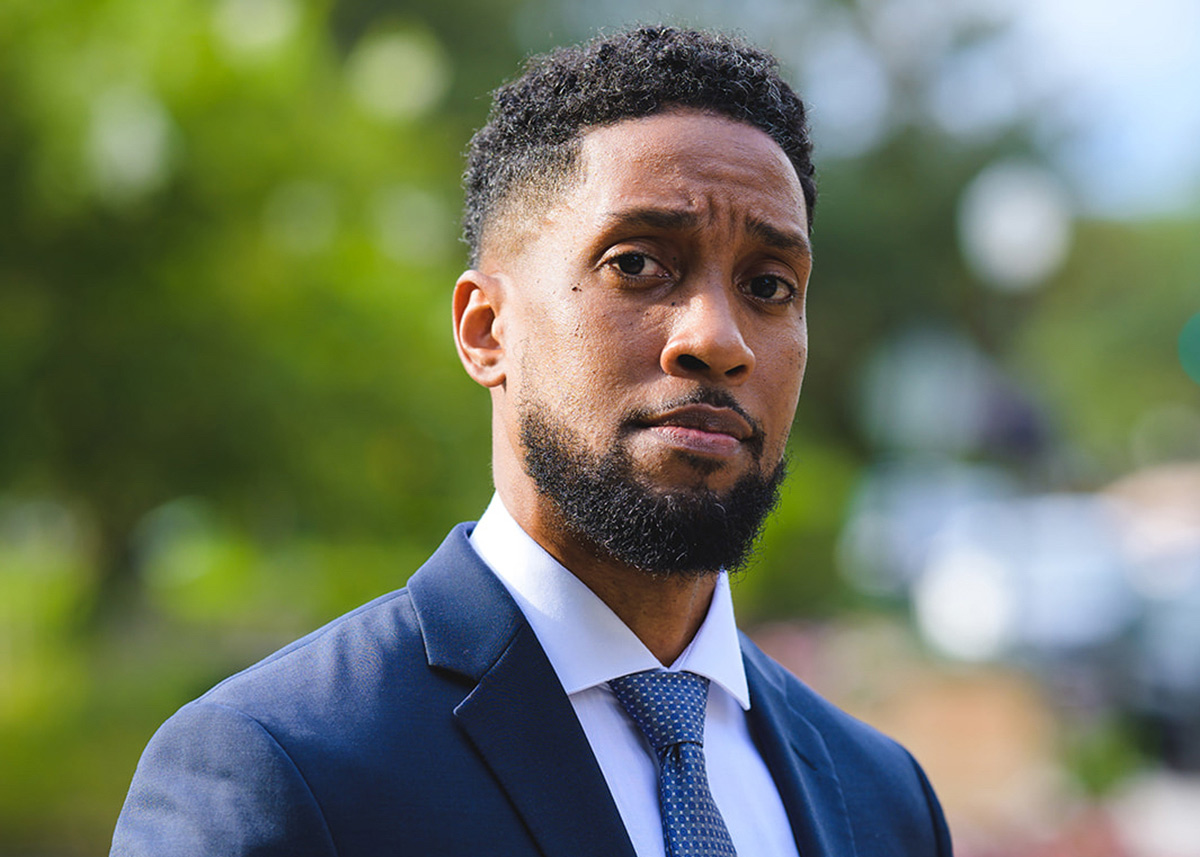 Wiggan, an eighth-grade mathematics teacher, is working toward his doctoral degree in curriculum and instruction as part of the Noyce fellowship program. (Photo courtesy of Shane Wiggan)
Last fall, Shane Wiggan was just beginning his journey as a National Science Foundation Robert Noyce Teacher Scholarship Program Master Teaching Fellow.
He recently kicked off his second year of the program by participating on a National Science Foundation panel during which he shared his experience as a budding teacher-leader.
Wiggan, an eighth-grade teacher at Freedom Middle School, is one of 14 teachers participating in the Noyce Master Teaching Fellowship program at UCF. This particular track focuses on developing K-12 STEM teacher-leaders in high-need school districts. The five-year project, funded by the National Science Foundation Robert Noyce Teacher Scholarship Program, includes partnerships with Orange County Public Schools and City Year Orlando.
Ultimately, the goal is to empower fellows by increasing their knowledge and social justice mindsets, expanding their leadership capacity and fostering diversity of teachers in STEM fields. By the end of the program, each Noyce Fellow will have earned a doctor of education in curriculum and instruction with a specialization in K-8 mathematics education.
Fellows also comprise the UCF-Orange County Public Schools Noyce Teacher Leader Academy, through which they engage in a series of mentoring opportunities and, in turn, are positioned to become mentors for colleagues and City Year Orlando Corps members from underrepresented populations.
"I have always taught in Title One schools that serve underserved communities and low-income neighborhoods, so this opportunity was a match made in heaven," Wiggan says. "This is the population that I want to teach in, so it just lined up perfectly with my interests."
Lisa Brooks, senior lecturer of mathematics education, nominated him for last month's panel, which comprised four Noyce fellows from across the country.
"Shane exemplifies teacher leadership and a true commitment to ensuring an equitable education for all students," Brooks says. "He was a wonderful representative for our program."
During the panel, Wiggan spoke of his experience as a Noyce fellow, what led him to teaching in the first place, and how he is applying what he's learning through the program.
"Something the panelists had in common was that we are all STEM teachers who want to elevate and improve on our skills to positively impact our students," he says. "It was just so nice to hear that from other teachers, especially ones who are still so impassioned. This is my eighth year of teaching, and it's refreshing to be around so many like-minded people who are passionate about helping our students."
Wiggan's coursework and mentorship involvement give him opportunities to apply what he is learning to his own classroom, as well as share knowledge and experience with his mentees. He also gets to center his research on two aspects he's especially passionate about when it comes to increasing diversity.
"The first statistic that I saw from the U.S. Department of Education was that in K-12 classrooms, only 2% of the teachers are Black males," Wiggan says. "I started reflecting on my own experience, and through my K-12 experience, I only had one Black male teacher. I want to bring more Black men into the classroom, and I also want to bring more Black and Brown students into STEM. If you look at any profession revolving around STEM, we have the lowest numbers. You could start from the top and look at medical school and engineering courses all the way down to advanced mathematics classes in high school, and you'll see that we represent the smallest number. I want to make headway in those two areas."
He views his experience in the Noyce program as the foundation helping affect systemic changes within the educational system that impact students and educators who are underrepresented in STEM.
Wiggan earned his bachelor's degree in criminal justice from Florida A&M University and his master's degree in teaching from Marian University in Indiana.