Assistant professor Aramis Ayala's class covers the history behind death row, providing students with unique opportunities to visit death row and speak to people who have been exonerated from the death penalty.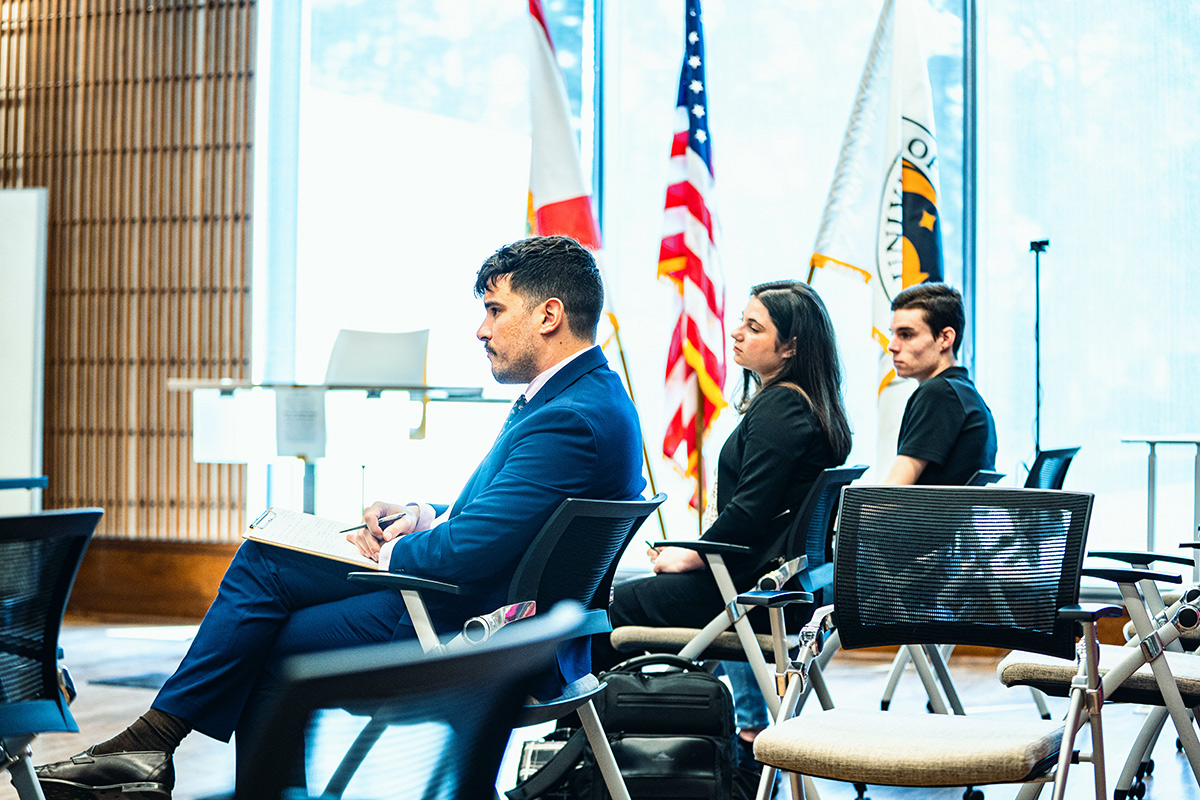 Students in Aramis Ayala's class listen to the stories of people who have been exonerated from death row.
In the mock courtroom at UCF Downtown, a somewhat unexpected group of panelists recently gathered with Legal Studies students to discuss the realities of being on death row. 
What made the panel unique? Three of its members were once sentenced to the death penalty but have since been exonerated.  
The conversation wasn't focused on what it's like to be on death row, although some of that did come up naturally. Instead the discussion –– entitled "When We Get It Wrong" –– was focused on the legal processes each of the exonerees went through after being wrongfully convicted.  
Panelists included attorney Allison Miller, mitigation specialist Kate O'Shea, and exonerees Paul Hildwin, Herman Lindsey and Stephanie Spurgeon. Each exoneree told their stories, and Miller and O'Shea shared their expertise on working with high-profile cases, jury selection, the Innocence Project and more. 
Aramis Ayala, assistant professor of legal studies, prefaced the conversation with a disclaimer that the event was not about opinions on the death penalty but rather to hear real stories and listen with respect.  
Participants included students in Ayala's Contemporary Issues in the Law class, which primarily discusses the death penalty. It's a research-based course that encourages students to learn about the death penalty through history and statistics.  
"A lot of people have a lot of feelings about it, but unfortunately, a lot of people don't have a lot of knowledge about it," Ayala says. "It's one of the areas of practice that most people don't engage in. I think UCF is a great institution where students won't just have an abundance of information, but they'll also get real, hands-on life experience that will give them the evidence, the data and the knowledge to eliminate the controversial aspects of it. When I teach the class, I don't get into the controversy — I get into the history of it." 
Another benefit of Ayala's class is that the students who wish to continue onto law school will have such unique experiences to draw from.  
"UCF offers different opportunities, and we have a lot of practitioners who are not traditional academics," she says. "We evolve into academia, but we bring to it a different perspective so students can get the well-rounded research, experiences and academic advancement that makes them a better candidate when they're applying for law school and, ultimately, jobs in the legal field." 
Senior legal studies student Luis Alvarez says that as someone who wants to go to law school after graduating from UCF, this event was a good reminder for him of the legal processes related to the death penalty. 
"We took theory from a 2D format, we met practitioners and exonerees, and the message is that we get it wrong sometimes," Alvarez says. "But when you get it wrong in a death penalty case, someone dies. This was an opportunity to take classroom instruction and see what it looks like in real life. Later this semester, we will also be visiting death row." 
Morgan Hunter, another student in Ayala's class, adds that the opportunity to interact and speak with real exonerees captivated her. The most impactful part for her was when Spurgeon discussed how she took an Alford plea because she did not want to admit guilt but wanted the nine-year legal process to end. She now lives her life as a convicted felon.  
"It really just gives a different perspective on how the justice system works. These are the real stories, and you don't see this side that often," Hunter says. "I'm really appreciative this was done for us."