Lee Ross has dedicated much of his research efforts to examining criminal legal systems' responses to domestic violence.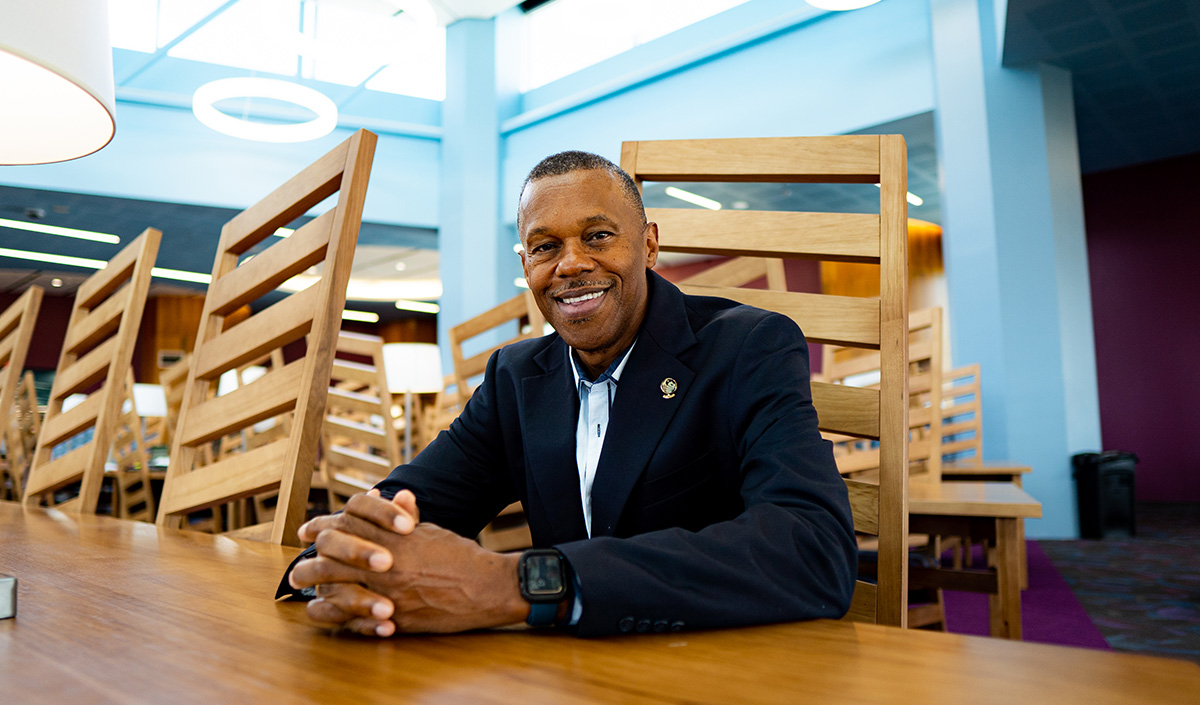 Lee Ross, UCF professor of criminal justice, has received many accolades for his research in domestic violence. (Photo by Blake Osting)
Growing up, Lee Ross saw firsthand how various forms of domestic violence affected people he knew and loved. Years later, it would become the catalyst for part of his research agenda.
Ross, a professor in the Department of Criminal Justice, specializes in researching issues related to intimate partner violence and domestic violence, as well as evaluating responses from criminal legal systems.
"You hate to see it happen to anyone because no one deserves to be a victim of crime; especially domestic violence," he says. "You view it as wrong; you view it as an injustice, and it makes you want to do something about it and contribute to improving the lives of others."
As a former group facilitator to a batters' intervention program, Ross helped teach men —many of them young men and men of color — how to change their thoughts and attitudes about violence in relationship. Working alongside both offenders and victims, he was able to see through a different lens.
His recent book, "Musical Lyrics and Domestic Violence: The Soundtracks of Our Lives," looks at various musical genres and decodes the messages within the music — and relating it to domestic violence. The idea was sparked by Michelle Collier, a victim's advocate in the State Attorney Office's 18th Judicial Circuit Court, who was once a guest speaker in Ross' class. Collier's presentation involved deconstructing song lyrics, looking at how the artist's upbringing affected their perception of love, and what the lyrics revealed about dating violence.
It inspired him to dive deeper into the work of other artists and what their songs say about domestic violence.
"My work deconstructed lyrics to apply them to every aspect and manifestation of domestic violence, and that includes myriad types of domestic violence," he says. "Most of the victimization experiences with domestic violence happen to women—but even more so women of color. I examined different musical genres and highlighted artists who have sung about domestic violence out of their own experiences, or vicarious experience through family members."
Sampling music from artists ranging from Elvis, The Beatles and Michael Jackson to Beyonce, Eminem and LL Kool J, Ross studied the messages behind their words. He also researched the benefits of music therapy, incorporating scholarly research in family violence and victimization in general.
Ross has received many accolades for his contributions to domestic violence research and most recently was selected as the recipient of the Coramae Richey Mann Leadership Award. The highest honor bestowed by the Minorities and Women Section of the Academy of Criminal Justice Sciences, this award recognizes ACJS members who contribute to the ethnic and racial diversity in criminal justice education. Honorees endeavor to advance critical thinking concerning women and add to the existing knowledge of gender issues in criminology and criminal justice.
The ACJS presented the award to Ross during its annual meeting in Maryland. It's an honor he especially cherishes because he also knew Dr. Mann, whom he says was instrumental in helping to get with his first publication — "Blacks, Self-Esteem, and Delinquency: It's Time for a New Approach" — in the academy in 1992.
"She is considered a pioneer in criminal justice, and she confronted issues of injustice against women and also issues of race, crime and justice," he says. "I feel honored because my colleagues are implicitly aligning my accomplishments with those of someone who was one of the most prolific leaders in our field when it comes to issues of race, crime, injustice, and concern for female rights, and female victimization. To be mentioned in the same breath is quite an honor."
Ross received his doctorate in criminology and criminal justice administration from Rutgers University. He joined UCF's Department of Criminal Justice in 2003 and is a former Provost Fellow. Ross's areas of expertise include domestic violence research; race, crime and justice; and intimate partner homicide.