The journal allows undergraduate students to publish their researched articles before reaching the law school level.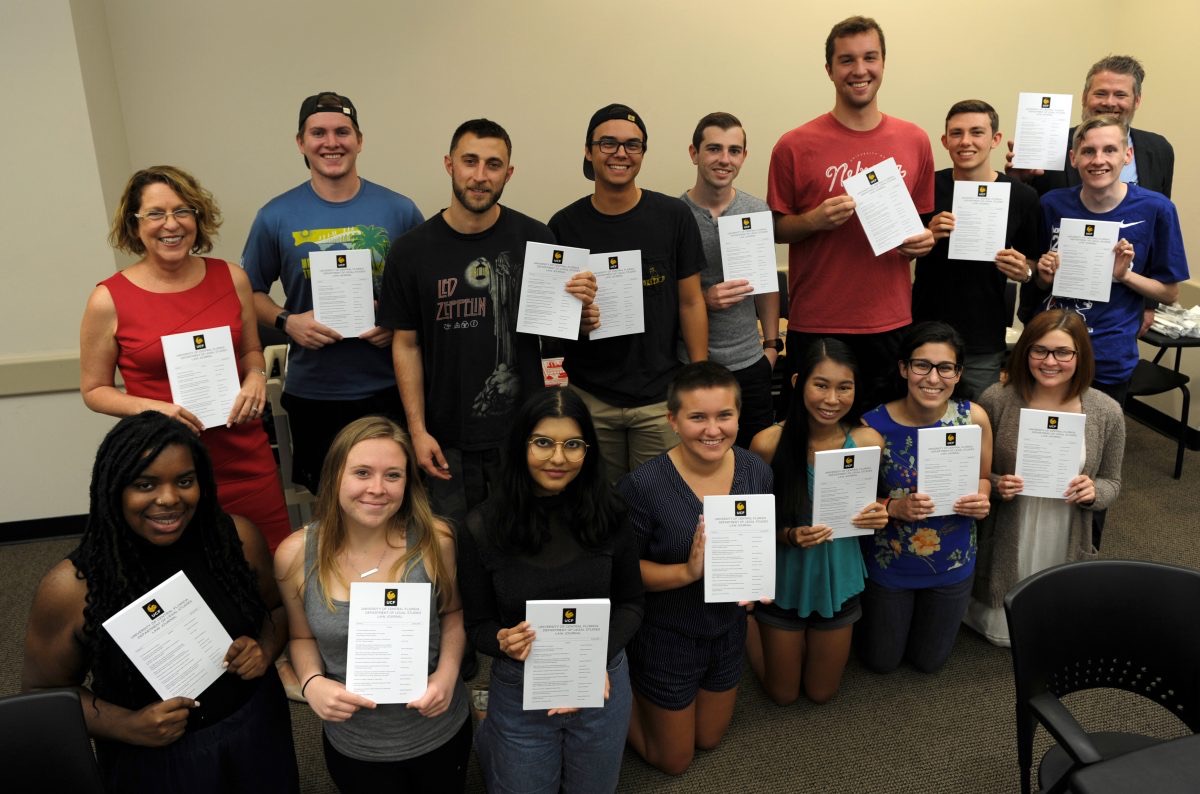 Students from the inaugural UCF Undergraduate Law Journal class in Spring 2018 hold the first published edition. (Courtesy photo)
It is rare for a university to publish the work of an undergraduate in a law journal, and it is even more uncommon for a university without a law school to maintain and publish its own fully Undergraduate Law Journal — but UCF's Department of Legal Studies does it annually.  
James Beckman, a professor in the Department of Legal Studies, has served as the journal advisor since its inception at the university in 2018. This year will mark the sixth volume, which will publish either toward the end of the semester or in early summer. 
Beckman says it is a prestigious honor to have a researched article in a journal like this, and it's also advantageous to for students who decide to go on to law school.  
"If you talk to a law professor or a dean of admissions at a law school and say you're in a law journal, that's considered to be one of the most prestigious things you can do, and this will be on our students' résumés," Beckman says.  
In fact, a former student who is now out of law school and clerking for a federal judge told Beckman that during the interview process, the judge looked up the article they had written as a student at UCF. 
The Undergraduate Law Journal class requires that students work on what some courses would consider a final project-level assignment from the very beginning. Each student begins the semester with their own research, with the goal of developing and writing a cohesive article of publication quality.  
Beckman says the thought process behind this is that the students all have experience writing the type of material they will later critique for the journal. They will also have peer-reviewed content that they can submit for publication.  
Although students will learn to write researched articles, enrollment in the course doesn't guarantee publication. The journal is open to all undergraduate students at UCF, and any researched law paper can be considered.  
"It's a blind review, so when people in the class are doing the review of all the papers, they have no idea whether it's a colleague in the class or somebody from political science or another department," Beckman says. "Every year, we do have students that are able to publish their work because they're involved in the class. We have a lot of discussions about what makes a good article, and that tends to help them put together a stronger paper that does better in a peer-review process." 
Students' topics range from politics to addiction. Last year, the lead article was on treason in the United States as a legal charge. The year prior, a student wrote an article on the constitutionality of Space Force, Beckman says.  
"Last year, there was an article that was very good, and it was cited by The Indigent Defense Research Association as a 'notable publication' and recommended article for its readers in 2022, about the rising rate of substance abuse and addictions among attorneys," Beckman says. 
Destiny Spencer, a senior legal studies major, is taking the course this semester and plans to write her article on compassionate release of incarcerated people.  
"I like things that keep me on my toes and keep me engaged, so I'm really hoping that throughout this research I can not only learn about compassionate release and prison reform, but also challenge myself to go above and beyond not only to get this published, but to also engage with my fellow classmates," Spencer says. 
Political science junior Johnathan Carrasquillo transferred to UCF, and he said he wanted to find a way to get involved.  
"As someone who is interested in going to law school, being able to analyze and research various different legal topics or cases is just a helpful skill to have," Carrasquillo says. "For me, this class made sense because not only would I be researching and developing my own paper, I'd also be editing in reading other people's work." 
Raymond Silipino, a senior legal studies major, is taking the class a second time because he hopes to perfect his article and is also excited to work with Beckman again. As an older student who decided to return to college mid-life to pursue a new path, he worried he wouldn't fit in or get all of the experiences a typical student may get.  
"By allowing me to be part of the law journal, (Beckman) extended an opportunity I might not have had otherwise, so I couldn't be more grateful to him," Silipino says. "This whole experience has just been phenomenal for me." 
Undergraduate students are invited to submit a law-related paper to be considered for inclusion in the 2023 edition of the UCF Undergraduate Law Journal. Submissions should be sent to Beckman at James.Beckman@ucf.edu by Wednesday, Feb. 22.