Nearly two dozen teacher education students recently signed letters of intent declaring their acceptance of teaching positions with Teacher Quality Partnerships program partner schools.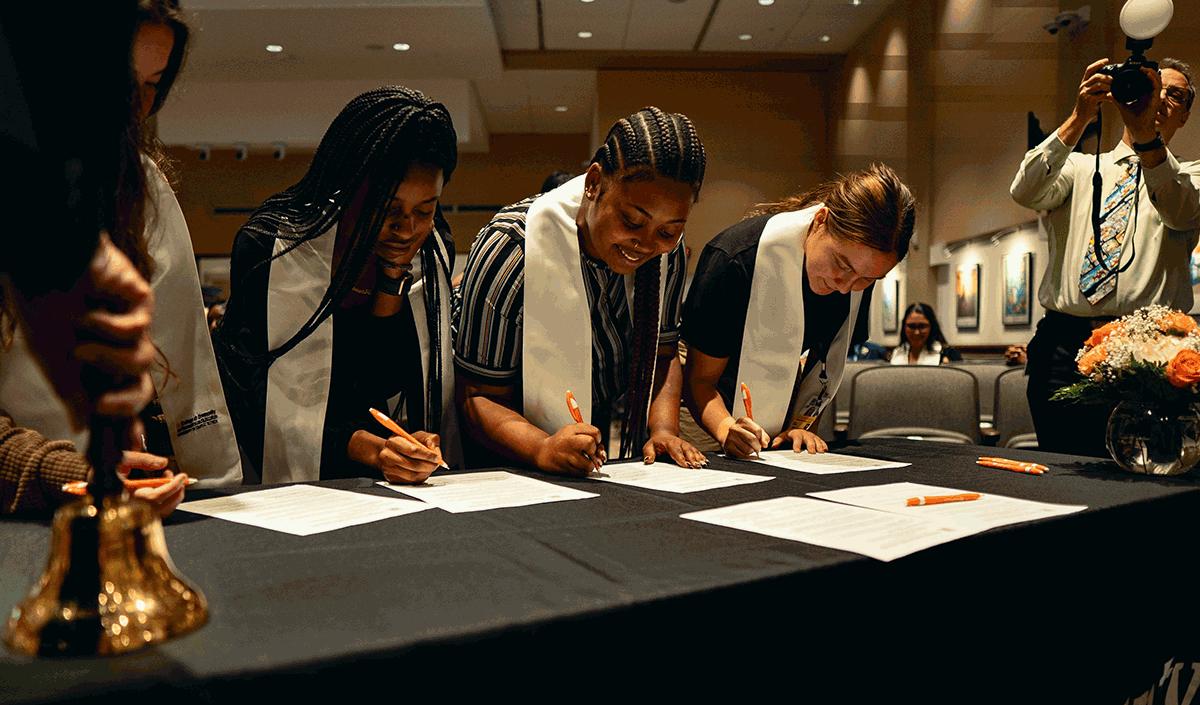 Teacher education students who participated in the Teacher Quality Partnerships program at UCF signed their letters of intent to work at Orange County Public Schools upon graduation. (Photo by Blake Osting)
For student-athletes, signing day is an important step in beginning the next chapter of their careers. In the UCF School of Teacher Education, the athletes in question are teacher candidates — and on their signing day, their future team is Orange County Public Schools.  
Each student recognized during the April 12 ceremony had the opportunity to sign a formal letter of interest with OCPS, signifying their intent to work as a full-time teacher with the district upon graduation. Students were also given a surprise at the ceremony — a $2,000 check to use for classroom and teaching supplies for their first year. 
These students all participated in the Teacher Quality Partnerships program, a five-year project funded by the U.S. Department of Education and designed to recruit, prepare and sustain highly effective teachers in nine partner schools throughout Orange County.  
The partnership program between UCF and OCPS aligns academic and professional resources from both organizations to support teacher candidates' needs while training them to be effective in schools of greatest need within the district. The program was honored for its success last year with the Council for the Great City Schools' Shirley S. Schwartz Urban Education Impact Award.  
"I am honored to be part of signing day," says Mary Little, professor of exceptional student education and director of the TQP program. "We are celebrating teachers coming into our profession today. Our students have completed their internship with us, and now they're being welcomed into the profession by our wonderful partners in OCPS. I love every opportunity we get to celebrate this partnership and our teacher candidates as they transition into the education profession." 
Students laud the benefits of the TQP program in their preparation for their careers. Robin Law, an elementary education major, says the resources the TQP program offers assisted her with growing her classroom management skills, among other things.  
"The program really showed me that I'm not only here for myself, but that others are here for me as well," Law says. 
OCPS District 5 School Board Member Vicki-Elaine Felder echoed that message of support throughout the ceremony.  
"It takes a special kind of person to want to make an impact in the life of a stranger," Felder says. "I want you to know that we are grateful for you and that we are here for you every step of the way."