Welcome to the Department of Criminal Justice at the University of Central Florida.
We are located on the main Orlando campus in the Health Sciences I building. In addition, we offer a full range of online courses in our undergraduate and graduate programs, and we participate in the university's honors, study abroad, service learning and internship programs.
The department currently has 34 full-time faculty members and employs a number of outstanding adjuncts drawn from Central Florida's professional community. To complement the faculty, we have a full-time support staff of five, two of whom are full-time student advisers.
Current enrollment in our undergraduate criminal justice programs exceeds 1,500. We accommodate these students by offering a full range of classes around the clock and throughout the region and the state.
Our Commitment
The Department of Criminal Justice is committed to providing the citizens of Central Florida — from Ocala to Palm Bay — with a full range of services. This commitment is reflected in our mission statement:
The Department of Criminal Justice at the University of Central Florida provides excellence in teaching, research and service. Dedicated to its students, the faculty delivers outstanding instruction at the undergraduate and graduate levels, incorporating learning, service and inquiry. The department also conducts quality research and pursues local, state and federal funding to advance knowledge in our discipline. By actively developing meaningful partnerships, it provides exemplary service to the university and the broader professional and academic community.
Criminal Justice Programs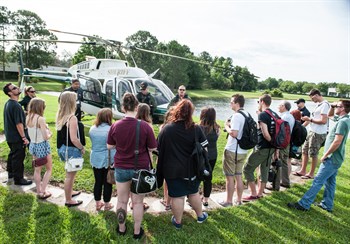 For those interested in criminal justice, our department offers a Bachelor of Arts, a Bachelor of Science, a minor and five undergraduate certificate programs (Crime Analysis, Crime Scene Investigation, Criminal Profiling, Victim Advocacy and Security Management). We also offer undergraduates a series of service-learning courses; a dynamic internship program that places students in a wide variety of criminal justice agencies (local, state and federal); and an honors program.
At the graduate level, we offer a Doctor of Philosophy in Criminal Justice, Master of Science in Criminal Justice, and a dual Master of Public Administration/Master of Science in Criminal Justice. We also four graduate certificates (Crime Analysis, Police Leadership, Corrections Leadership, and Juvenile Justice Leadership). In addition, we participate in the Doctoral Program in Public Affairs by supporting a specialized Criminal Justice Track.
The department blends the latest technological advancements in criminal investigations with a public policy approach to examining crime, criminals and justice policy. In Orlando, the department operates a fully functioning crime-mapping lab with the latest software. Both the Undergraduate and Masters degree programs can be completed online.
Student Organizations
Outside the classroom, our department sponsors two student organizations:
Many of our students actively participate in these groups and work on a variety of service projects in the community. LAE sponsors a university-wide career fair every year with more than 75 agencies and law schools participating.