Advantages
Most of the internships offered by criminal justice agencies are unpaid, and to earn three credits, students must work at least 10 hours per week at the agency. So, why should students put all that time and effort into an unpaid position?
There are several direct advantages to spending your time working in a professional justice setting prior to graduating with your degree.
Contact
Cory Watkins, Ph.D.
Undergraduate Program Director
To schedule an appointment,
call 407-823-2603
First, students who complete an internship have more to offer prospective employers than students who do not complete an internship. They have at least some experience to enter on their resumes. So, when you graduate, in addition to having your educational achievements to highlight (bachelor's degree, minor, certificate program, GPA, etc.) you also will have some concrete experience to show that you have been able to apply some of that knowledge.
Gaining experience in a professional environment also enhances students' understanding of workplace dynamics, the value of networking, administrative roles and structures, and leadership styles. Because interns write reflective papers that require them to consider these issues and more, they are better prepared to embark on entry-level positions.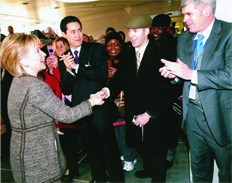 Reid Pearson (with Hillary Clinton) - Department of State Intern
Taking a variety of courses can be exhilarating and inspiring to college students, but the college experience also can create some feelings of confusion. You may have found certain aspects of policing intriguing while studying, but feel drawn to work with offenders in a probation or institutional correctional setting. One of the best ways to see if a field is a good fit for you is to serve as an intern in an agency that will allow you to shadow actual field professionals and to offer you progressively more responsible assignments as you show your competence. An internship can either confirm ideas about a career choice, or cause you to look at other options in the discipline. Since you have an option to take more than one internship, you may sample several alternatives.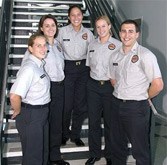 Starting out on the career hunt can pose challenges, particularly in a competitive economy. There are ways students can subtly enhance their credentials, such as providing quality references, which can make their resumes stand out. Completing an internship with a criminal justice agency with administrators known in the criminal justice community might not get the student hired right away, but a strong reference might sway a prospective employer, providing a competitive edge in a tough job market.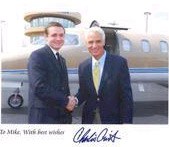 Michael Bruschi (with Charlie Christ) - FDLE Intern
Who Knows? Maybe a Job!
Even in a tough economy, there is turnover in employment. Some internship sponsors have partners with UCF's criminal justice undergraduate program specifically because they are looking to recruit our majors. We have a few placement sites that routinely hire our graduates, and several others which have a history of contacting us as soon as they have job openings.
Qualifications
Registration is necessary to intern at a placement site. Please speak to Associate Professor Cory Watkins or your advisor regarding registration.
In order to qualify (academically) to register for criminal justice internship credits, you must meet the following criteria:
criminal justice major in last 30 hours of study
All CJ core courses complete, with a grade of C or better in each core course. These are

CCJ3014 (Crime in America)
CCJ3024 (Criminal Justice System)
CJL 3510 (Prosecution and Adjudication)
CJC3010 (Corrections and Penology)
CJE4014 (Police and Society)
CCJ4701 (Research Methods in Criminal Justice)
CCJ4746 (Data Analysis for Criminal Justice) this applies only to those students who are enrolled under the catalog year of 2012 or later

An overall GPA of 2.5 or better
Please Note
These are only the academic qualifications enforced by the UCF's criminal justice undergraduate program. Please understand that no individual agency or organization is bound by these criteria. Some agencies have far more stringent criteria. In addition, it is important to understand that many agencies will not accept interns with poor or even not-so-good driving records! Most criminal justice agencies will conduct at least a cursory background check, and some agencies will do a full-scale investigation, calling your references, as well as "developed references," or references whose names they get from asking your references or others who know you. If you have used drugs, you may want to check the policies of the organizations you are interested in, prior to making application. The level of tolerance for past indiscretions varies from agency to agency.
Very Important
Make sure you are academically qualified. The academic qualifications are as follows:
You must be a senior in your last 30 hours of study at the time you begin your internship
You must have a 2.5 overall G.P.A. or better
You must have your core C.J. courses COMPLETED (at the time you begin your internship) with a "C" or better in each.

These courses are:

CCJ 3014 Crime in America
CCJ 3024 Criminal Justice System
CJL 3010 Corrections and Penology
CJE 4014 Police and Society
CCJ 4701 Research Methods in Criminal Justice
CCJ 4746 Data Analysis in Criminal Justice
If you have any questions about your academic qualifications, please make an appointment to meet with Dr. Watkins to verify your eligibility to do an internship.
Develop Your Resume
If you don't have a resume ready to go, prepare one before you start your internship search.
UCF Career services offers some good site for some ideas on putting your education and experiences together into a good package. When you get to this site click on "write an effective resume" link on the right. There is a powerpoint presentation that will open up to walk you through some resume basics.
Find an Internship Placement
Students are responsible to find their own placement, but the Department provides leads and will do everything possible to help you find a fit that is good for you. We help match your interests with the needs of the community.
Click here to see Internship Placement Sites and contacts. You are not limited to these possibilities, but these are sites that have had our interns in the past or have asked to be placements sites for UCF CJ interns. If you would like to intern at some other location, the site must be approved.
Make an Appointment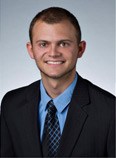 After finding a suitable placement, make an appointment with Dr. Watkins, Room 356, HPA I, to get registered. You must obtain a permission number to allow you to register through MyUCF. Call 407-823-2603 to make an appointment.
"… thank you for this amazing opportunity. UCF really gave me the chance to excel and move forward in my life and career. I work with the AIS (Automated Information Systems) security team. We prepare and make sure computers and other hardware are up to government standards… it is truly exciting and amazing everything I have learned and accomplished in my short time as an intern. I look to my future with Lockheed Martin and can only imagine what it holds and honestly non of this would be possible if it wasn't for UCF giving me this opportunity."
Jake Townshend