Talk to Your Academic Advisor!
We encourage undergraduate and graduate students to speak to an academic advisor as often as necessary to ensure their academic progress and success.
To make an appointment with a criminal justice program advisor, contact the Department of Criminal Justice at 407-823-2603.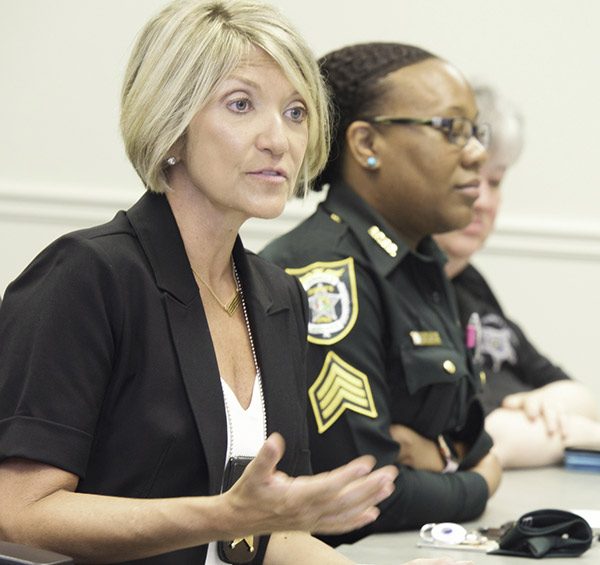 The Department of Criminal Justice offers online education at both the Bachelor's and Master's levels (BA/BS in Criminal Justice, Master of Science in Criminal Justice, Dual Master degree in Public Administration/Criminal Justice, select undergraduate and graduate certificates). UCF Online: Get Started
Although the information contained in this section may be useful for any student taking courses online in the Criminal Justice undergraduate program, it has been designed to focus exclusively on Criminal Justice Online Students who are taking all of their classes online and who have been through the virtual orientation. Students who are designated as UCF online-only students, must be particularly aware of their own need to navigate the systems, and should pay very close attention to the information that is provided by UCF in the online orientation and through the various information sources. Ultimately it is the student's responsibility to enroll in classes when they are able to do so, and to properly read his/her degree audit so that s/he takes the appropriate courses. Advisors are here to help if it is needed, but material related to which courses meet each required category is available from various sources, and this tab is one of many resources available to provide guidance.
Students who have been admitted into the UCF Online Campus (enrolled through Online@UCF and taken Virtual Orientation) are considered virtual students and will be assigned an "online" major code. That means they may not participate in some campus-based activities, and they are restricted to take only online classes. There is a slight difference (decrease) in cost for UCF online-only students because those students are not required to pay campus-based fees.
Students who began enrollment at UCF in Fall, 2015 or later, may transfer into that category IF they have ONLY taken online courses to date and they only will take online classes in the future. If a student is an UCF online-only student and wants to participate in campus classes or activities, there is a ONE-TIME option to move out of that category to a campus-based category. This is a ONE-WAY transfer, and students may not be moved back into UCF Online.
CRIMINAL JUSTICE DEGREE REQUIREMENTS
Criminal Justice, B.A./B.S.
Program Type: Online Major
Credits Required: 120
Dedicated to its students, the faculty delivers outstanding instruction at the undergraduate and graduate levels, incorporating learning, service and inquiry. The Criminal Justice online undergraduate program provides a comprehensive core course structure, combined with a rich variety of upper-division electives to provide an excellent knowledge base in the field of Criminal Justice. The curriculum is designed (1) to prepare graduates for positions in the field of criminal justice in local, county, state and federal justice agencies, private security organizations, and related fields; and (2) to prepare students for graduate work in criminal justice or related disciplines. Students should plan their major or minor in consultation with an advisor.
For Advising and Program Information, contact Dr. Todd Bricker or call 407-823-2603.
See full curriculum requirements: CJ Online BA/BS Requirements.
Criminal Justice, M.S CJ and Dual M.P.A/M.S. CJ
Program Type: Online Major
Credits Required: 36/51
Dedicated to its students, the faculty delivers outstanding instruction at the undergraduate and graduate levels, incorporating learning, service and inquiry. The curriculum is designed (1) to prepare graduates for positions in the field of criminal justice in local, county, state and federal justice agencies, private security organizations, and related fields; and (2) prepare students to be grounded in the latest theories and learn how these theories affect each individual or organization within the system. Online advising for the graduate programs is available through Dr. Todd Bricker or call 407-823-2603.
Where can I find my degree audit?
Go to your student center, MyUCF account, or the Registrar's Office located in Millican Hall, Room 161.
I have a problem with my password, or I cannot log into MyUCF. Who should I contact?
Contact the Help Desk at 407-823-5117.
What should I do if I am having problems with my computer when I am on a web course my system fails causing my grade to be affected?
Contact tech support at Online@UCF. Here are three ways to contact them:
Phone: 407-823-0407
Email: onlinesupport@ucf.edu
Website
I have a HOLD on my registration. How can I get it removed?
Contact the department which placed the hold or the Cashier's Office (Pay fee)/or Registrar's Office (Millican Hall).
Where do I go to find a Transient Student Form?
From your web browser, go to facts.org, and submit the transient form electronically.
How do I Add or Drop a course?
You may ONLY drop or add a course during the specified period of time during the first week of classes. The last day to drop a class is the Thursday of the first week of classes and the last day to add a class is the Friday of the first week of class. To drop or add a class, go to your student center (MyUCF) and follow prompts.
How do I withdraw from one or more classes?
Go to your student center BEFORE the published withdrawal deadline and withdraw from the class.
How do I apply for grade forgiveness?
Go to your student center BEFORE the published grade forgiveness deadline and request grade forgiveness. Students must be enrolled in the second attempt prior to applying for Grade Forgiveness, and requests must be submitted no later than the Withdrawal deadline for the term/session in which the course is being repeated.
How can I appeal a grade?
First, you should try to have the matter resolved with your instructor. If the two of you cannot come to resolution on the grade, your next level of appeal is the Department Chair, Dr. Catherine Kaukinen. If there is need to appeal the decision further, the next level is the College, and Mr. Melvin Rogers.
How do I request a grade of Incomplete?
Many instructors will not entertain a grade of Incomplete unless there are exigent circumstances. However, you may apply for a grade of Incomplete by contacting your instructor.
How can I have my transfer courses/credits count toward my General Education courses?
Contact Academic Services, located in Millican Hall Room 210
How can I get approval for transfer course as a course substitution for my Criminal Justice major?
Contact Ms. Ellington at 407-823-2603.
What should I do if I find out I'm on academic probation or disqualified from the university?
There are steps you can take. You will need to contact Undergraduate Student Services Office (HPA 2 115).
How can I get a copy of my transcripts?
Official transcripts must be ordered online through the MyUCF portal. Please see the Registrar's web page for costs associated with transcripts.
I am getting ready to graduate. How do I file an application to graduate?
Go to your student center and file on line first then Undergraduate Student Services Office (HPA 2 115). All intents must be submitted the semester before the student graduates. The deadline for submission is the Friday of the first week of classes the term BEFORE the student graduates.
How do I apply to the Criminal Justice Program?
The first step is to apply to UCF. If you are already taking classes at another college or university, you need to pay particular attention to the information for transfer students. Once you are admitted to UCF, you will just have to declare your major as Criminal Justice. There are no additional requirements to be admitted to our program.
What are the deadlines for application to the program?
There are no specific deadlines for admission to the Criminal Justice Department; however the University honors
the following deadlines for application:
Freshmen Applicants
Fall: May 1st
Spring: November 1st
Summer: March 1s
Transfer Applicants
Fall: July 1st
Spring: November 1st
Summer: March 1st
International Applicants
Fall: March 1st
Spring: September 1st
Summer: January 1st
What is the difference between a BA and a BS degree?
Students seeking a Bachelor of Arts are required to successfully complete one year of one foreign language in college (or equivalent proficiency exam) prior to graduation. Students pursuing a Bachelor of Science degree are required to complete two of high school foreign language. If a student is choosing American Sign Language to fulfill their foreign language requirement, the student must take three semesters of that language.
What are the prerequisites for the program?
There are no prerequisites for the program; however, students applying as online-only students must have an AA degree (or equivalent) completed from a Florida state college. AS degrees are not equivalent to AA degrees.
Can I take the entire Criminal Justice Program online?
The Criminal Justice BA or BS program can be completed online. Not every elective course is available online, but there are enough electives offered online for students to fulfill degree requirements.
What are the requirements to do an internship?
Registration is necessary to intern at a placement site. Please speak to Associate Professor Cory Watkins or your advisor regarding registration.
In order to qualify (academically) to register for criminal justice internship credits, you must meet the following
criteria:
criminal justice major in last 30 hours of study
All CJ core courses complete, with a grade of C or better in each core course. These are
CCJ3014 (Crime in America)
CCJ3024 (Criminal Justice System)
CJL 3510 (Prosecution and Adjudication)
CJC3010 (Corrections and Penology)
CJE4014 (Police and Society)
CCJ4701 (Research Methods in Criminal Justice)
CCJ4746 (Data Analysis for Criminal Justice) this applies only to those students who are enrolled under the catalog year of 2012 or later
An overall GPA of 2.5 or better
Individual agencies may add their own criteria
Can I complete an internship if I am an online student?
Yes. Although there are a few exceptions, internships may be completed in most states and with the federal government. The internship coordinator can provide further information and help online students find suitable placements.
What is the Scholar's Track, and how can I participate?
No. Students are not allowed to intern with their family members and family members cannot be preceptors to students as this is a conflict of interest. Any student discovered to be interning with a family member will automatically fail the internship course.The Scholars Track is for students who maintain a GPA of 3.0 or better and have met the entrance requirement of having achieved a grade of B or better in both ENC1101 and ENC1102. Scholars Track candidates must make application to the Track. The Criminal Justice Scholars Track prepares students for graduate study. This track introduces exceptional students to specialized topics and provides the opportunity for select students to work closely with Criminal Justice professors who will mentor them in twelve hours of small, seminar-style classes.
What is the Senior Scholar Program and how can I participate?
Undergraduate Criminal Justice majors who have completed all of their core courses, and 90 hours of study, and who maintain a 3.0 overall OR Criminal Justice GPA, may take up to 9 credit hours of 5,000-level graduate course work, to be transferred into the Master's program upon acceptance. The senior scholar course work counts as upper-level Criminal Justice elective credit, as well as credit toward the student's graduate work.
Does the Criminal Justice Department offer Undergraduate Certificate Programs?
Yes, and they are open to all majors. Please note the certificates are not stand-alone programs. Only UCF undergraduate degree-seeking students may apply for certificate programs. Here is a listing of certificate programs:
Crime Analysis and Crime Mapping (15 credit hours)
Criminal Profiling (15 credit hours)
Security Management (15 credit hours)
Crime Scene Investigation (15 credit hours)
Victim Advocacy (15 credit hours)
Students must declare these certificates in their student centers (MyUCF). Certificate courses may be used to fulfill
upper-division CJ requirements.
Are Certificate Programs available to online students?
Online Criminal Justice majors may earn certificates in one of the following only:
Criminal Profiling (15 credit hours)
Security Management (15 credit hours)
Victim Advocacy (15 credit hours)
What kind of job opportunities are available to graduates with a bachelor's degree in Criminal Justice?
Criminal Justice Bachelor's degree program graduates can become police, correctional or probation officers, justice system administrators, crime analysts, private security administrators, superintendents, county sheriffs/deputies, program directors or elected officials. Many program graduates go on to graduate school and get involved with academic criminal justice; or professional school, like law school, and take positions in the legal aspects of the justice system as prosecutors or defense attorneys.
The outlook for students entering law enforcement or the correctional fields is expected to be good. Although the level of government spending influences the employment in these areas, the recent support of more professionals in these areas is a trend that is expected to continue. The need to replace currently employed professionals who transfer to other occupations or leave the labor force, coupled with rising employment demand, should generate thousands of job openings each year. With experience and additional education, qualified professionals may advance to supervisory, administrative or counseling positions.