UCF's two teams ousted 26 others to force an all-UCF final round and take first and second place.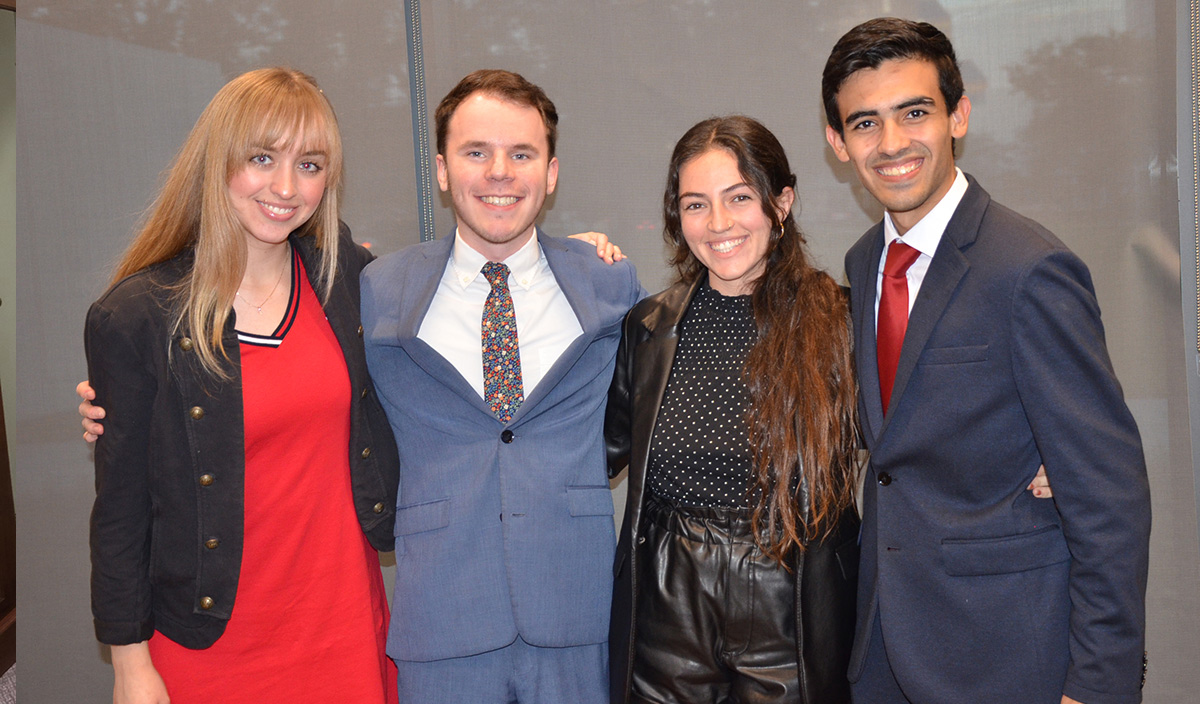 Caitlin Moore, Jacob West, Ariana Landi and Jan Soto dominated at the Second City Invitational, hosted by the University of Chicago.
UCF Moot Court teams were victorious in the University of Chicago's Second City Invitational tournament Oct. 15 and 16, edging out 26 other teams for an all-UCF final round.
The four participating UCF Moot Court members were divided into two teams and defeated competitors from Yale University, the University of Chicago and the University of Toronto, among others.
In the final round, Jan Soto and Ariana Landi defeated Caitlin Moore and Jake West to take first place. Additionally, all four placed in the top 10 for the individual orator category, in which Landi took home first place.
In moot court, students participate in a simulated court hearing on complex constitutional issues. They research and analyze an issue and related law before presenting an oral argument.
UCF Moot Court is under the direction of Eric Merriam, an associate professor in the College of Community Innovation and Education's Department of Legal Studies and the College of Sciences' School of Politics, Security and International Affairs. Merriam is also an appellate judge on the Air Force Court of Criminal Appeals.
"An interesting element of moot court is you might start off with some prepared remarks, but it really is completely extemporaneous questions," Merriam says. "You have no idea what they're going to be – just like a real Supreme Court argument. You have to be ready to answer whatever the questions are and then work back seamlessly into your argument. It's something that takes a lot of effort and preparation in order to be able to do, and we're fortunate we have a really strong student organization."
Merriam says moot court provides students with valuable life and career skills, such as selling an idea, making logical arguments and building confidence.
It's their hard work that got them to this point, and it is a really big deal to be in the kind of competition that they were and win the tournament."

Eric Merriam
"The teams that do really well at this are the teams that are the most prepared," he says. "I think what it suggests to students – and what they internalize, hopefully – is that preparation is what produces the success. I also really think this is a fun way for people who are intellectually oriented to be on a team. This is representing UCF. As a student club, it really is a way for people to bond with each other and enjoy each other's company while doing something that's really challenging."
Furthermore, each team had one member who was competing for the first time. Merriam says the students were pleasantly surprised at the level of success they experienced with it being their rookie season.
"I would say that is a testament to their hard work individually and their natural ability, but also to the people they were paired with and had been working with them," he says. "There have been summer practices and lots of hours leading up to this. They were excited about getting those results that they didn't really expect. It's their hard work that got them to this point, and it is a really big deal to be in the kind of competition that they were and win the tournament."
UCF Moot Court will host the South Atlantic Regional virtually on Nov. 13 and 14. Competitors will include multiple teams from UCF, the University of California – Berkeley, Yale and Morehouse College.