Out of an abundance of caution, in response to the Novel Coronavirus (COVID-19), the University of Central Florida (UCF) has asked that all non-essential gatherings be postponed to minimize health and safety risks to the UCF community and partners. Therefore, the College of Community Innovation and Education and the School of Teacher Education are canceling the 2020 UCF Literacy Symposium scheduled for April 3, 2020.
We greatly appreciate your excitement to attend the UCF Literacy Symposium.
UPDATE: Eventbrite will refund/cancel all registrations to the method of payment provided at registration. Due to the number of event cancellations Eventbrite is processing, please allow, at a minimum, 7-10 business days for refunds.
If you have any questions or concerns about your registration, please email ccieevents@ucf.edu. For other questions related to the event, please email LitSymposium@ucf.edu.
We are in the process of securing a date for 2021 and we will announce it as soon as possible. We hope to see you at our 2021 event.
Be inspired throughout the day from experts and practitioners in a space that brings together PK-20 educators to connect, share, advocate for and learn about literacy. The overarching principles of this event are to:
View literacy as the cornerstone of student learning across grades, content areas, and contexts;
Create strong and long-lasting literacy partnerships between the college of education and practitioners in the field;
Create a professional learning community space that is welcoming, inclusive, rigorous, and collaborative;
Strategically weave in policy, research, and practice; and
Plan with the needs of preservice and in-service educators in mind.
2020 Symposium Registration Rates
Due to popular demand and limited event space, please register by March 20, 2020.
Students: $25.00
(requires registration with official student email address)
Professionals: $75.00
A limited number of Title I public school educator scholarships are available - email ccieevents@ucf.edu with name and Title I School for registration details*
All registered event attendees (e.g., presenters, attendees, exhibitors, volunteers) will receive free parking.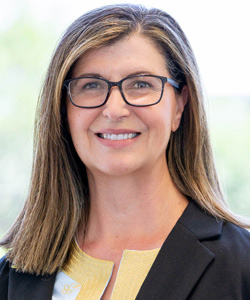 Vicky Zygouris-Coe
UCF Literacy Symposium Founder and Committee Chair
Courtney Lopas
Event Assistant
NOTE: Event Presenters (Proposals by invitation only), Exhibitors, and approved Volunteers receive free registration.
Register more and save; for each 5 registrations, receive 1 registration free (applies to professional educators only) - send email with order confirmation for 5 registrations to receive link for free registration*
*Not available onsite
Days left to register: [ycd_countdown id=68354]