The internship experience can be the most rewarding part of the initial teacher preparation program as students gain extensive practice in teaching while working with a practicing teacher in a PreK-12 classroom. Interns will also work with UCF faculty members and a clinical coordinator. Through this learning experience, students make positive contributions to the community and establish professional networking connections.
Our Reach
Through the School of Teacher Education's long-standing partnerships with Central Florida school districts, private schools, nonprofit organizations and children's hospitals, students have numerous opportunities to gain on-the-job training in unique and diverse settings such as the UCF PedsAcademy at Nemour's Children Hospital; Early Learning Coalition; PreK-12 public and private schools, including charter and virtual schools; neighborhood community centers; and international educational settings. Additionally, our faculty members develop unique internship opportunities with our collaborating partners.
UCF PedsAcademy at Nemours Children's Hospital
UCF's PedsAcademy at Nemours Children's Hospital is a pediatric school program that aims to keep patients engaged academically during their hospitalization. Students can intern with the program and work directly with patients while being supervised and mentored by the on-site supervising faculty.
UCP Teacher-in-Residence
The UCP Teacher in Residence was designed to support the development of exceptional student education pre-service teachers and increase the quality of instruction in the paraprofessional role through a paid internship. The pre-service teachers work as direct instructional supports under the expertise and supervision of expert teachers.
UCF Abroad Internship Enhancements
Teacher education students can experience new cultures and educational systems and broaden their understanding of teaching and learning through studying abroad in an internship enhancement program.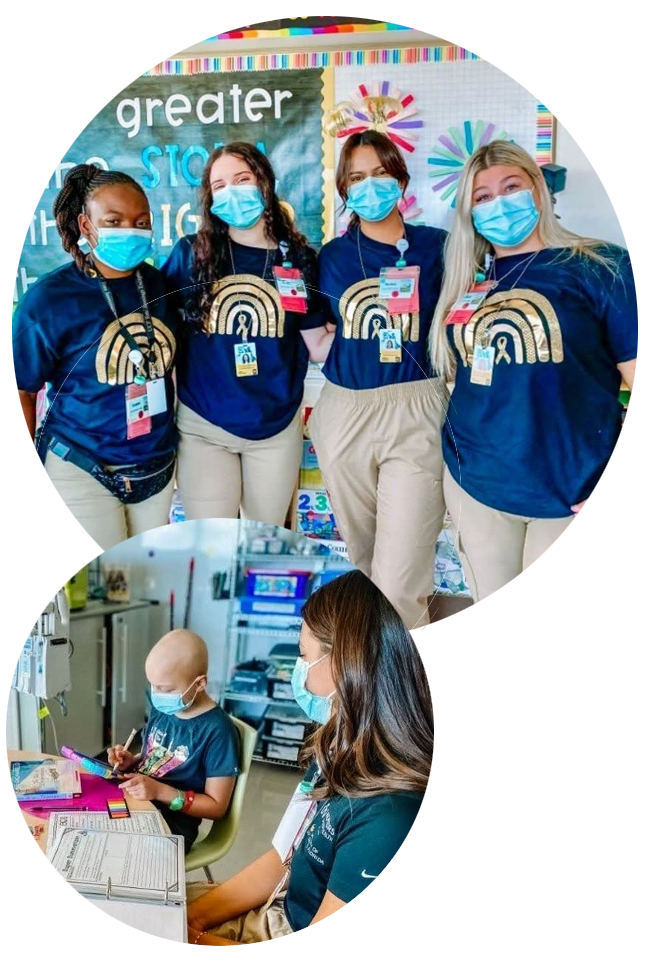 The School of Teacher Education places interns throughout Central Florida and beyond. We have established partnerships with 24 school districts and other educational settings locally and abroad.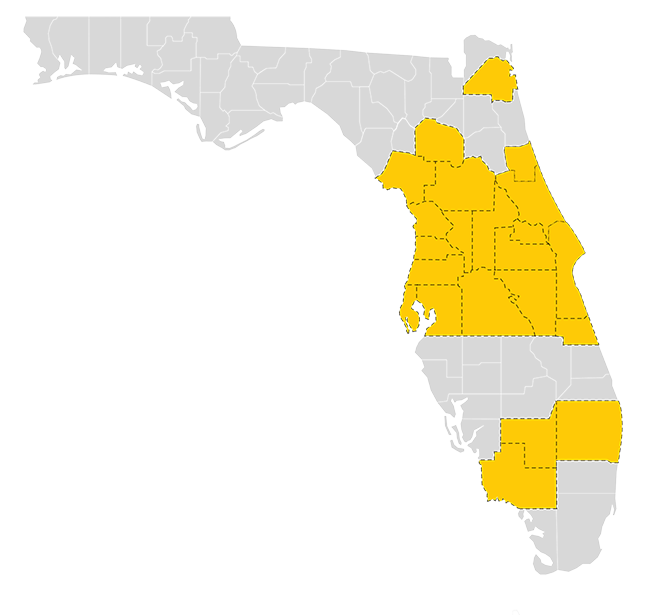 Partnership Districts
Alachua
Brevard
Citrus
Collier
Duval
Flagler
Florida Virtual School
Hendry
Hernando
Hillsborough
Indian River
Lake
Levy
Marion
Orange
Osceola
Palm Beach
Pinellas
Pasco
Polk
Seminole
St. Lucie
Sumter
Volusia
Internship Application Process
How and when do I apply for an internship?
Check if you are eligible to apply for your internship by comparing your degree audit to your internship eligibility requirements found in the course catalog, advising webcourse or meeting with your advisor. When you are eligible, log in to InPlace, a cloud-based application system, to apply for your internship. Applications are due the semester before you start your internship. For example, if you were going to start Internship I in the fall, you would apply during the spring semester before your internship.
Early Childhood Education (Track 1)
Elementary Education
Exceptional Student Education
Secondary Education
Teacher Education
Early Childhood Development (Track 2)
Early Childhood Seminar (Track 1)
What forms will I need for my internship application?
As you work through completing your internship application, the program will instruct you to upload a few forms. You can find directions on where to locate and how to download the forms on the application. Additionally, this information is located in InPlace in the Shared Documents tab on the student dashboard. You will want to make sure the forms are filled out entirely and signed if applicable. The Office of Clinical and Field Experiences is available to assist if you need additional information.
Do I need a current audit to apply for an internship?
Yes, you must upload a current audit when applying for an internship. We suggest downloading the audit the day you complete the internship application. Please don't use an old audit. Directions for downloading the audit and which audit to upload can be found on the application in the Shared Documents tab on the student dashboard.
Internship Placement
Can I reach out to schools or teachers directly to secure my internship placement?
No, securing an internship placement is not the student's responsibility. The Office of Clinical and Field Experiences will manage this process as they work with multiple school districts throughout Florida. When applying for your internship, you will have the opportunity to choose the district you would like to intern in from a drop-down and list three school preferences within the same district.
I want to intern at a school where family members attend(ed) and work(ed).
Unfortunately, you cannot intern at a school where you or your family members attend(ed) or work(ed). When applying for your internship, please list three school preferences where this has not taken place.
I applied for an internship. What's next?
Once you apply for an internship, your application will go through various processing stages. The Office of Clinical and Field Experiences will contact you if you missed a step or uploaded an incorrect or incomplete document. Your faculty reviewer may also contact you to discuss courses. Once your application has been processed, the Office of Clinical and Field Experiences will notify you to log back into InPlace to acknowledge your faculty reviewer's comments and the status of your application. Continue to check your Knights email for updates regarding the internship.
Get Ready for Your First Day

Fingerprinting
Once your application is fully processed, you will receive an email from the Office of Clinical and Field Experiences with directions for fingerprinting in the district matching your application. Continue to check your Knights email for internship updates.

Start Dates
Internship start dates vary by program. Please refer to the internship calendar and advising webcourse for specific internship schedules and start dates.

Name Badge
Please go to UCF Card Services on main campus to order your $10 name badge. You must bring your UCF ID with you to have your badge processed and printed. Students located over an hour away from main campus have the option of purchasing their name badges via mail. Instruction can be found on the UCF Card Services website (see distance learning section).
If you lost your name badge, please contact the Office of Clinical and Field Experiences to request a replacement. UCF Card Services will not issue a new name badge without confirmation from the Office of Clinical and Field Experiences.

Observation and Feedback Forms
Observation and feedback forms can be found in your internship webcourse. The course will open on the first day of classes of the internship semester.
Supervising Teachers
Supervising teachers play a vital role in developing our pre-professionals, and as a "thank you," they can receive a Certificate of Participation (COP) Voucher. The voucher is good for the matriculation fees of up to six credit hours of graduate work during one semester of study at a state university in Florida. Each certificate is effective for three years and can be issued only by request to the Office of Clinical and Field Experiences. The office will issue a COP after the supervising teacher meets the eligibility requirements and submits the Certificate of Participation Request Form.
Last day of internship for all Fall 2023 Secondary, FLVS & Ex-Ed Education Internship I students.
Last day of Internship for all Fall 2023 Internship II/Grad students.
First day of Internship for all Spring 2024 Internship I, II/Grad students.