Preparing Middle and High School Teachers and Leaders
Whether you are seeking initial teacher preparation or career advancement, our secondary education program offers undergraduate, graduate and doctoral degree options that align with your subject-area interests and professional aspirations.
Our initial teacher education preparation program prepares students to effectively teach secondary subjects at the middle (6-8) and high school (9-12) grade levels. We embrace a holistic approach to teacher preparation, which includes developing content and teaching expertise, learning how to meet the academic and socio-emotional needs of adolescent learners, and applying new skills and knowledge through meaningful field experiences at our partnership schools. Our program leads to subject-area certification issued by the Florida Department of Education. A non-certification option is available through our lifelong learning program.
Graduate and doctoral degree programs are also available for practicing teachers seeking to enhance their professional knowledge and skills. Through advanced studies, students can broaden their impact on secondary education in their schools, districts and beyond.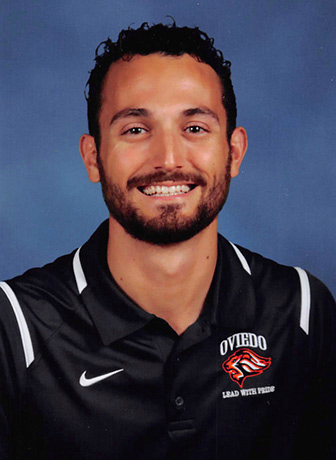 "While I had a strong understanding of science when I began the program, I learned valuable lessons in teaching, especially the importance of accommodations for students depending on their specific needs."
- William Furiosi '13, 2021 Seminole County Teacher of the Year
Teacher Education MAT, Science Education – Chemistry
Undergraduate
Secondary Education, BS (Grades 6-12)
English Language Arts Education with ESOL and Reading Endorsement
Mathematics Education
Science Education – Biology, Chemistry or Physics
Social Science Education
Teacher Education, BS (Grades K-12)
Art Education
Physical Education
World Languages Education, Spanish or French Concentrations
Art Education
English Language Arts Education
English for Speakers of Other Languages (ESOL)
Languages Other Than English (LOTE)
Mathematics Education
Physical Education
Science Education
Social Science Education
Graduate
English Language Arts Education
Mathematics Education
Science Education
Social Sciences Education
World Languages Education
Art Education (Grades K-12)
English Language Arts Education with ESOL Endorsement (Grades 6-12)
Mathematics Education (Grades 6-12)
Middle School Mathematics Education (Grades 5-9)
Middle School Science Education (Grades 5-9)
Science Education – Biology, Chemistry or Physics (Grades 6-12)
Social Science Education (Grades 6-12)
World Languages Education with ESOL Endorsement (Grades K-12)
Mathematics Education
Teaching English to Speakers of Other Languages
Dual Languages
English for Speakers of Other Languages
ESOL Endorsement K-12
Initial Teacher Professional Preparation
Languages Other Than English
Reading Education
Social Science Education