The UCF Center for Community Schools partnered with the American Institutes for Research (AIR) to conduct an independent evaluation of the Community Partnership Schools™ model. Working with Cohort 1 sites across the state, the goal was to better understand implementation efforts and to guide future program and policy decisions.
The independent evaluation was a mixed-methods study, utilizing qualitative data gathered from interviews and focus group discussions with key stakeholders such as CPS directors, coordinators, core partners, and school leaders. Student perception and attitudinal surveys were conducted for expanded learning programs. Additionally, we submitted secondary data to the Florida Department of Education in order to better identify comparison data from non-CPS sites.
AIR's evaluation focused on the 15 implementation CPSs and include the following:
Define Key Performance Indicators for CPSs

Will provide timely, relevant and useful data to monitor CPS implementation and student progress toward desired outcomes
Will enhance data available to CPS grantees to inform efforts to improve implementation
Will gather information by convening key stakeholders and reviewing previous research on community schools

Evaluate the impact of the CPS initiative on student outcomes

Will compare effect of attending CPS (and more mature CPS) schools vs. non-CPS schools on student academic and health outcomes
Will assess relationship between level of CPS participation and improvement in student outcomes
Will use student data from Florida Department of Education and from schools to conduct statistical analyses

Evaluate statewide implementation

Will assess overall fidelity of implementation to the CPS model, including promising practices and areas of needed support
Will conduct a series of interviews and focus groups with key stakeholders in CPSs and the center, and will review process documents

Submit a final analysis and report to the center
Learn
Key Performance Indicators for CPSs
AIR Presentation
About AIR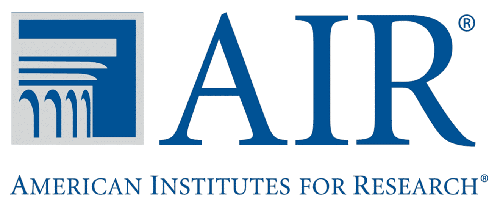 AIR is among the largest behavioral and social science research and evaluation organizations in the world. The Washington, D.C.-based organization aims to use the best science available and works with strict independence, objectivity and non-partisanship. AIR has 14 other domestic offices and three international offices.