Celebrating 20 Years and 165 Graduates!
The interdisciplinary Ph.D. in Public Affairs (PAF) at UCF was established in 1998. The program has 68 doctoral students currently enrolled.  Situated in the new College of Community Innovation and Education, the doctoral program features representation from academic specialties including public administration, social work, health management, criminal justice, and governance.
The program includes a distinguished group of senior faculty who are interested in fostering collaborative and transdisciplinary perspectives to solve societal issues and problems.  As a global program, the Ph.D. in Public Affairs has produced more than 30 international graduates from multiple countries such as China, South Korea, Turkey, Saudi Arabia, Armenia, South Africa, Taiwan and Ethiopia.
Beginning in August 2019, the Public Affairs Doctoral Program will relocate to the new downtown campus. UCF Downtown will expand the program's community-based focus and engagement with enhanced access to urban sites.
Careers
The interdisciplinary Ph.D. in Public Affairs has a long and distinguished history. Graduates possess the theoretical, analytical and ethical foundations necessary to produce new knowledge that impacts policies and programs and enhances institutional and community performance.  As of fall 2018, the total alumni base consists of 165 graduates working in academia, healthcare, public service, nonprofit organizations and public policy research institutions. See where our graduates work.
Interdisciplinary Focus in Strengthening Communities
The interdisciplinary Public Affairs Ph.D. is organized around broad community-related social problems and emphasizes collaborative relationships across the public, private and nonprofit sectors. Social problems are complex and difficult to address as they encompass individual, relationship, community and societal factors. An interdisciplinary approach provides an avenue to better understand this complexity and leads to innovative responses that transcend any one discipline or field of practice. The doctoral program has an interdisciplinary foundational perspective (e.g., social justice, poverty, public policy, and governance).  As a result, a starting point for scholarly work includes inquiry into the sources and indicators of inequality across economic, educational, health, criminal justice and political institutions.
Curriculum
Full-time students enroll in nine hours per semester and part-time students enroll in six hours per semester in the interdisciplinary Public Affairs doctoral program.  All courses are offered face-to-face during the evenings from 6:00 to 8:50 p.m.  Students may vary their plan of study to move from full-time to part-time or vice versa, if necessary.
The 60-credit doctoral curriculum comprises multiple core competencies designed to train next-generation scholars and practitioners to study social problems and to effectively communicate with academic- and practitioner-based constituencies. Domains such as critical and analytical thinking, research methods and statistics, leadership and engagement, and communication and dissemination encapsulate this approach. By diverging from classical approaches typically embodied within a single academic field, which feature only a single set of theories, traditions, and examples, the interdisciplinary public affairs orientation encourages broader and more innovative strategies, partnerships and impacts.
Financial Support
The doctoral program offers graduate assistantships, including tuition waivers. In addition, UCF and the College of Community Innovation and Education offer scholarships and fellowships, including the McKnight Doctoral Fellowship for African-American and Hispanic students. Learn more.
Publicly Engaged Scholarship and Community Partnerships
Our publicly engaged scholarship emphasizes collaboration between public scholars and communities in planning and carrying out inquiry for public impact. Consequently, we focus on "community-placed" rather than "community-based" partnerships. From problem definition to dissemination of findings there is a research-equitable involvement of all partners.
Featured Partner
The Polis Institute works to address complex social problems by designing solutions that bring together and engage community residents, leaders, service entities, and research academics to work toward impactful shared goals.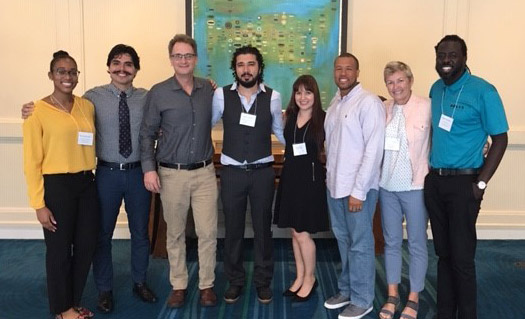 Anderson, K., Sanguiliano, J., Santis, E., Mack, R., Sualp, K., Hissom, P., Welcome, S., Upkins, K. (October, 2018). Community-Based Participatory Research: An Example of a Collaborative Community-University Partnership for Social Change. Annual Meeting for Southwestern Social Science Association. Orlando, FL.