Students in the School of Public Administration can take advantage of a variety of learning opportunities and gain valuable experience to advance their careers through internships, service learning and study abroad programs.
Internships
Internships provide students at all levels with opportunities to gain experience and build professional networks outside the classroom. Undergraduate students must complete an internship as part of their degree program; graduate students are strongly encouraged to pursue an internship if they feel they need additional professional experience.
Students can find relevant internship opportunities by registering and completing a profile on Handshake, an online platform offered by UCF Career Services. The school also hosts a Public Service Career Showcase for students to network and the to engage with potential internship providers.
Service Learning
Service learning is an integral part of several degree programs in the School of Public Administration. Students can also pursue service-learning projects outside of course assignments.
Students completing a service-learning project as part of a course must fill out the service learning form and submit it to their instructor in person or via email.
The UCF School of Public Administration is always looking for local organizations to host students for service-learning opportunities. If your organization is interested in hosting a service-learning project, please sign up using the community partner form.
Study Abroad
Students in our programs learn to reach beyond borders in meeting the needs of communities. Experience global perspectives, immerse in other cultures and grow your professional network by applying to a study abroad program.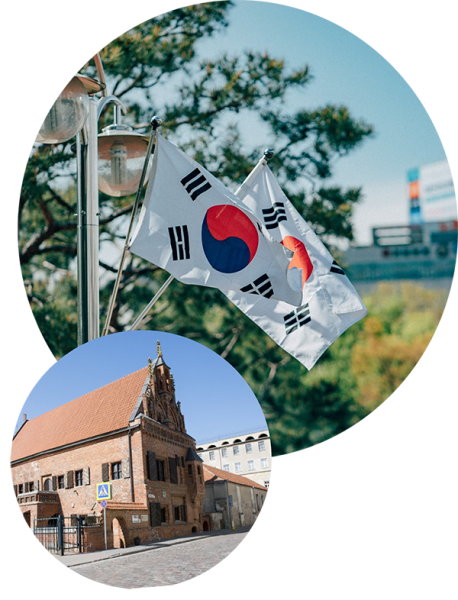 International Dual Degree
In partnership with Kaunas University of Technology (KTU) in Lithuania, UCF students have the opportunity to earn two complete bachelor's degrees simultaneously within a standard four-year track. Students enrolled in the program will complete one semester abroad at KTU, earning a bachelor's degree in nonprofit management from UCF and a bachelor's degree in public administration from KTU upon graduation.
Study in Lithuania through Erasmus+
Eligible undergraduate and graduate students can spend up to two semesters studying at Kaunas University of Technology in Lithuania through the Erasmus+ program. Space is limited to two students per year. Please note that this is a self-driven program for students seeking to study abroad in Lithuania and does not include specific plans of study or course recommendations.
For more information about this opportunity, please email Thomas Bryer.
Public Administration Exchange at ADA University – Republic of Azerbaijan
UCF undergraduate students can spend up to two semesters abroad at ADA University in Baku, Azerbaijan through UCF Abroad. ADA University provides students with the opportunity to gain unique international perspectives on governance and public policy in one of the world's most dynamic regions, all while enjoying the natural beauty and unique culture Azerbaijan has to offer.
Government Field Study: Metropolitan Governance in Seoul
Students interested in international governance can spend one week in Korea as part of the study abroad course Government Field Study: Metropolitan Governance in Seoul (PAD 6958). The Seoul, Korea Metropolitan Government (SMG) in partnership with the University of Seoul designed this program for graduate students in public administration and related fields to experience and understand Korea's politics, economy and culture during their stay in one of Asia's largest, most modern and progressive cities.
For more information about this opportunity, please email Nasrin Lakhani.