Advance your education in urban planning and community development in one of the fastest growing metropolitan areas in the nation. UCF's programs in urban and regional planning enhance your knowledge in various elements of community planning and emphasize sustainability, social responsibility and equity. From an undergraduate minor to a graduate degree and certificate option, you'll have the flexibility to choose a program that suits your schedule and career plans.
Courses are offered at UCF Downtown in the heart of Orlando, which provides a unique opportunity for students to engage in dynamic, immersive learning experiences. Whether you are looking to enter the planning field or seek advancement in your career, you will have the analytical and technical skills to support diverse communities, while emphasizing sustainability and social responsibility.
UCF's master's program in urban and regional planning is accredited by the Planning Accreditation Board. Learn more about our program measures of achievement.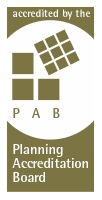 What to expect with an urban and regional planning degree.