Shape your career with a degree in urban and regional planning. Urban planners serve the community through the development, management and revitalization of an area's environment. At the UCF School of Public Administration, we offer undergraduate and graduate programs in urban and regional planning. Graduates of these programs currently serve communities in Central Florida, Tennessee and Texas, as well as organizations like Lockheed Martin, Teach for America and Metro Plan Orlando.
Interested in learning more about the urban and regional graduate programs?
Register for our upcoming information session.
Undergraduate Programs
Minor in Urban and Regional Planning
Students who are interested in exploring urban planning may choose to pursue the minor, which covers the fundamentals of the field.
Graduate Programs
Master of Science in Urban and Regional Planning
Our 42-credit-hour Master of Science in Urban and Regional Planning (M.S.URP) emphasizes sustainability and socially responsible planning. Students can focus on areas such as environmental planning, healthy communities planning or transportation planning.
Graduate Certificate in Urban and Regional Planning
The 18-credit-hour graduate certificate is more broad, providing students with enhanced knowledge, skills and career development in urban and regional planning.
M.S.URP Plan of Study
M.S.URP New Student Handbook
M.S.URP Virtual Orientation
URP Graduate Certificate Plan of Study
Giving
Contributions from our alumni and friends directly impact the lives of our students, staff and faculty. Help sustain the School of Public Administration by making a gift today. All donations will help us continue to provide an outstanding education, conduct leading research and engage in community outreach.
Learn more about giving here at the School of Public Administration and College of Community Innovation and Education. Or, make a gift today and consider supporting one or more of the school's following funds:
Urban and Regional Planning Operating Fund
Urban and Regional Planning Lecture Series
School of Public Administration
Public Administration Fellows Program
Student Volunteer and Service Learning Fund
The UCF Foundation administers funds that support the school's students and programs. To donate, click here.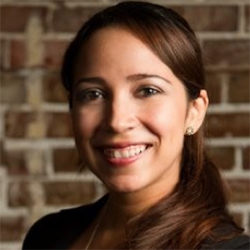 Student Spotlight: Marellys Moreno
Planning is an interdisciplinary field of study that focuses not only on urban and regional development efforts but also on current and potential impacts of development decisions on surrounding communities. In her position as a program associate for the Lake County Housing and Community Development Division, Marellys Moreno studies the impact that development efforts have on residents and communities within Lake County. Read more...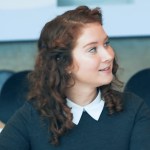 Urban Planning Alumni Embarks on New Job in Denmark
Urban and regional planning alumna Mercedes Beaudoin has started on a new journey in her career. She now serves as a technical writer and communications specialist for Universal Robots, which manufactures small robotics arms in Denmark. Beaudoin is featured in this video from the company. She graduated from the School of Public Administration in 2015 with a Master of Science in Urban and Regional Planning.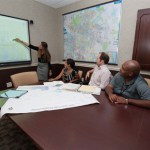 Alumni Elected to Florida APA Executive Board
Two alumni from the urban and regional planning program have been named members of the executive committee of the American Planning Association's Florida Chapter. Joshua DeVries, '16, has been elected president of the organization while Emily Hanna, '15, has been named vice president. Alissa Torres, an urban and regional planning advisory board member, was elected Orange County director of the executive board.
Alumni Achievement Award Winners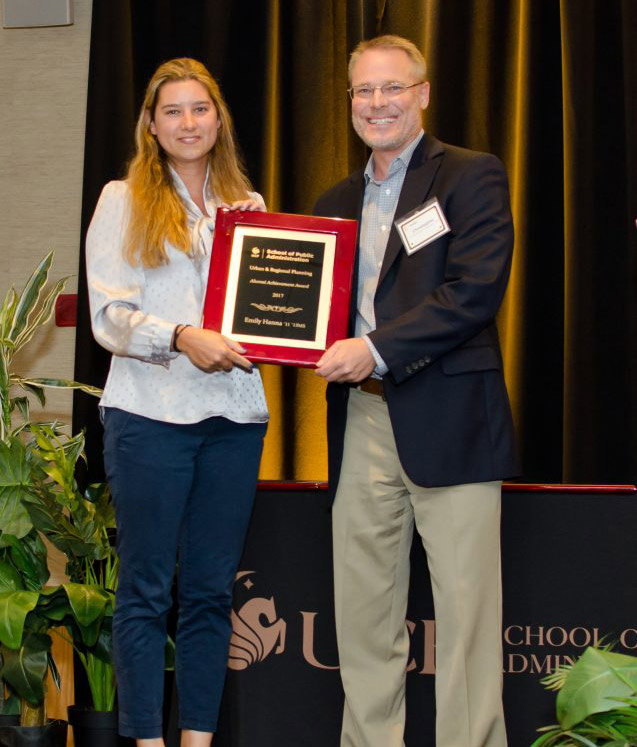 Emily Hanna, '11, '15, serves as the senior planner for the city of Casselberry.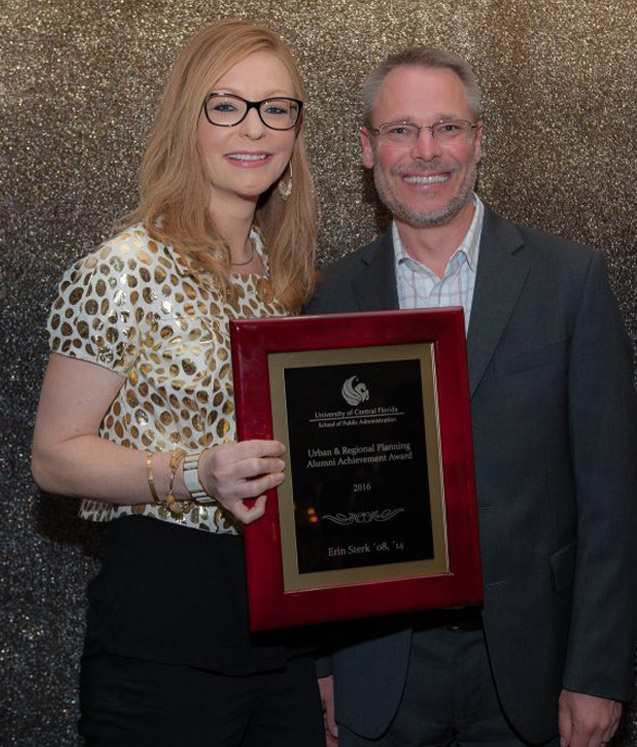 Erin Sterk, '08, '14, serves as a city planner for Osceola County in Central Florida.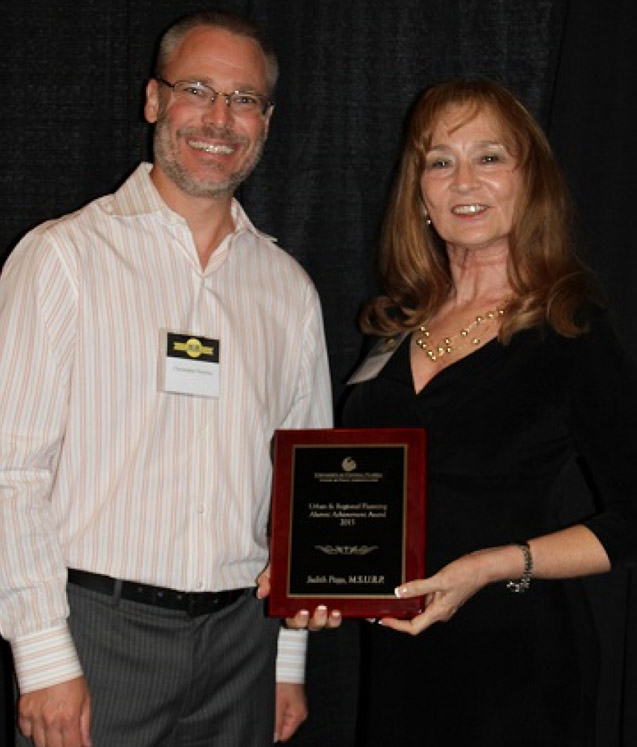 Judy Pizzo, '96,'12, is a transportation planner at the Florida Department of Transportation.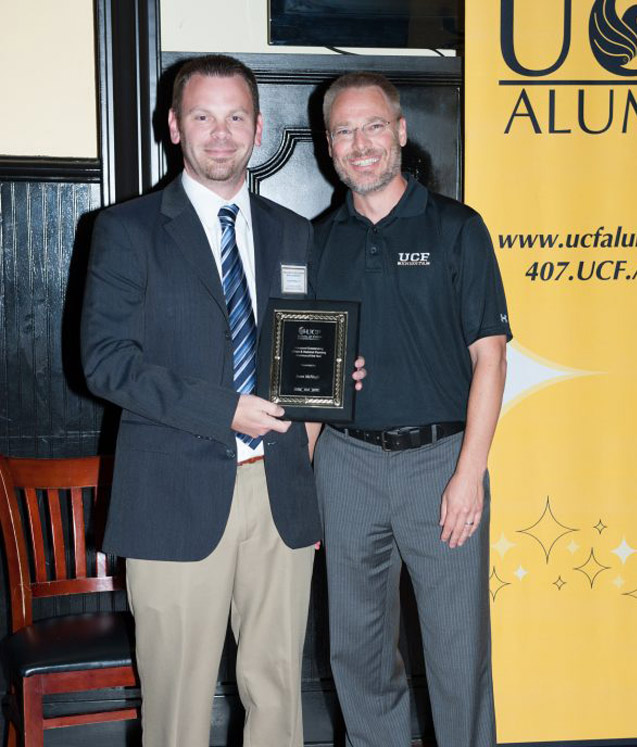 Jason McHugh, '13, serves as the city manager of the city of Wildwood, Florida.