A Celebration of Research and Impact
Explore the latest research from the College of Community Innovation and Education at our Research and Impact Showcase. Our faculty and graduate students will be presenting their research on a diverse range of social issues spanning disciplines such as criminal justice, education and leadership, healthcare and administration, legal studies, mental health and public administration.
Featuring poster presentations and a reception, this free event is open to the community and offers a chance for our stakeholders to learn about the impactful research our college engages in, as well as how it is used to enhance the quality of life for individuals in our region and beyond.
2024 Research and Impact Showcase
Poster Presentation Abstracts
The 2023 Showcase featured over 70 poster presentations. We hope you enjoyed learning about our faculty and graduate students' research.
Guidelines
Eligibility
Students must be currently enrolled in a graduate program in the College of Community Innovation and Education.
Projects from all college fields and disciplines are eligible for presentation.
Projects must have a clear focus or a central research question.
Presentation Guidelines
Judging Process
College faculty members are judging the graduate student presentations. The posters are judged according to the following criteria:
Clear project statement of purpose.
Sound methodology.
Clear presentation of results, product, performance or expected outcome.
Contribution to the field or discussion of potential impact.
Poster Printing
Presenters will submit their posters to the Research Administration Services Team for printing by March 1. Make sure your file is formatted to the desired size of your poster.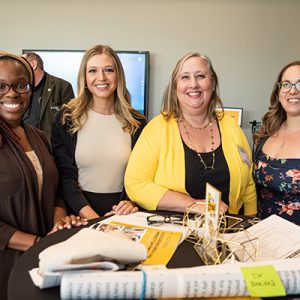 The event gave CCIE faculty and graduate students the opportunity to share their projects while learning about the research interests of peers and colleagues...